Vegan Basil Cashew Pesto [Dairy-Free, Oil-Free]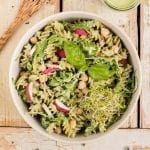 Try this super easy vegan basil cashew pesto recipe that only requires 10 minutes of your time. This is a great recipe for anyone who loves aromatic pesto with pasta, salad or slice of bread.

What makes my vegan pesto recipe so great is that it?s:

super easy to make, perfect for batch cooking, so handy for quick meals.

The Ingredients in My Vegan Basil Cashew Pesto

What makes my dairy-free pesto recipe unique is that besides being vegan it?s totally oil-free. Conventional vegan pesto recipes use tons of extra virgin olive oil. In fact, they?d ask you to add more olive oil at the end of the recipe ? But not me!

Cashew nuts contain enough fats to give this pesto its heartiness and creaminess. Even without any added oils, 66% of calories of my basil pesto come from fat! Furthermore, I don?t see any point in using oil as thinner ? water and lemon juice do the job wonderfully!
Usually Parmesan cheese is added to conventional pesto recipes or store bought pesto. Now, in a vegan recipe the cheesy flavour is achieved by adding nutritional yeast as well as cashews. In fact, vegan Parmesan is so often made combining those two ingredients with some salt.

It?s noteworthy that I didn?t feel the need to add any salt to my pesto recipe. In my opinion, the taste bouquet of basil, lemon juice, nutritional yeast and cashews is just perfect. There?s sweetness from cashews, sourness from lemon juice, the earthy and cheesy flavour of nutritional yeast and abo...
URL:
http://nutriplanet.org
--------------------------------
-------------------------------------