BBQ Salmon Bowls with Mango Avocado Salsa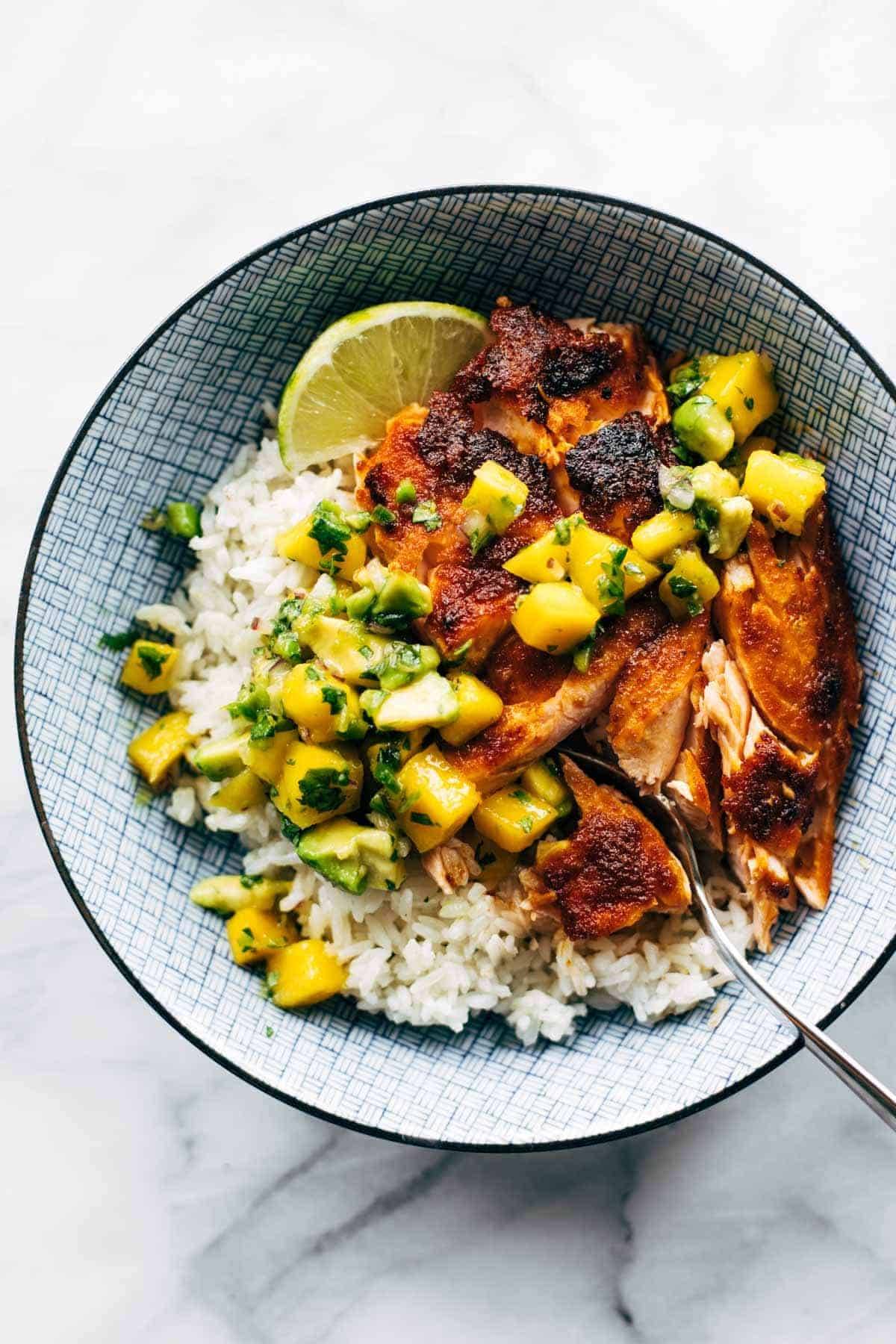 BBQ Salmon Bowls with Mango Avocado Salsa! An easy and impressive dinner with yummy smoky-sweet flavor and a zip of zesty homemade salsa to take it over the top. The BEST weeknight dinner.
The post BBQ Salmon Bowls with Mango Avocado Salsa appeared first on Pinch of Yum.

Affiliate links are marked with an asterisk! ?

Salmon lovers, salmon skeptics… gather round, all of you.

This is not your ordinary salmon. It is salmon that's been given a delicious and aggressive treatment of sweet and smoky spices, which then gets broiled (fast! easy!) which results in a lightly crunchy outer layer, which conveniently mixes-and-matches with that buttery, silky, lime-zesty, sweet and juicy mango avocado salsa. It's equal parts super pretty and not fancy, which is why we just pile a scoop of each on hot steamy rice and don't get too precious about it. This is the bowl life.
You might be saying, nah, I don't really like salmon, and honestly I can respect that because salmon is salmon sometimes.

But also: you haven't had this salmon yet. You are about to be changed. Seriously. I would just like to say, it's an honor and a privilege to be a part of your conversion experience.

First Stop – Mango Salsa:

This takes about ten minutes. It's just a chop and mix situation.

Bring your self-control because otherwise this will be gone before the salmon hits the table.

Here Comes The BBQ Salmon:

Salmon. Spice r...
URL:
http://pinchofyum.com/
--------------------------------
-------------------------------------