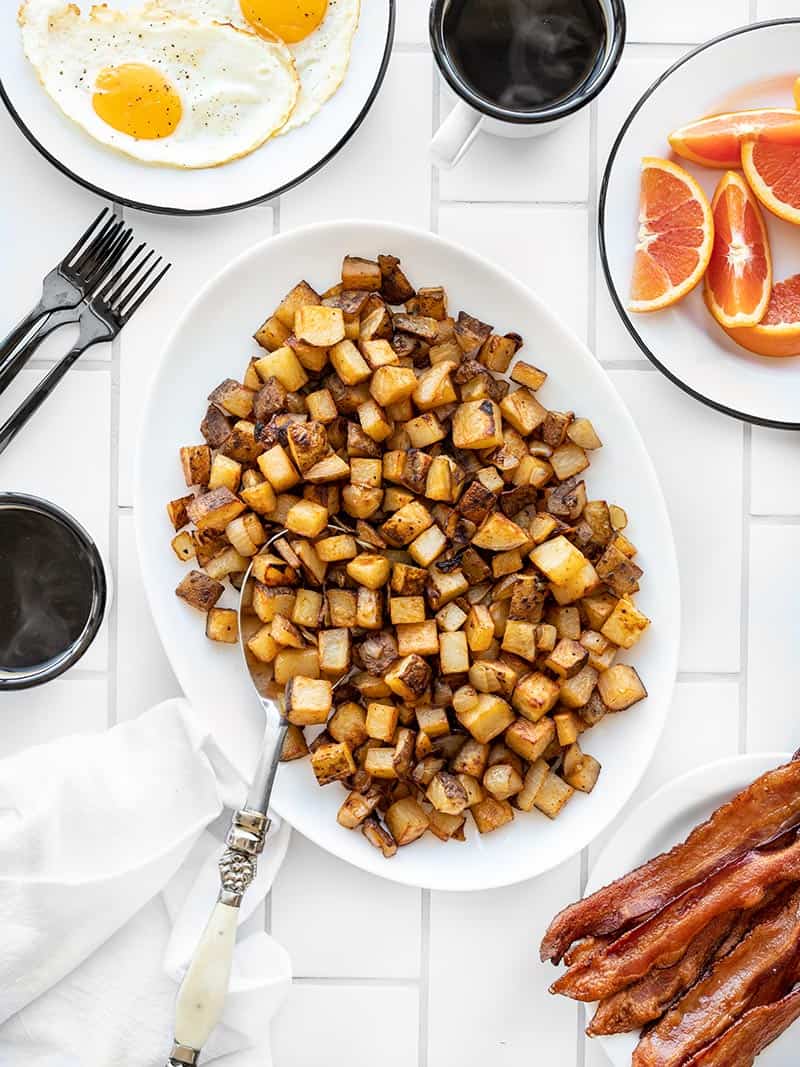 Smoky Roasted Breakfast Potatoes
Big weekend breakfasts are my favorite "me time". They're lazy (always in my PJs, always), cozy, relaxed, delicious, and just so much less expensive than going out to brunch. Not to mention, no waiting in line for an open table,...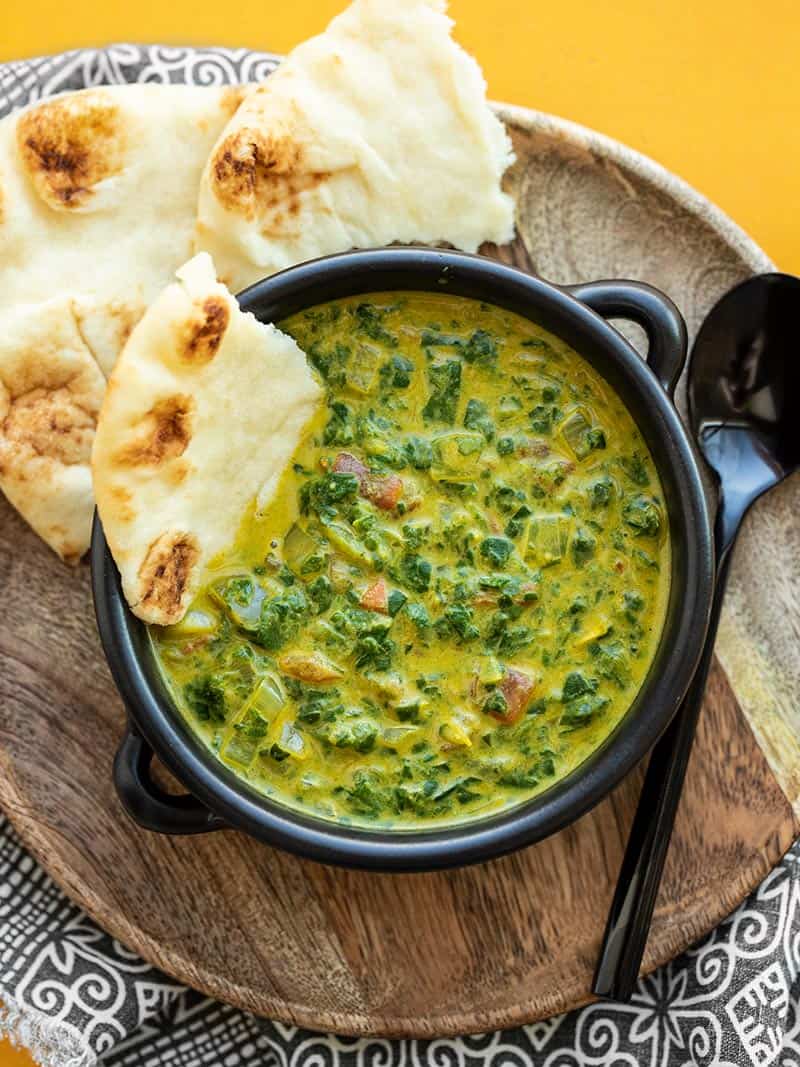 Indian Style Creamed Spinach
This Indian Style Creamed Spinach is a bit like Palak Paneer, but without the paneer. …because my homemade paneer didn't turn out. ? But that's okay! The creamy spiced spinach is absolutely delightful on its own, so it's...
How to Cook Bacon in the Oven
As much as I love bacon, I used to avoid it because the though of sputtering hot bacon grease getting all over me and my kitchen was enough to make me stick to just eggs and toast. But in my early 20's I worked in a commercial...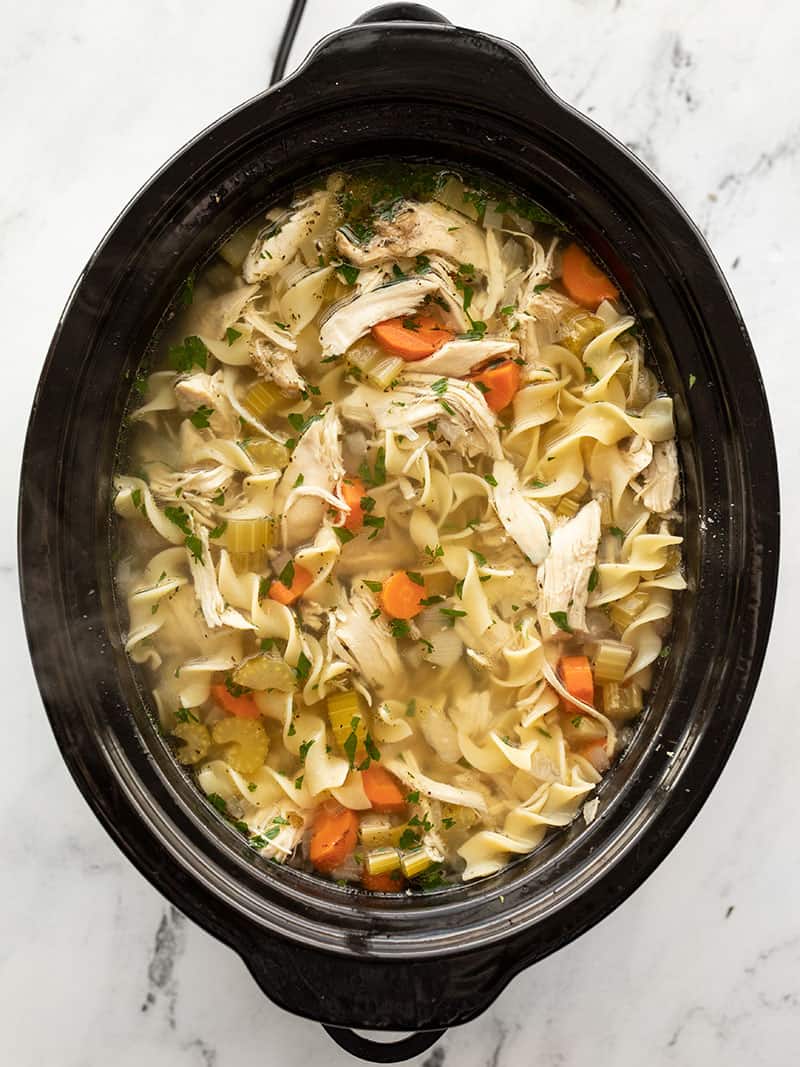 Slow Cooker Chicken Noodle Soup
Homemade chicken noodle soup from scratch is one of my absolute favorite comfort foods. Not only is it incredibly easy, but even just the smell of it simmering away is soothing and totally gives me hygge vibes. While I've had a stove top...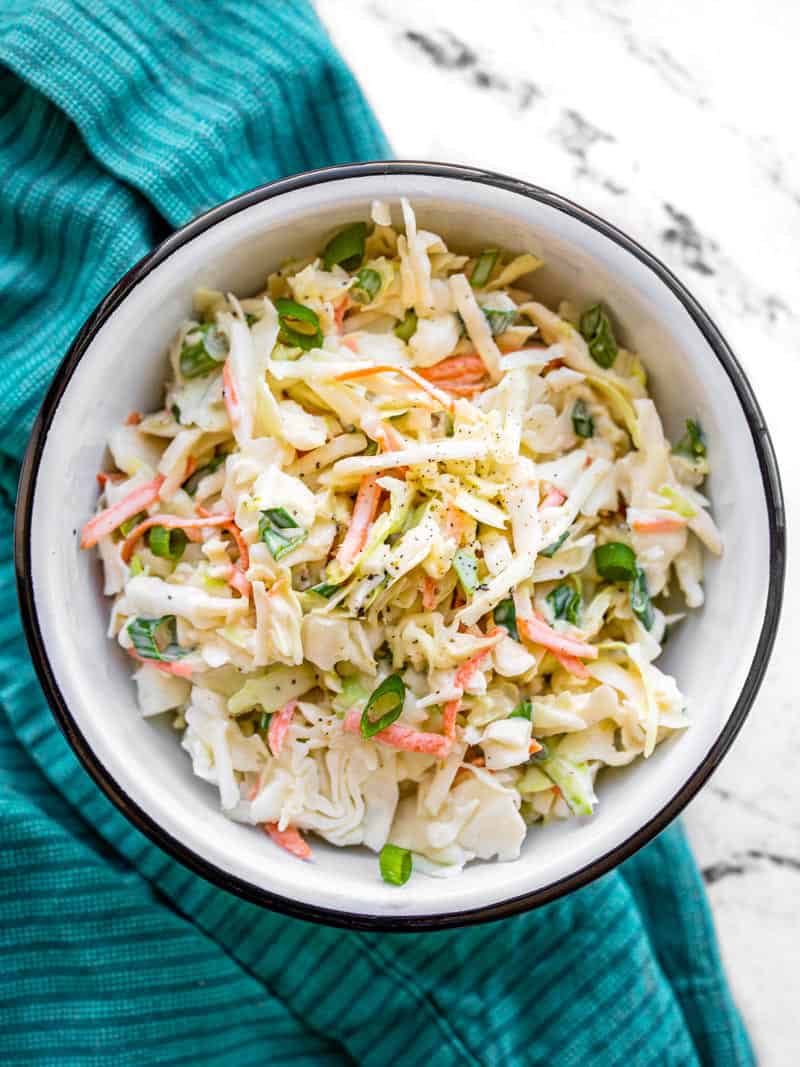 Simple Creamy Coleslaw
I never knew I was a coleslaw person until I made it myself. I had eaten it plenty of times at restaurants, never once having been impressed, and always wondering what the appeal was. But then I decided to make a quick batch of creamy coleslaw to go...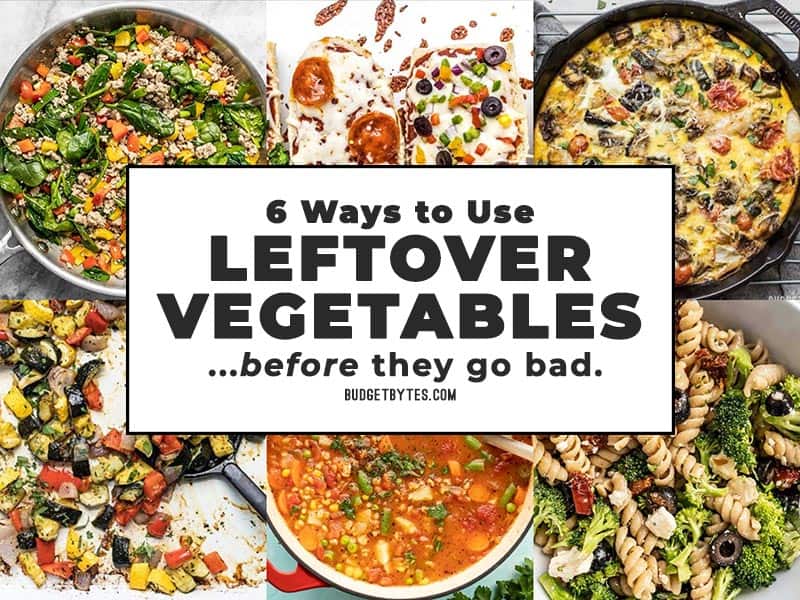 6 Easy Ways to Use Leftover Vegetables
Did your New Year's resolution include eating more vegetables" It's a fantastic goal and one I get behind anytime of year, but there's definitely a learning curve! I'm sure we've all had this experience:...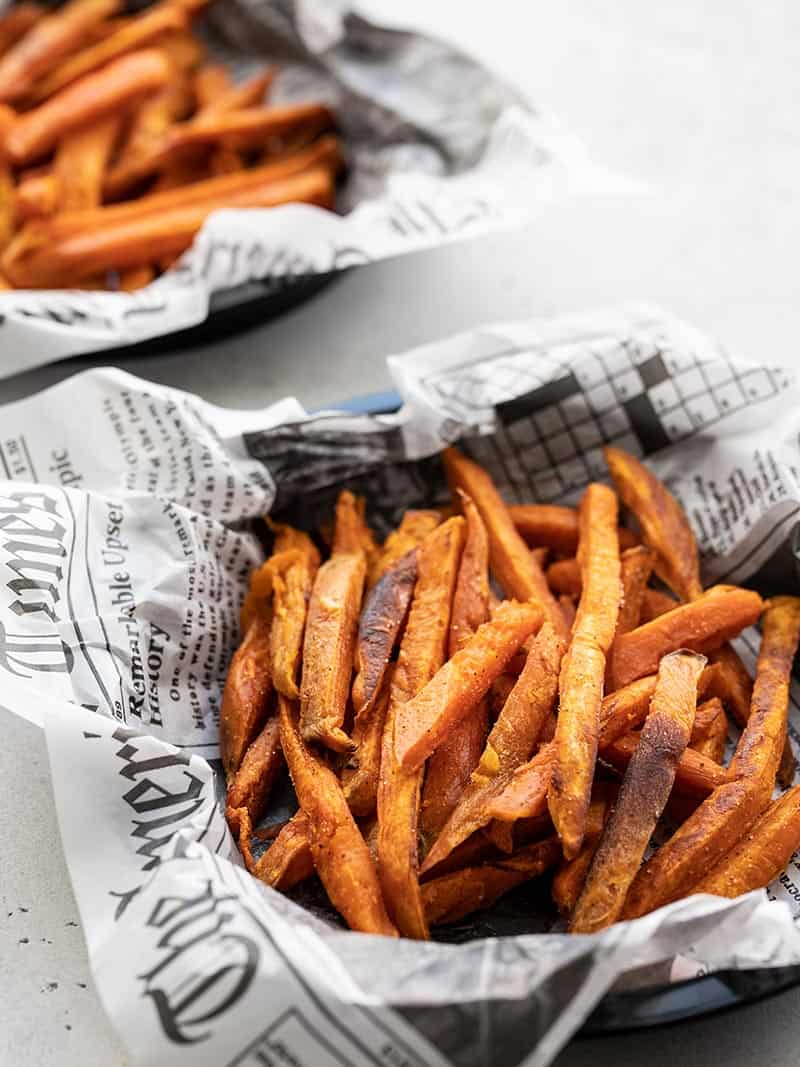 Spicy Sweet Potato Fries
I don't do side dishes often (I'm more of a "bowl meal" type person), but when I do, I make sure to keep them simple. If I'm already going through a lot of trouble to make a main dish, I'm not going to pull out...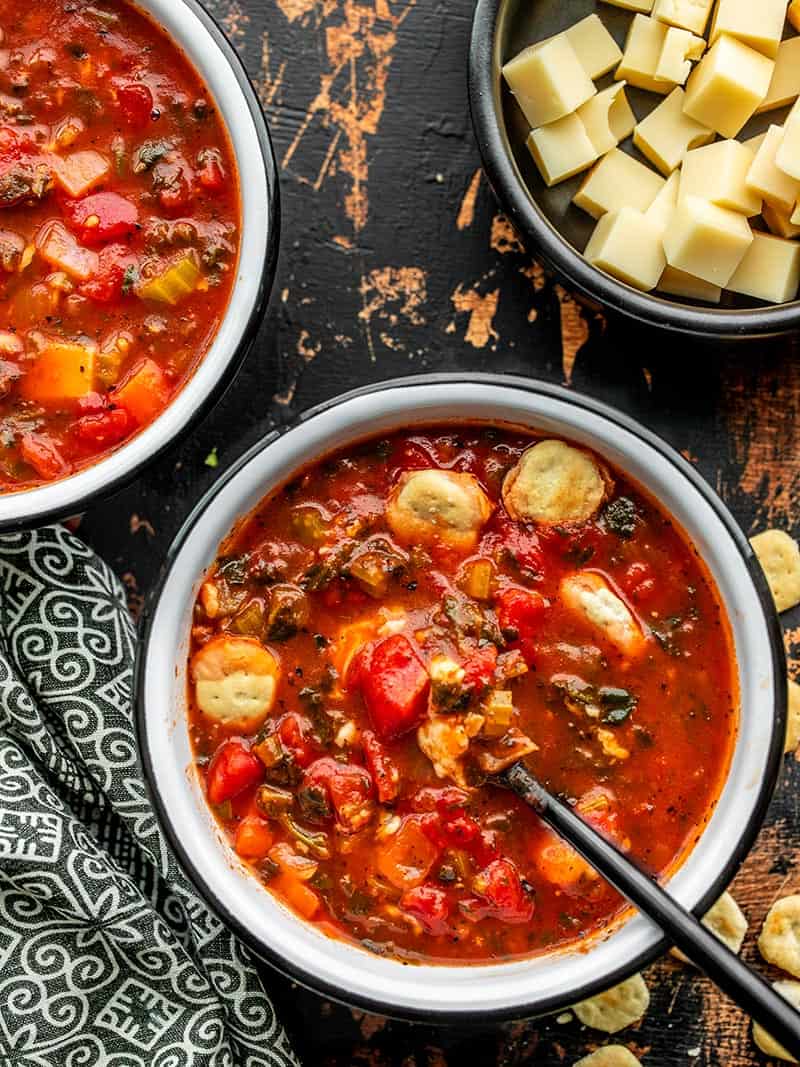 Swamp Soup
Despite its "swampy" appearance, this soup is simply one of the best things I've ever eaten. If you like tomato soup, you'll adore Swamp Soup. It's like tomato soup on steroids and with a grilled cheese built right in....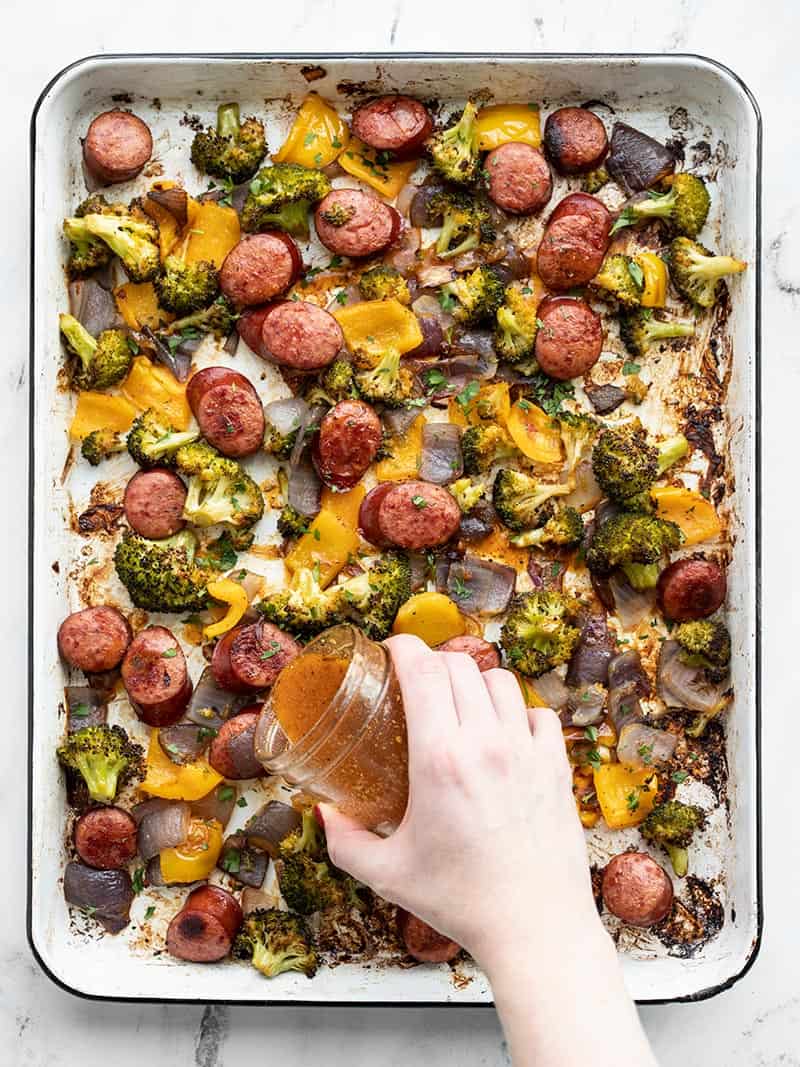 Smoky Roasted Sausage and Vegetables
Sheet pan meals are my savior. There's really nothing easier than roasting vegetables in the oven, and it happens to make them taste really good, too. Add a little meat to the vegetables and you have a meal! For this Smoky Roasted Sausage and...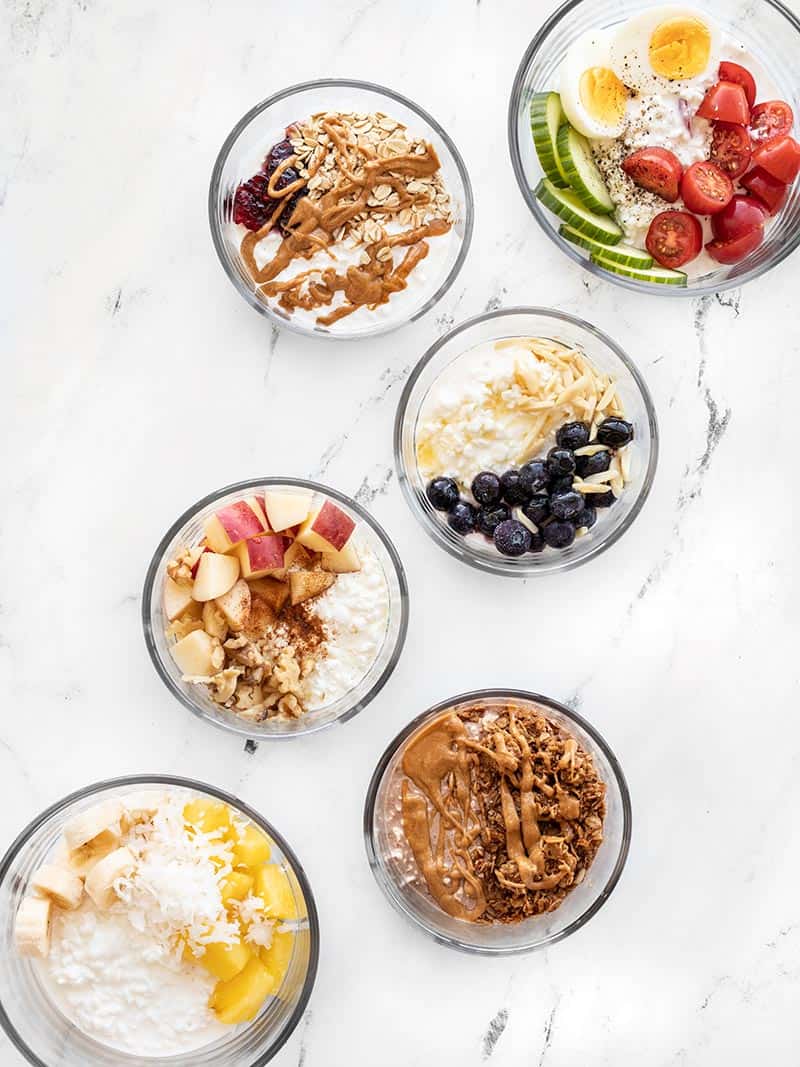 Cottage Cheese Breakfast Bowls 6 Ways
Food trends are one factor that can have a big impact on ingredient costs. It's all about the laws of supply and demand. If the demand is low but supply is relatively stable, the cost will come down. And do you know what food isn't...
Top 20 Recipes of 2019
It's that time of year again! Time to look back and reflect on everything that happened. I like to do an end of the year round up my favorite recipes so you can browse the best of the best in one place and make sure that you don't miss...
Spinach and Artichoke Wonderpot
What is a Wonderpot" It's a pasta dish that cooks all in one pot (a.k.a. One Pot Pasta) with vegetables, aromatics (garlic, onion), and broth so that every bite is packed with flavor. The broth and pasta create a rich saucy gravy in the...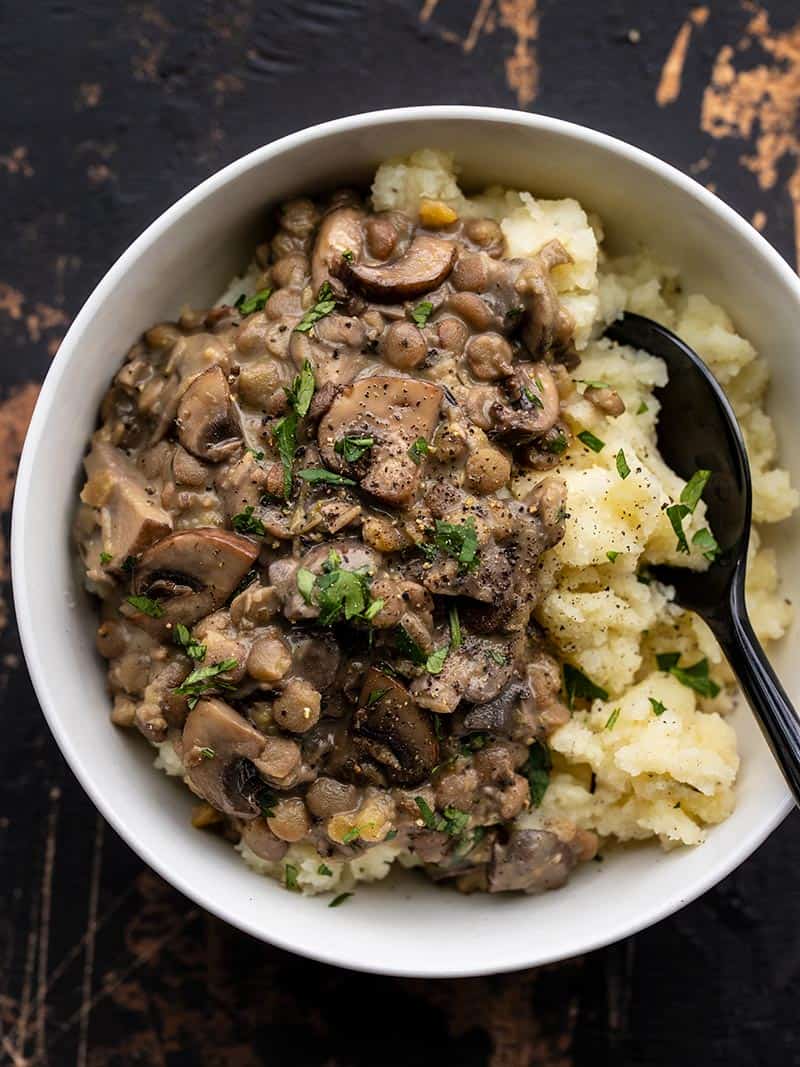 Lentils with Creamy Mushroom Gravy
Ever since I added coconut milk to my ramen broth, I haven't been able to stop adding coconut milk to all of my savory saucy and brothy dishes. The creaminess of the coconut milk is unmatched, and pairs particularly well with the flavor of...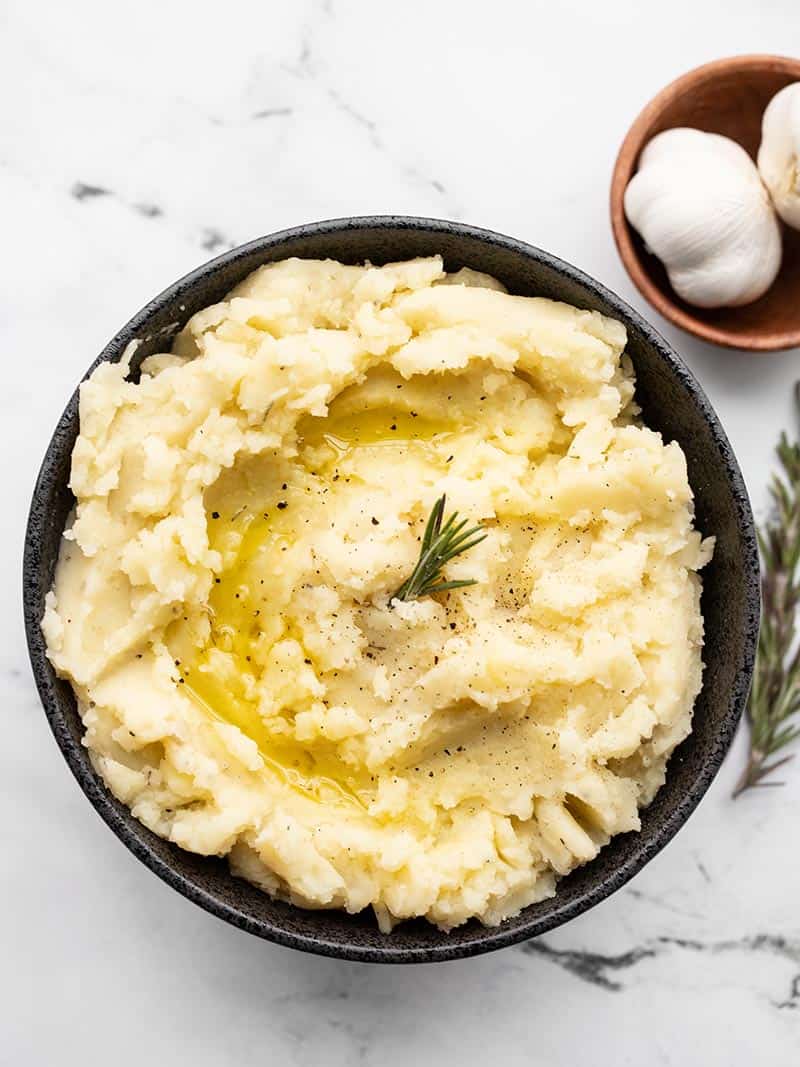 Olive Oil Mashed Potatoes
Mashed potatoes are pretty freaking fantastic. They're warm, comforting, and really quite versatile. You can eat them as a side dish, as a base to a bowl meal, and you can flavor them with any number of seasoning combos. The problem, though,...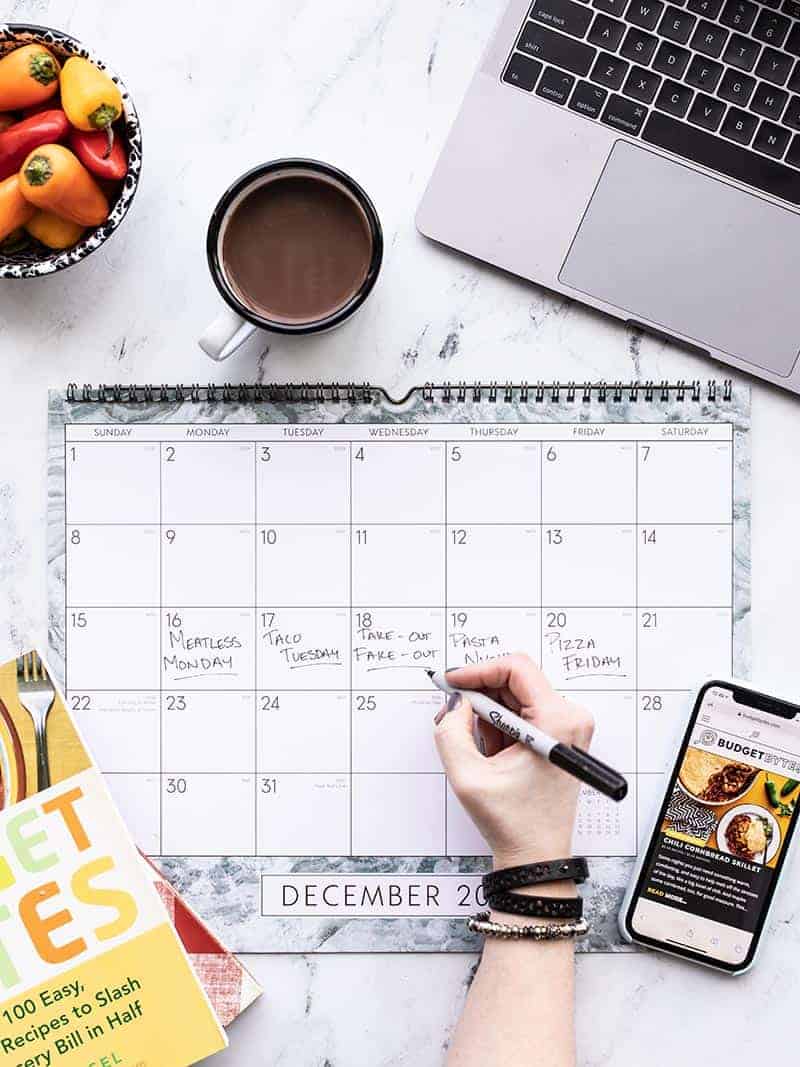 Meal Planning 101 ? How to Make a Meal Plan That Works for YOU
  Whether you?re trying to spend less money (oh, hey! ?), eat healthier, get more organized, or just make better use of your time, meal planning can help you get there. I recently released a set of pre-made monthly meal plans, but I think...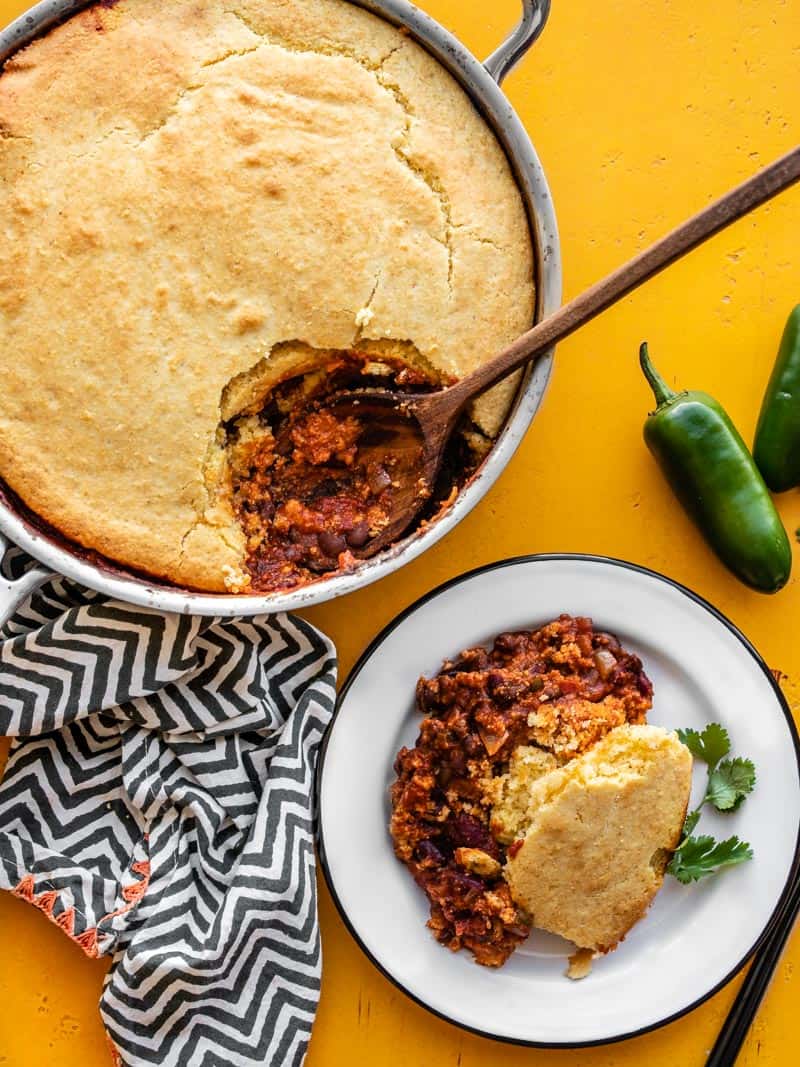 Chili Cornbread Skillet
Some nights you just need something warm, comforting, and easy to help melt off the stresses of the day, like a big bowl of chili. And maybe some cornbread, too, for good measure. This easy Chili Cornbread Skillet has all the comfort of a pot of...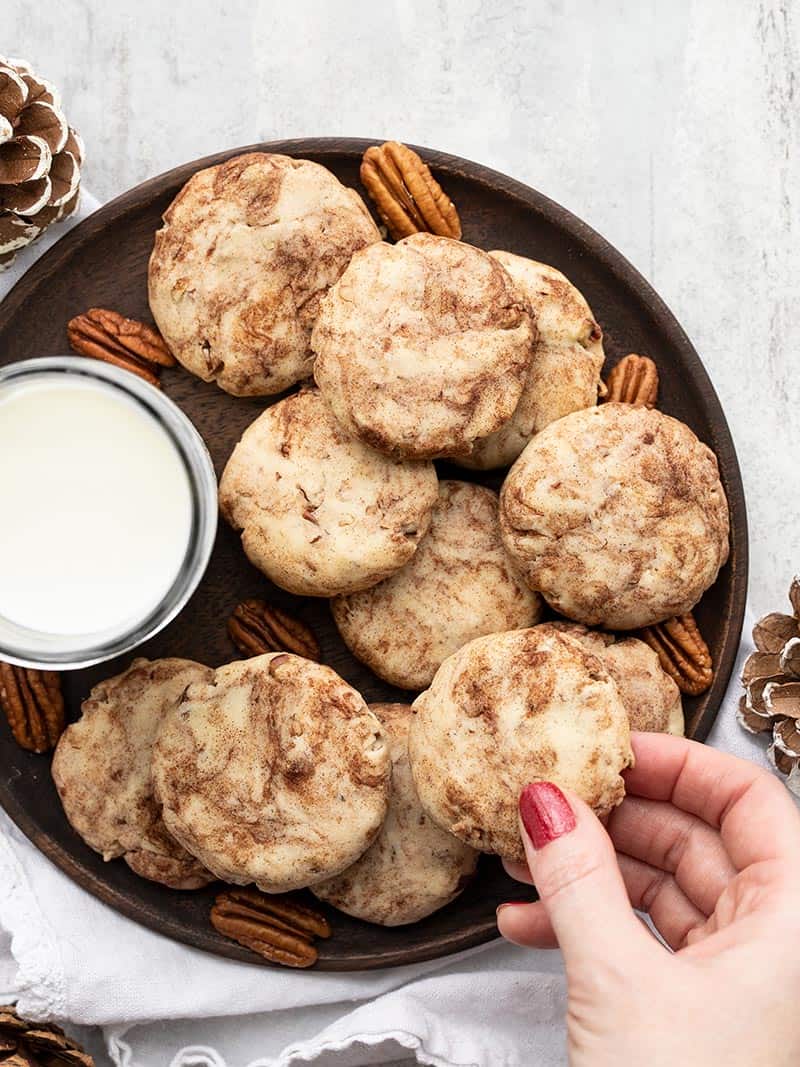 Cinnamon Pecan Sandies
I'm not a huge cookie person (I'd rather have a chunk of cheese ?), but I looooove pecan sandies! I think I love them because they're not too sweet. They're rich, buttery, and nutty, with just a little hint of sweetness. The...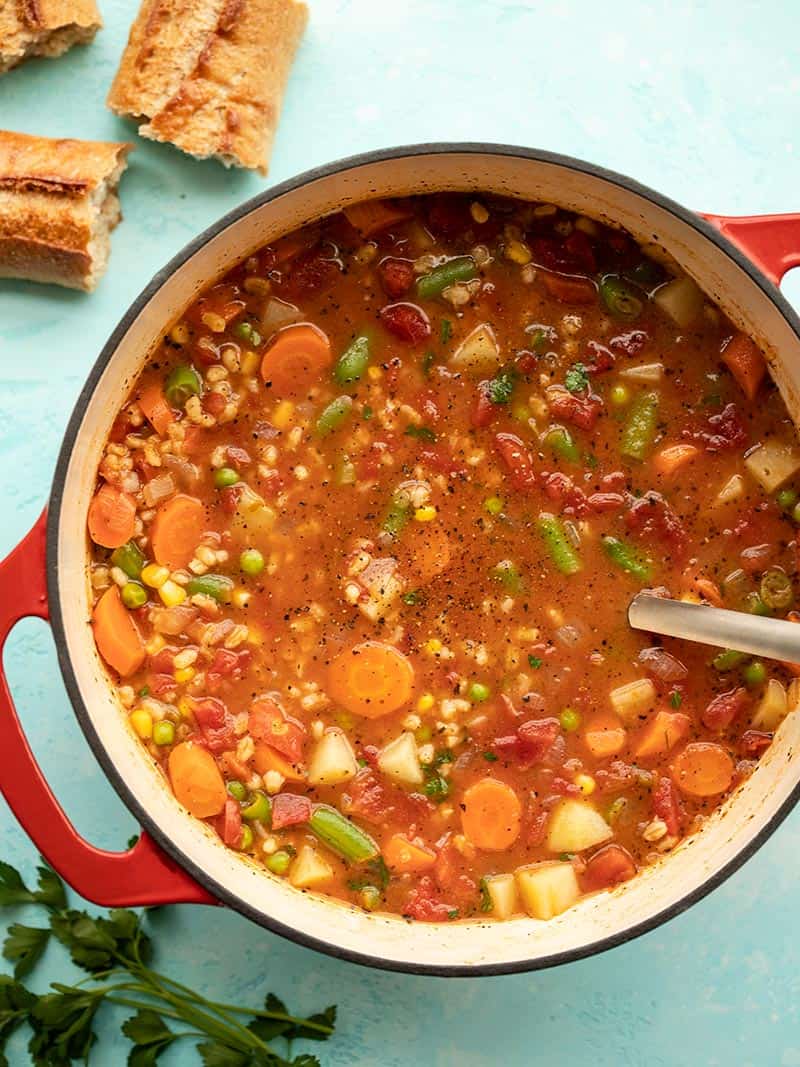 Vegetable Barley Soup
Can't stop, won't stop with the yummy soups over here! Soup is easy, soup is filling, soup is an easy way to pack some more vegetables into your day, and soup (usually) freezes well. This week I'm bringing you this awesome...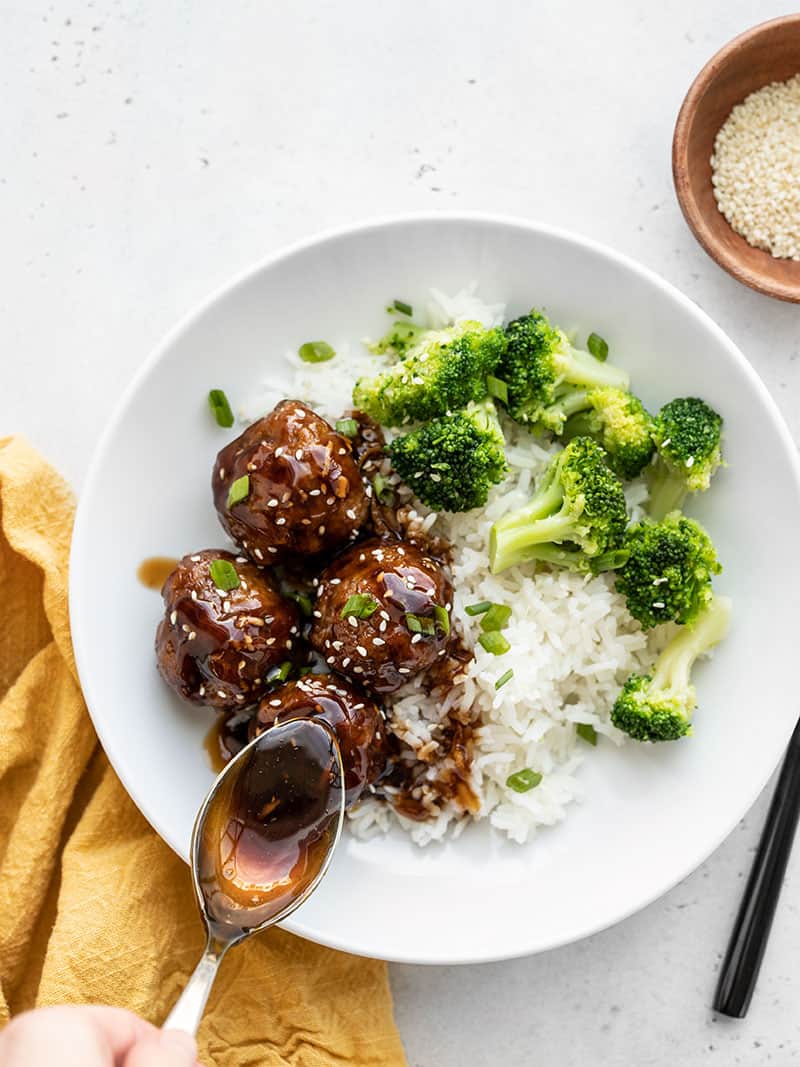 Teriyaki Meatball Bowls
I'm kind of obsessed with meatballs. They're easy to make, filling, they pack well for lunches, are freezer-friendly, and can be paired with so many different flavors. Plus, I just kind of think meatballs cute (is that weird"). This...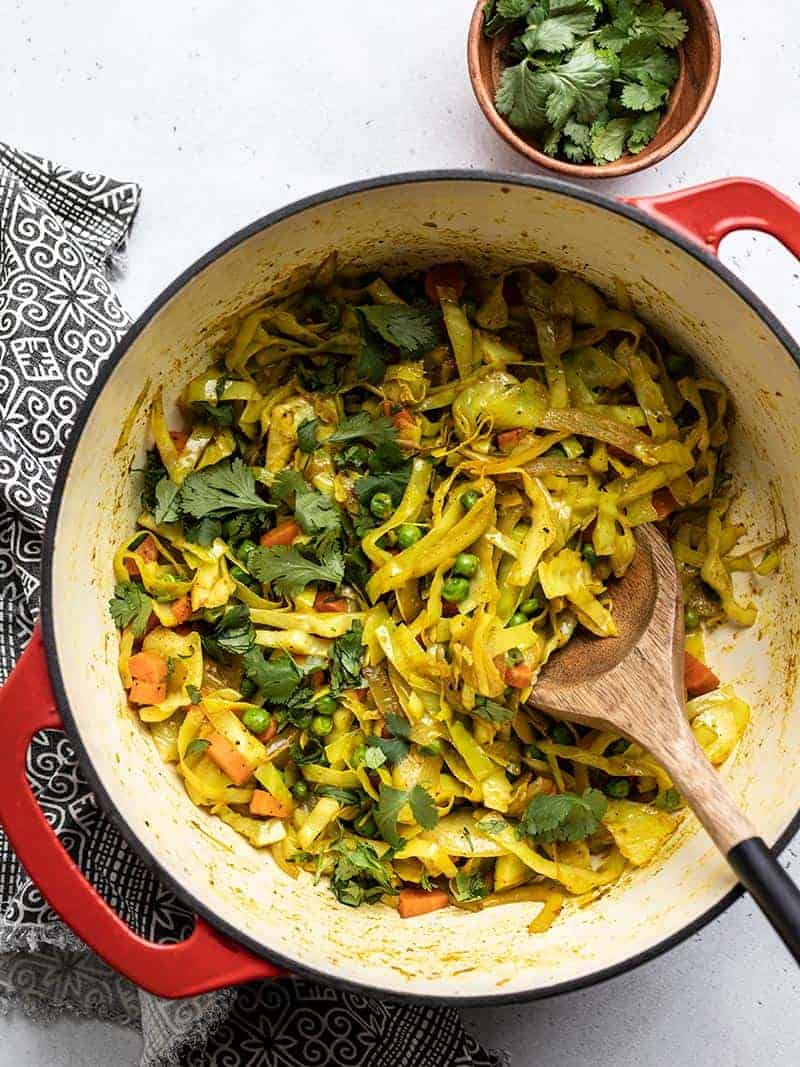 Curried Cabbage
There's something super comforting to me about sautéed cabbage with butter and I eat it a lot in the winter months when cabbage is fresh and inexpensive. And because it's just so cheap, delicious, and filling, I love coming up with...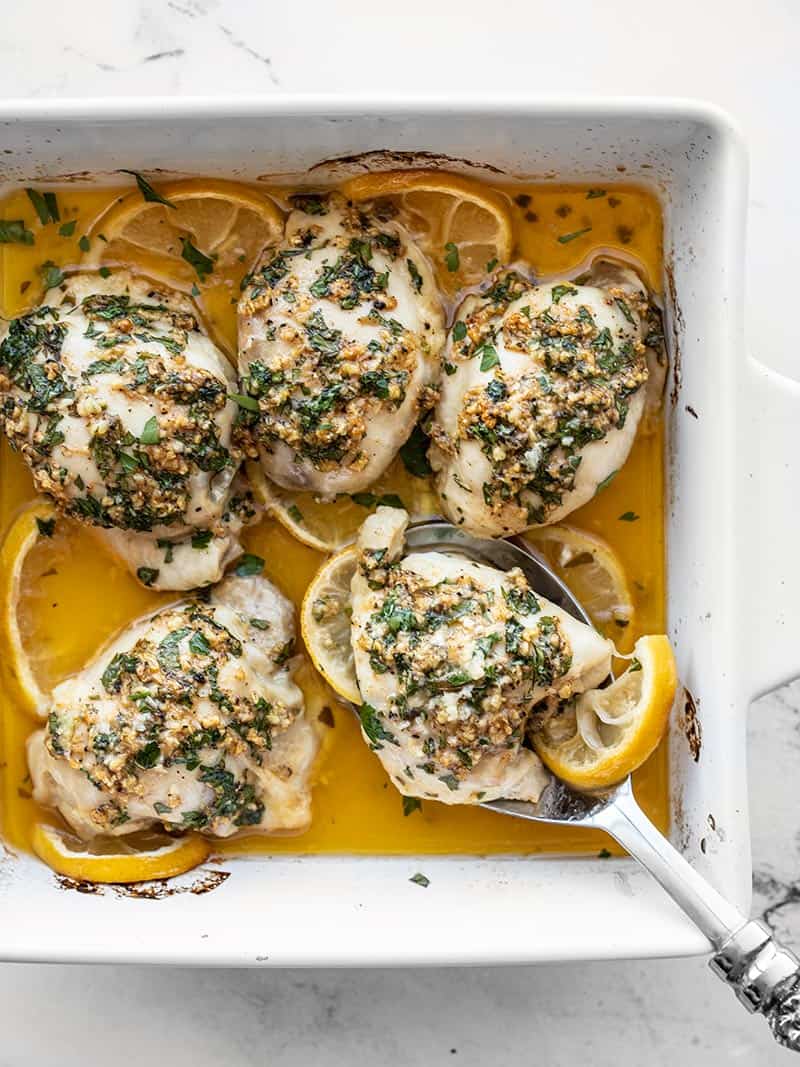 Garlic Butter Baked Chicken Thighs
Is there any food that isn't good when drenched in garlic butter" It's the easiest, most fool-proof way to make something insanely delish. So, because it's the week after Thanksgiving and I don't feel like spending...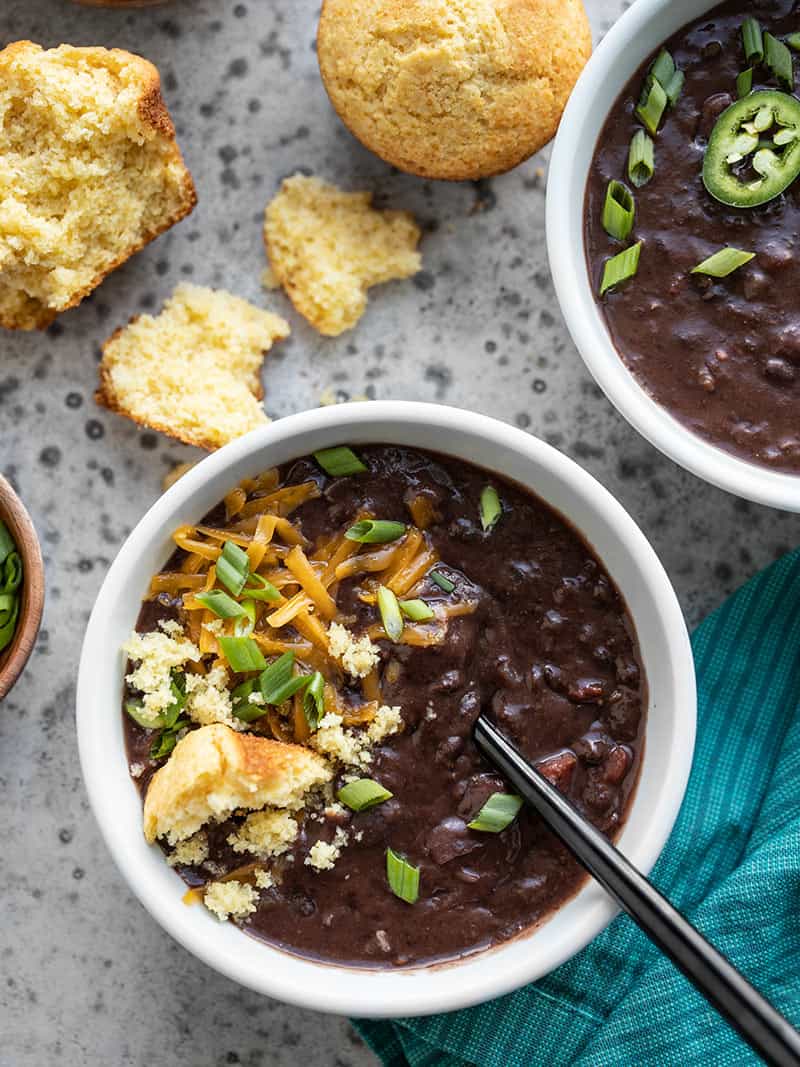 Smoky Black Bean Soup
I hope you guys don't get sick of all my soup recipes, because I pretty much live off of soup this time of year! This Smoky Black Bean Soup is definitely going to be one of my new fav's because it's so fast, super thick and...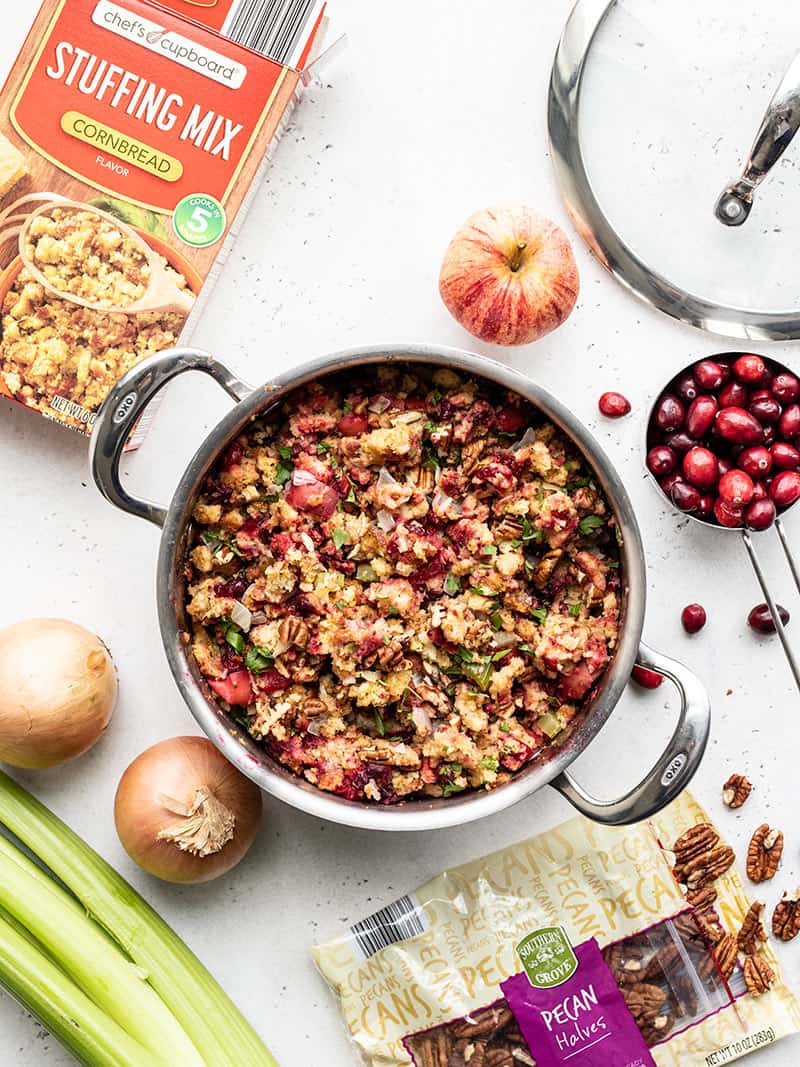 Roasted Apple Cranberry Cornbread Stuffing
My philosophy on Thanksgiving is to keep it simple. Simple is elegant, simple is cost effective, and simple is easy (because hey, the cook wants to enjoy the day, too). I like to take super simple recipes and add just a little...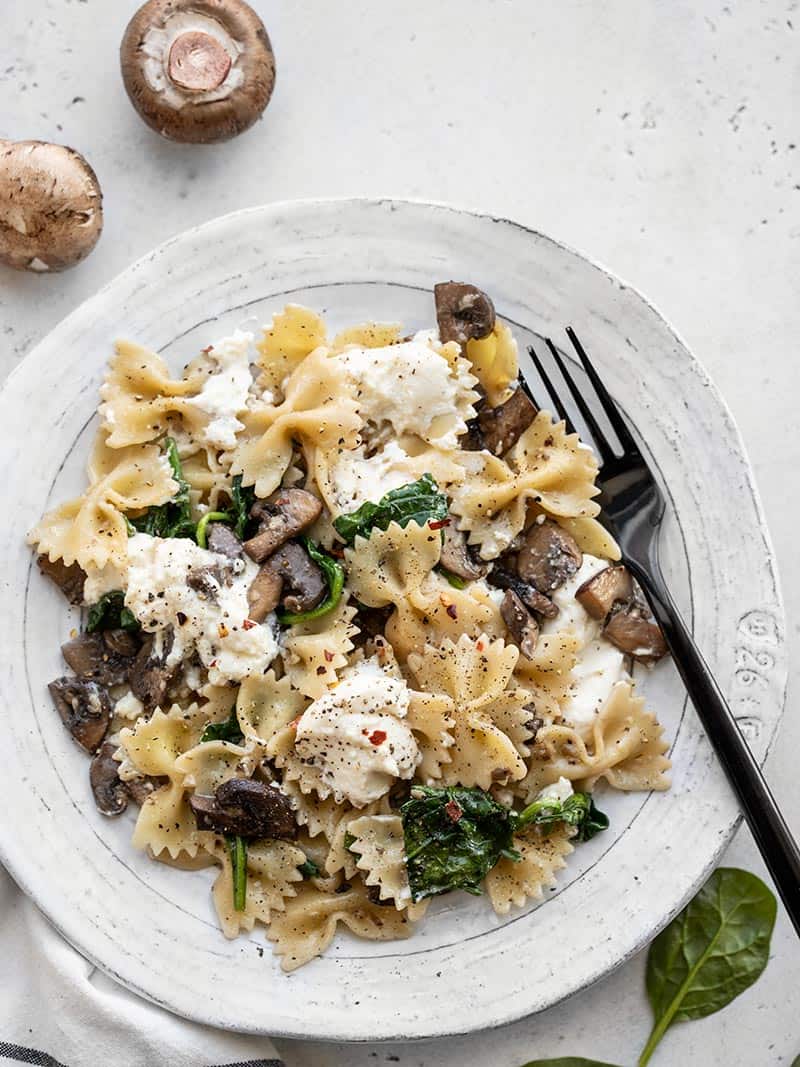 Mushroom and Spinach Pasta with Ricotta
There's something really special about the simplicity of pasta with butter, salt, and pepper. The creaminess of the butter and the little pops of salt and pepper sitting on the surface of the pasta, it's simple goodness at its best. I...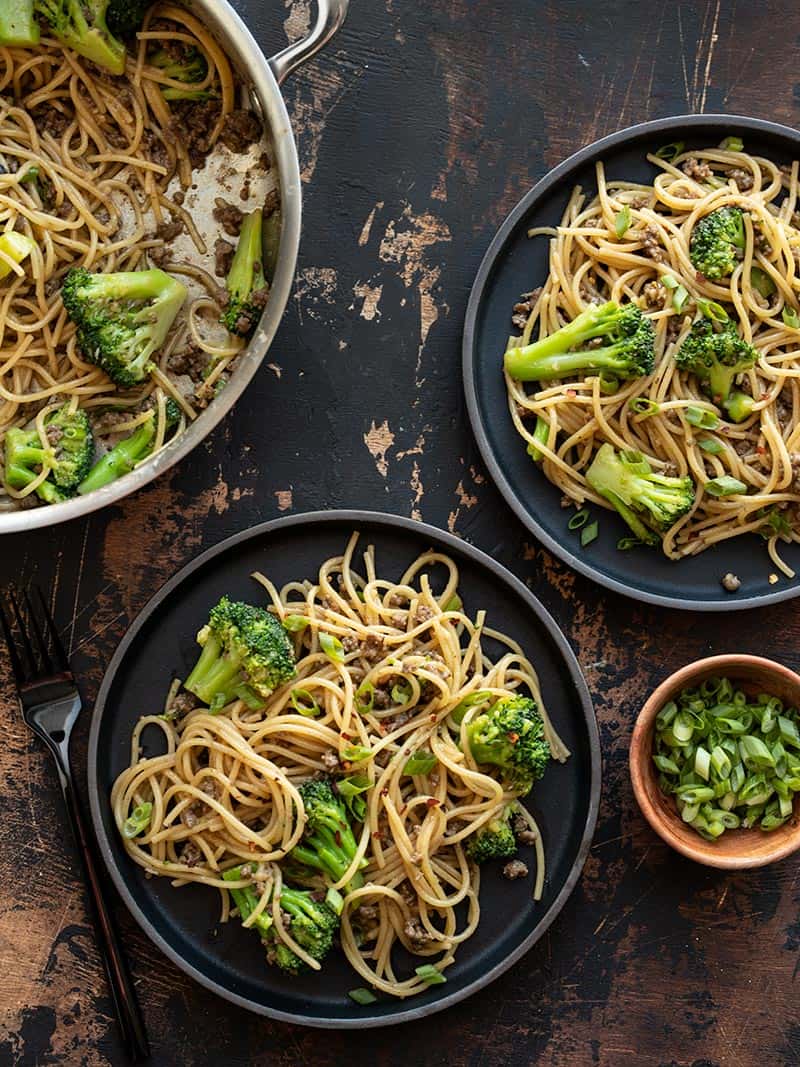 Garlic Noodles with Beef and Broccoli
Have you ever tried Garlic Noodles" They're a super rich, buttery, salty-sweet, umami filled dream. I usually serve them as a side dish, but this week I decided to just go ahead and turn them into a full meal. Because it's so much...
How to Make Homemade Whipped Cream
It's the season for cozy mugs of hot cocoa, pumpkin pies, and other delectable desserts, all of which can benefit from a heaping spoonful of fluffy, cloud-like whipped cream. And not just any whipped cream, homemade whipped cream. If...
Creamy Vegetable Wild Rice Soup (Vegan)
Soup is such a great food. So easy, so filling (if you do it right!), a great way to use up leftover ingredients, and the flavor possibilities are endless. I recently discovered how delicious vegetable broth and coconut milk are together (see Vegan...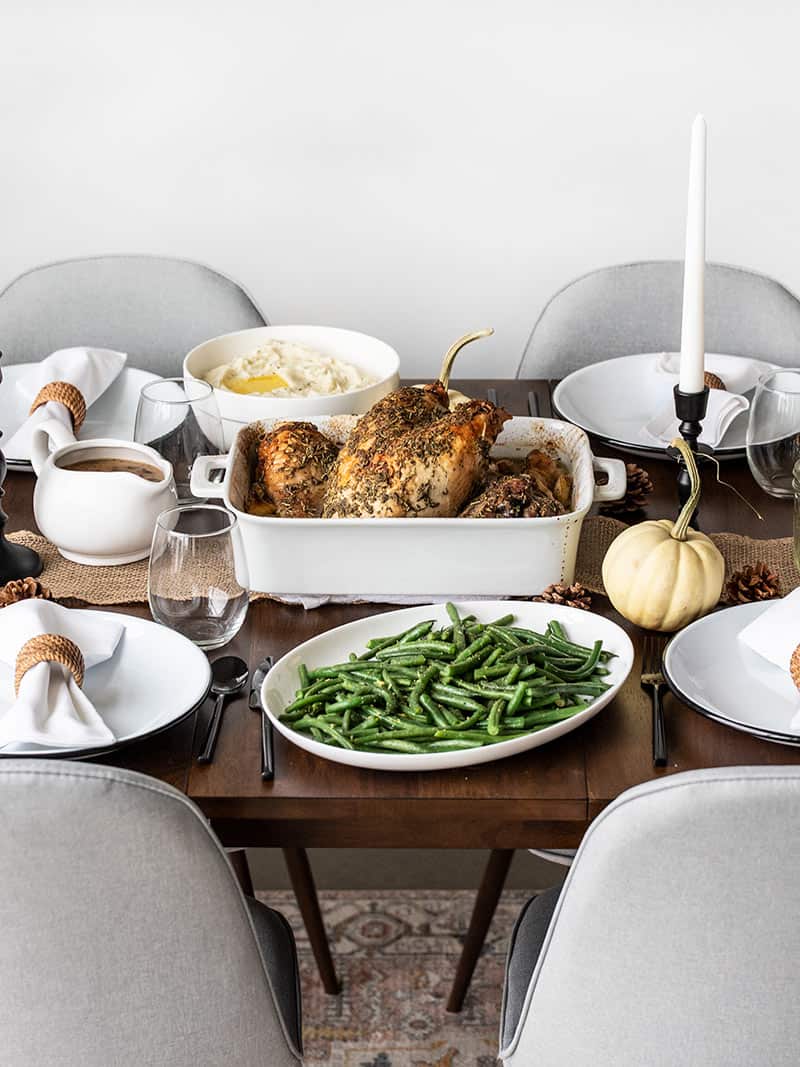 How to Make an Easy Thanksgiving Dinner for Beginners
Thanksgiving dinner is a daunting task, even for experienced cooks. It's a bit of a logic puzzle figuring out how to prepare ten different dishes with one stove and still have everything hot and delicious when it's time to eat. Luckily,...
Maple Roasted Sweet Potatoes with Pecans
Whether you call them Maple Roasted Sweet Potatoes or candied yams, these tender, sweet, and irresistible nuggets are the quintessential Thanksgiving side dish. They're also super simple to prepare, which gives them a permanent spot on my...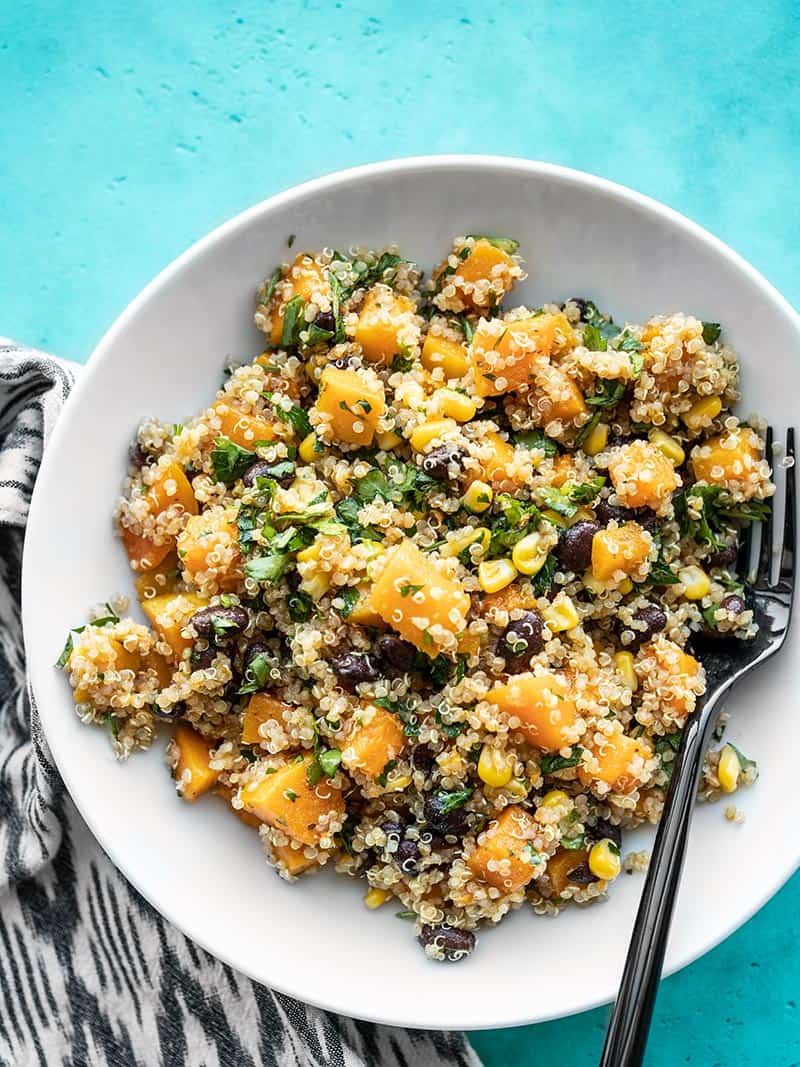 Chipotle Butternut Squash and Quinoa Salad
Just because it's not summer anymore, doesn't mean I stop rollin' with my refrigerator salads! This Chipotle Butternut Squash and Quinoa Salad is a little smoky, uses hearty autumn vegetables, and can be served either cold or warm,...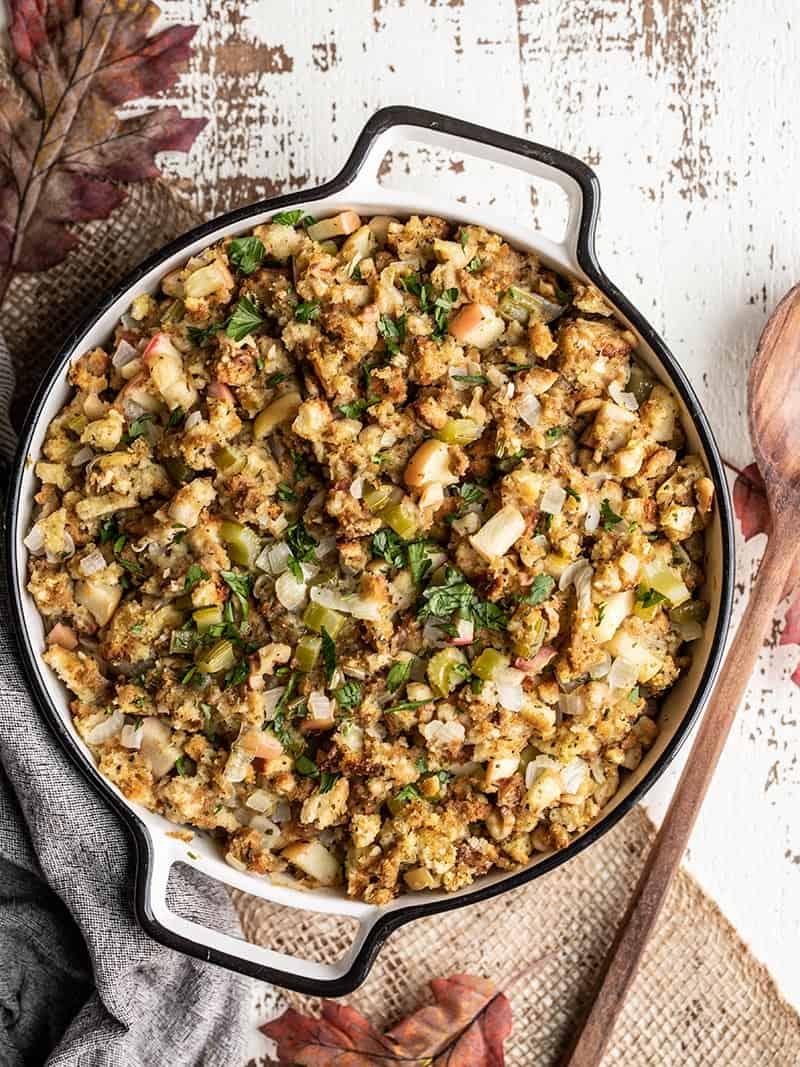 Apple Walnut Stuffing
I'm all about making things from scratch. When it makes sense. If you're cooking an entire Thanksgiving dinner by yourself, I think it makes sense to take a few shortcuts. One shortcut I like is zhuzhing up a boxed stuffing mix with a...
Maple Brown Butter Pumpkin Pie
There are a million pumpkin pie recipes on the web. There's even a perfectly good recipe on the back of every single can of pumpkin purée on the store shelves. So I didn't want to make just another basic pumpkin pie. No one needs that....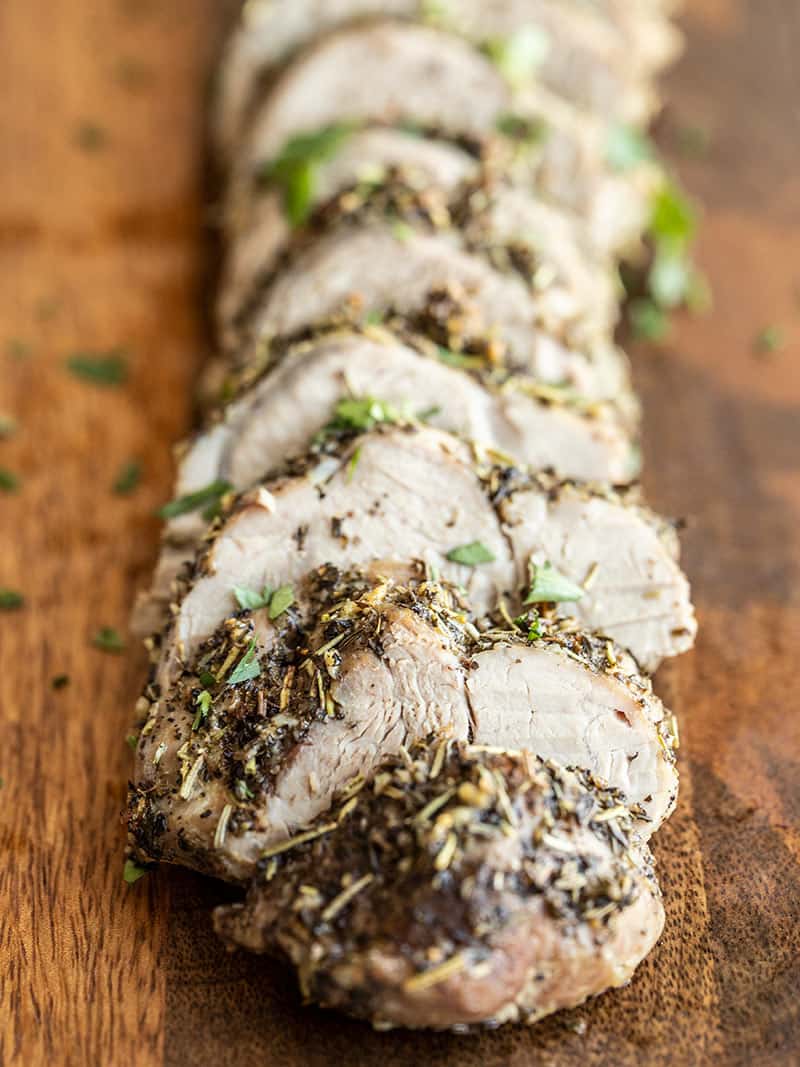 Herb Roasted Pork Tenderloin
If you haven't quite honed your kitchen skills, but still need a recipe to impress, this Herb Roasted Pork Tenderloin is for you. It's ridiculously simple and pretty much fool proof. Just mix up some garlic, herbs, and oil, smear it on...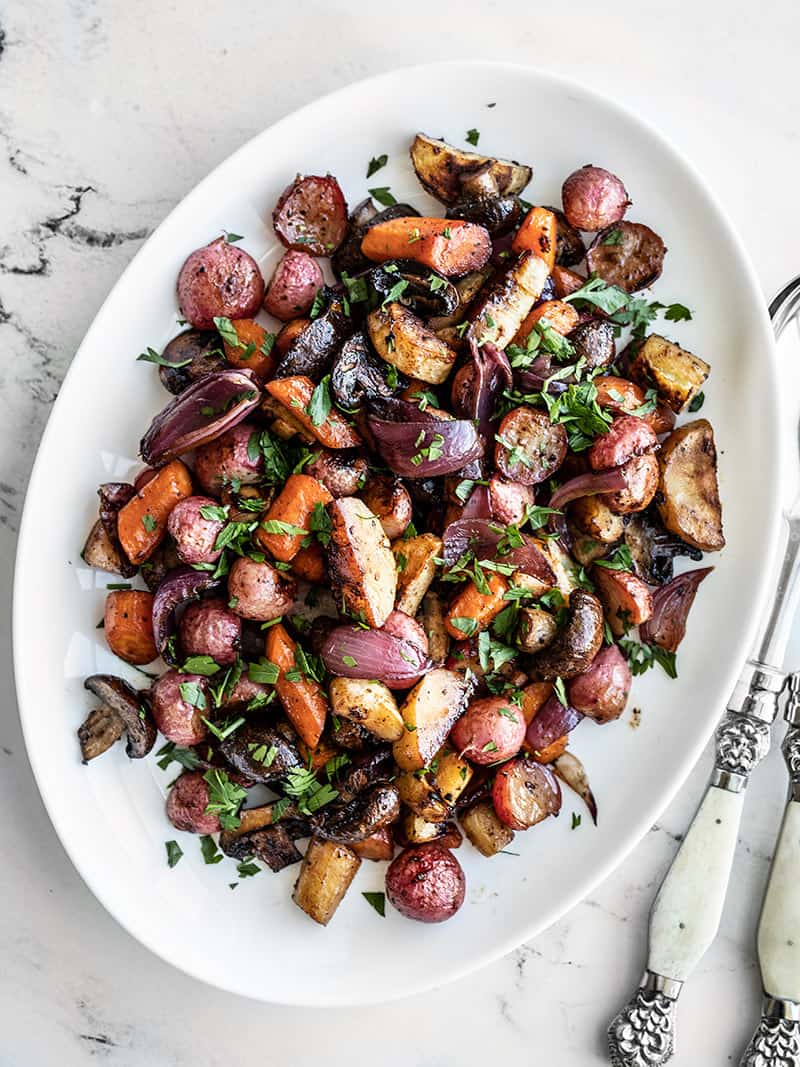 Balsamic Roasted Vegetables
You can never have enough all-purpose side dish recipes, like Balsamic Roasted Vegetables. These sweet and savory caramelized vegetables are versatile (use any vegetables), they hold up well to reheating (perfect for meal prep), and their flavor...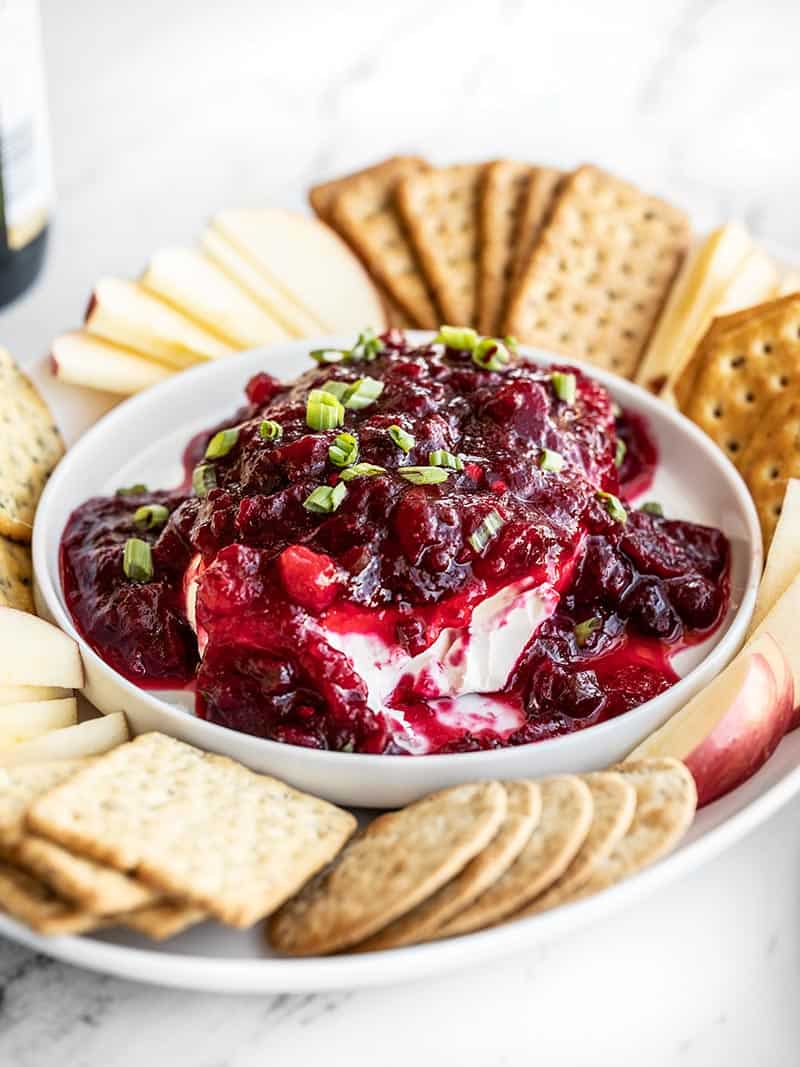 Cranberry Cream Cheese Dip
We are rapidly descending into party season. There are Halloween parties, then Thanksgiving and Friendsgiving, Christmas parties, and then finally New Year's Eve parties. It's like boom-boom-boom-boom! So I thought I'd get started...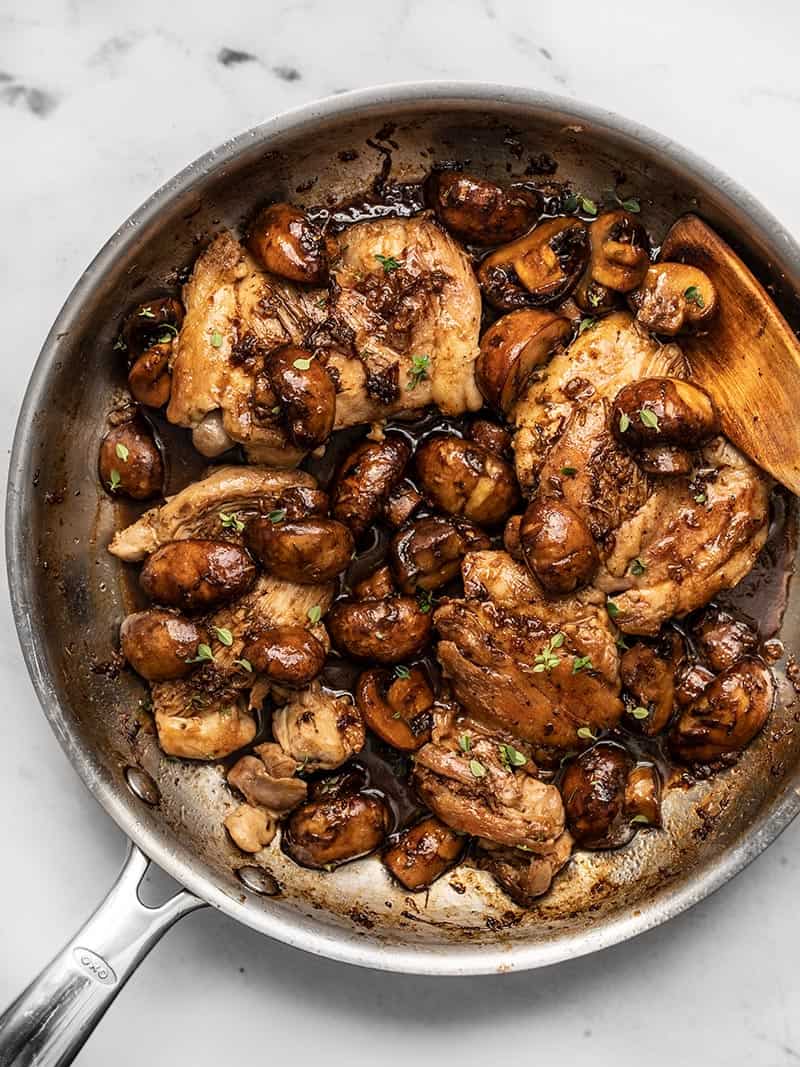 Balsamic Chicken and Mushrooms
Pan sauces for the win! Making a quick sauce in the skillet after browning meat is one of the easiest ways to make a really spectacular meal. Those little browned bits on the skillet (called fond) are ultra flavorful and shouldn't be wasted....
Classic Baked Ziti
As soon as the weather turns cool, I grab the cozy sweaters and start cooking the comfort food, like this Classic Baked Ziti. It's rich and gooey with its layers of pasta, homemade red sauce with Italian sausage, and three types of melty...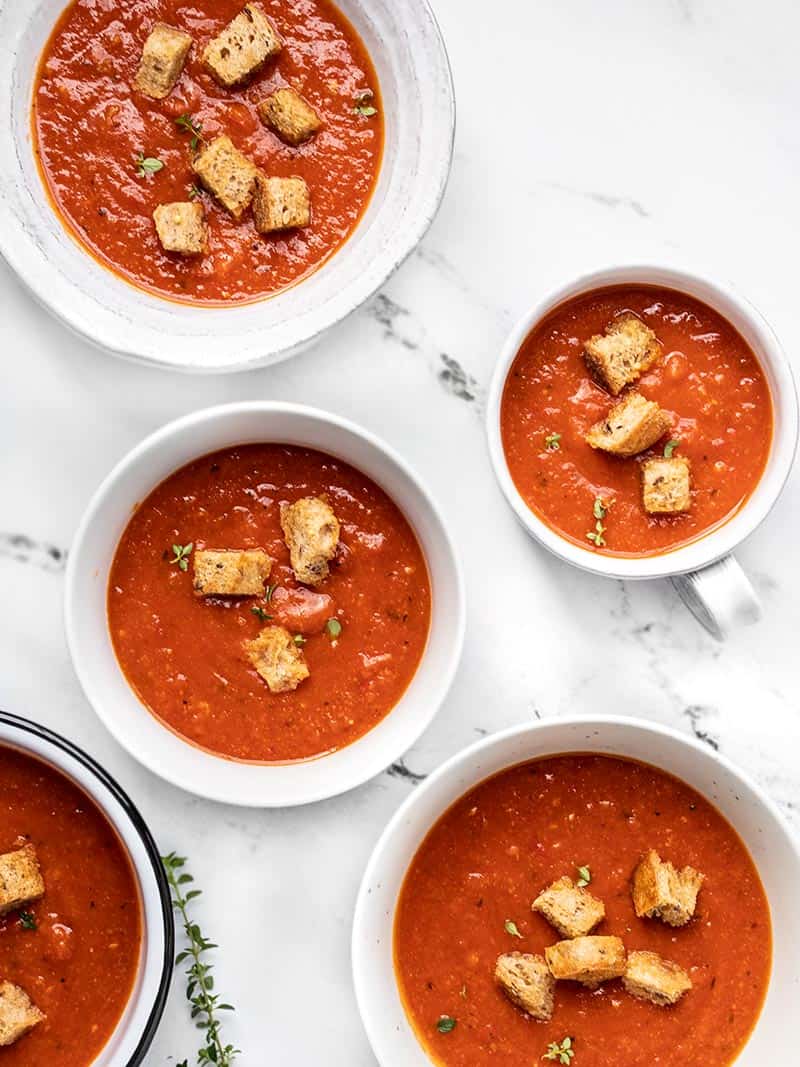 Secret Ingredient Tomato Soup
I don't know if I've told you, but I'm a little bit of a tomato soup fanatic. I've made several tomato soup recipes for Budget Bytes over the past ten years, but this week I tried something a little different. This Secret...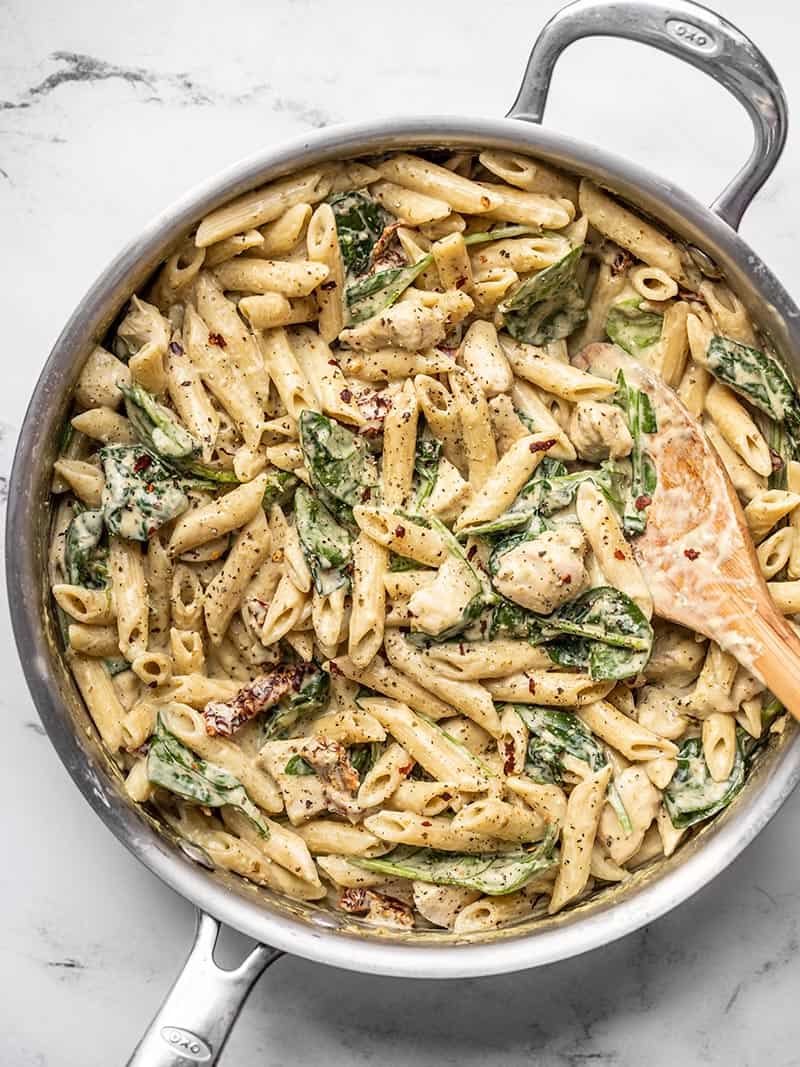 One Pot Creamy Pesto Chicken Pasta
This One Pot Creamy Pesto Chicken Pasta was inspired by those little packets of powdered pasta sauce mix I always see in the grocery store. While those little packets are probably great for camping, stocking a bomb shelter, or keeping in your...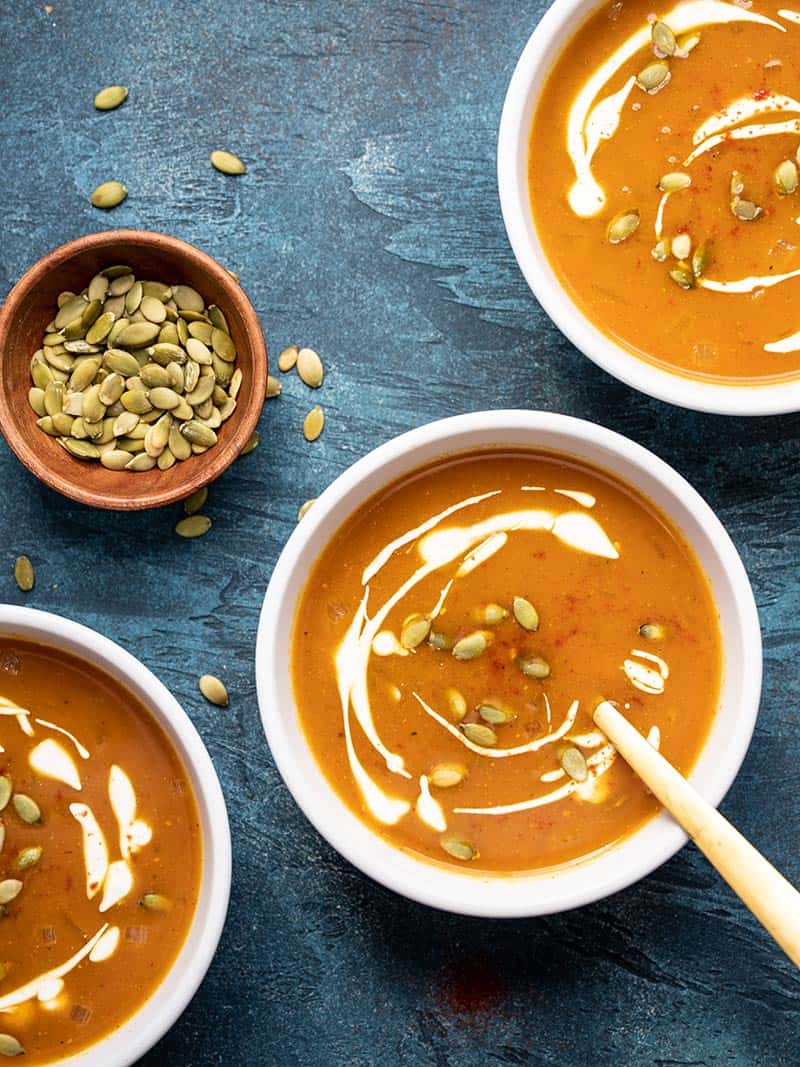 Easy Pumpkin Soup
 Y'all, I'm reaching waaaaay down into the Budget Bytes archives with this one. I first posted this Easy Pumpkin Soup in 2009, just a few months into my blogging journey. When October 1st hit this year, I knew I wanted to redo this...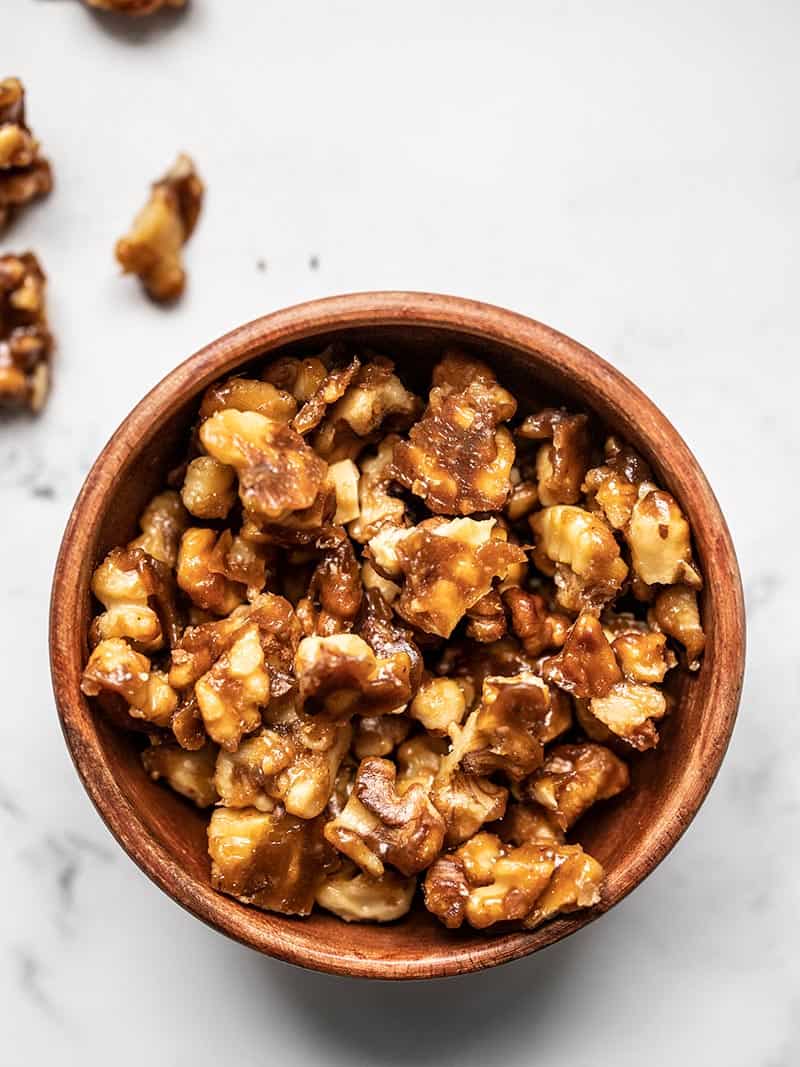 Small Batch Crunchy Candied Walnuts
These crunchy little devils are dangerous. They're addictively sweet, rich, crunchy, and nutty. I made this "small batch" recipe to not only keep myself from eating two cups of candied walnuts at once, but also because walnuts are...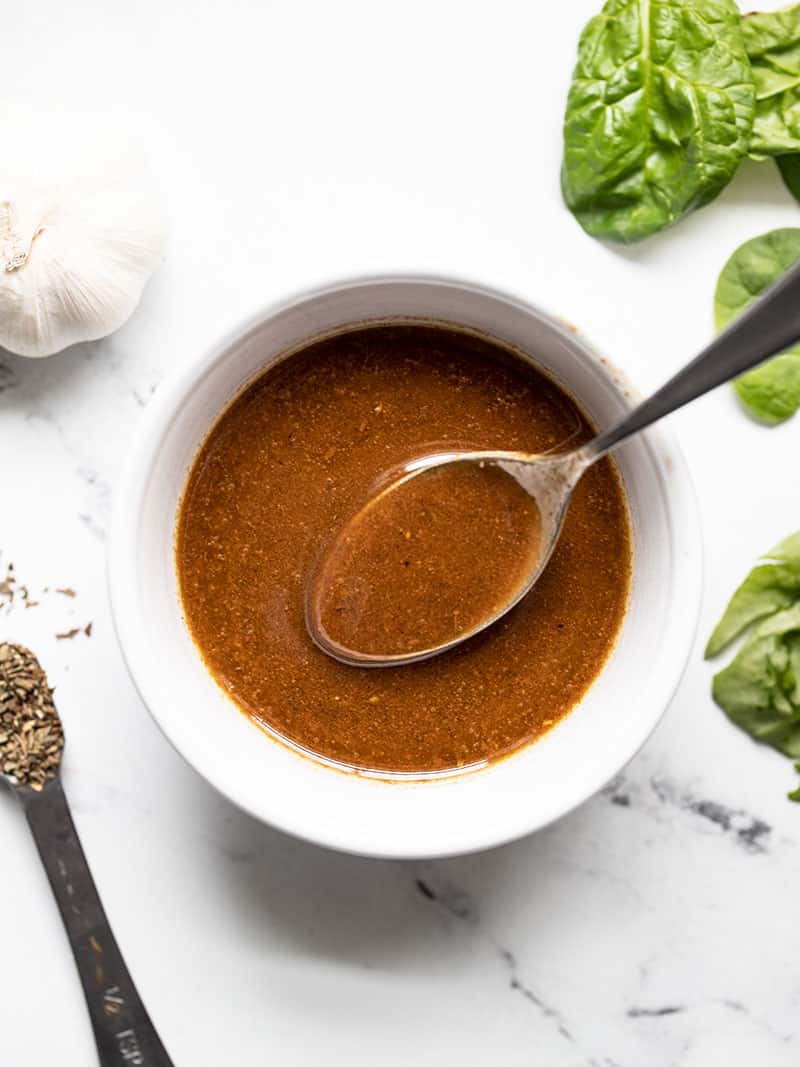 Easy Homemade Balsamic Vinaigrette
If you haven't noticed, I make this Easy Homemade Vinaigrette with a lot of my salad recipes. It's pretty much my go-to when I'm not making a lemon tahini dressing. But anyway, it's so simple, so versatile, and has so many...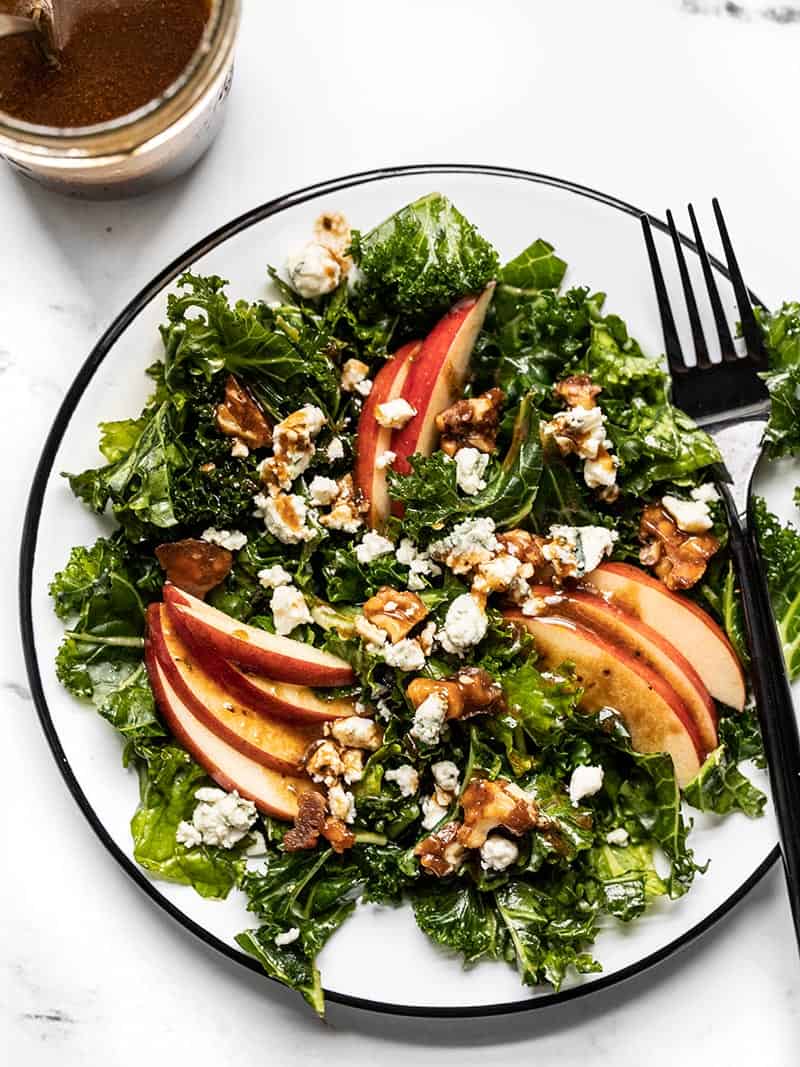 Autumn Kale and Apple Salad
I'm moving forward full speed ahead with indulging my autumn obsession, despite the fact that it's still 95 degrees outside. A good compromise between the crushing heat and my desire for all things fall is a fall-inspired salad. So this...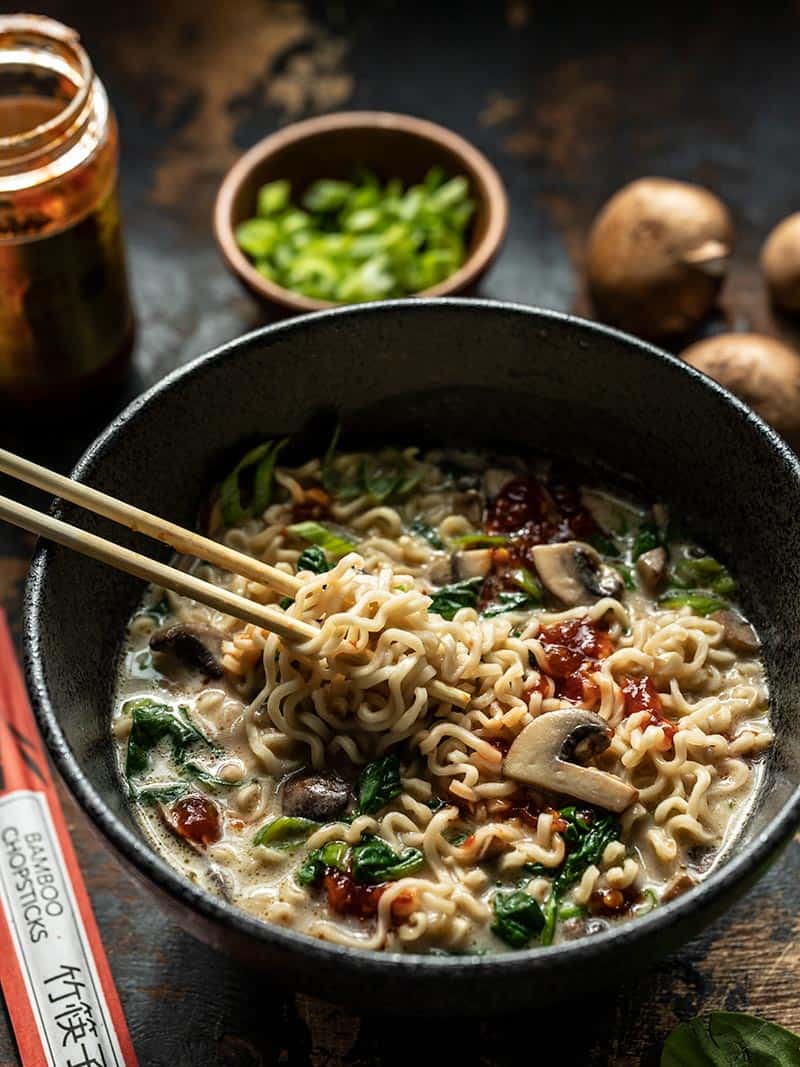 Vegan Creamy Mushroom Ramen
I hope I've convinced you to experiment with leftovers in your fridge by now. Most of my favorite recipe creations have come from me just piling whatever I have leftover in my fridge into a bowl or pot, and seeing how it turns out, including...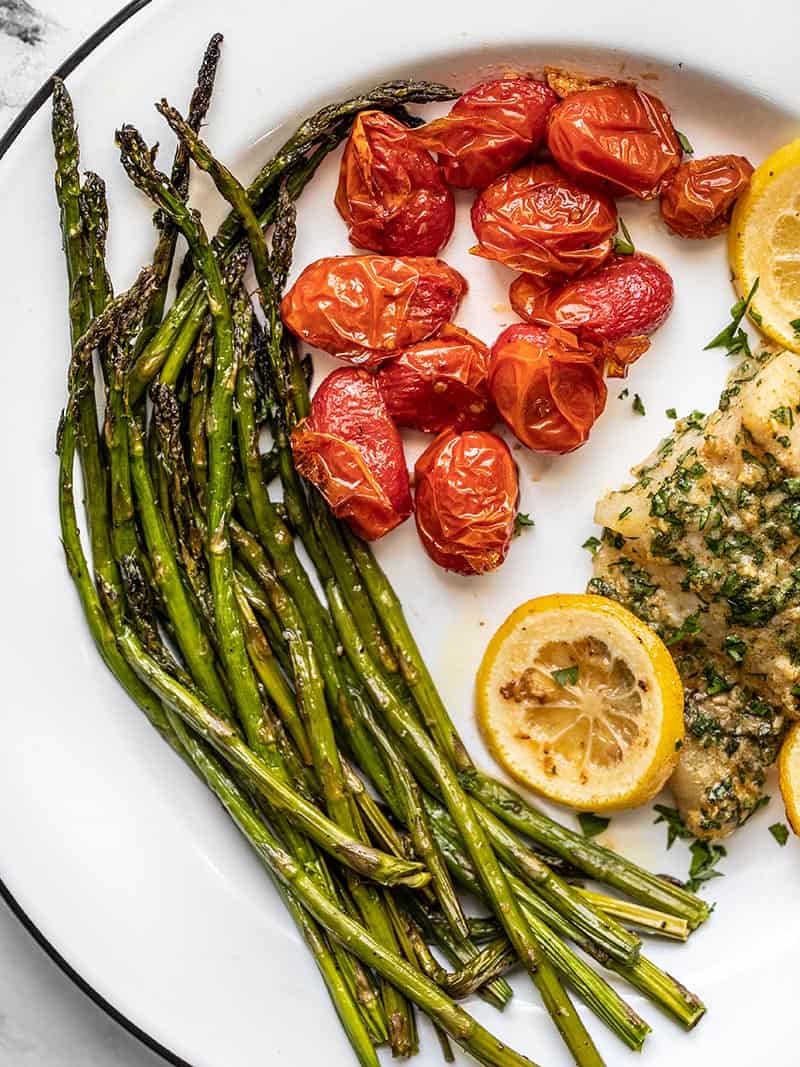 Roasted Asparagus and Tomatoes
One of the most frequent questions I get is, "what should I serve on the side"" To be honest, I don't give a lot of thought to my side dishes. I keep them as simple as possible to let the main dish shine and to just keep life...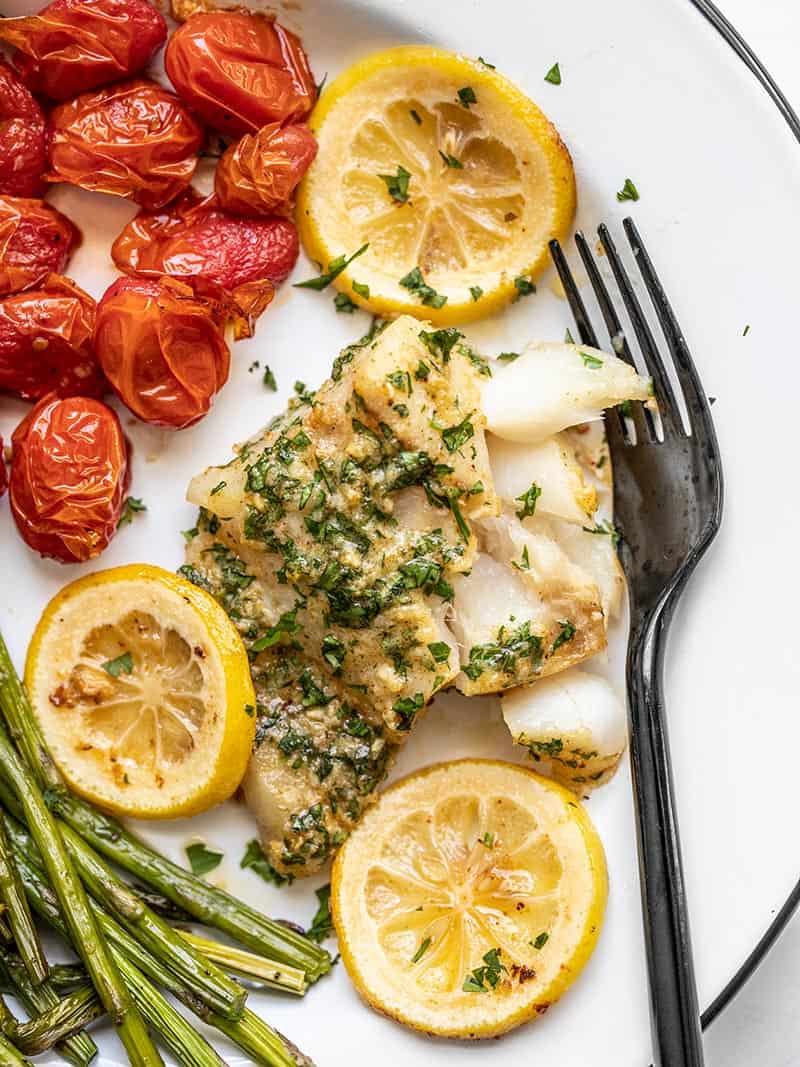 Garlic Butter Baked Cod
Do you love garlic bread as much I as do" Like, do you keep it on hand in your freezer at all times" Then you're going to love this Garlic Butter Baked Cod. In my search for a more filling vehicle for that buttery garlic goodness...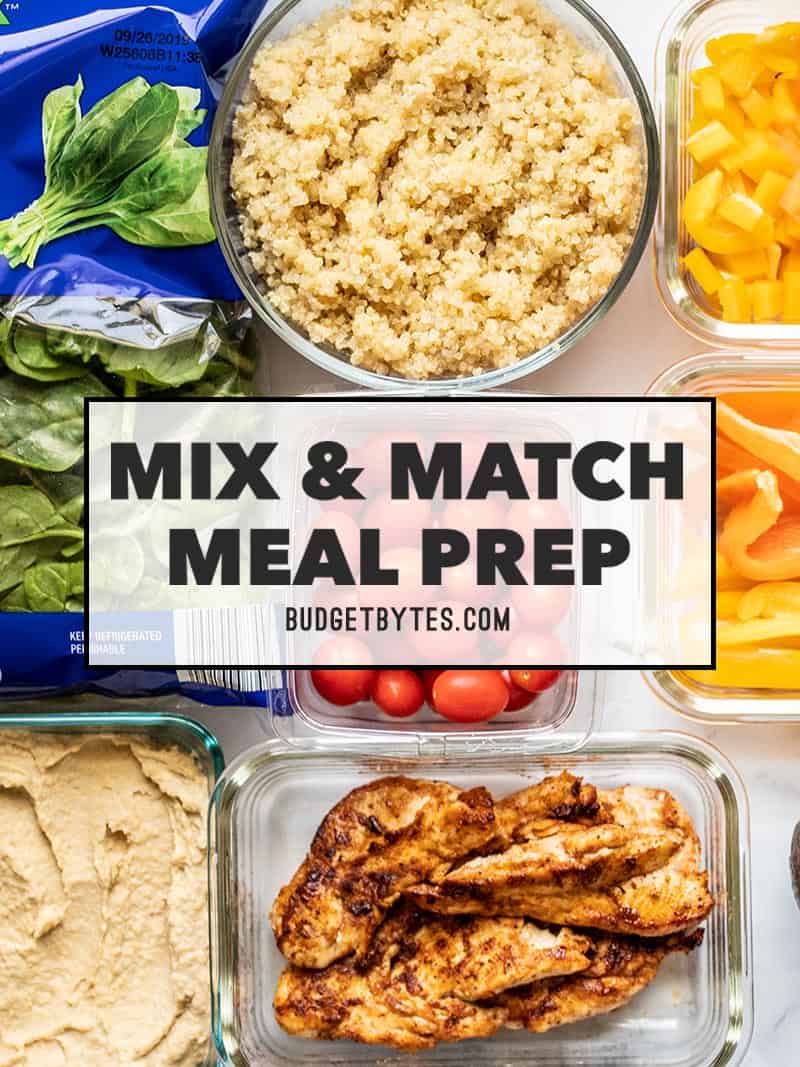 Mix and Match Meal Prep
A couple weeks ago I shared my current "mix and match meal prep" system on my Instagram stories and so many people messaged me about it that I decided to make it into a blog post so no one would miss out. This Mix and Match Meal Prep...
Easy Baked Homemade Croutons
I whipped up a quick small batch of these easy baked homemade croutons this past week when I made my Rosemary Garlic White Bean Soup and I thought, "I really need to share how easy these are." Because not only do their crispy, crunchy...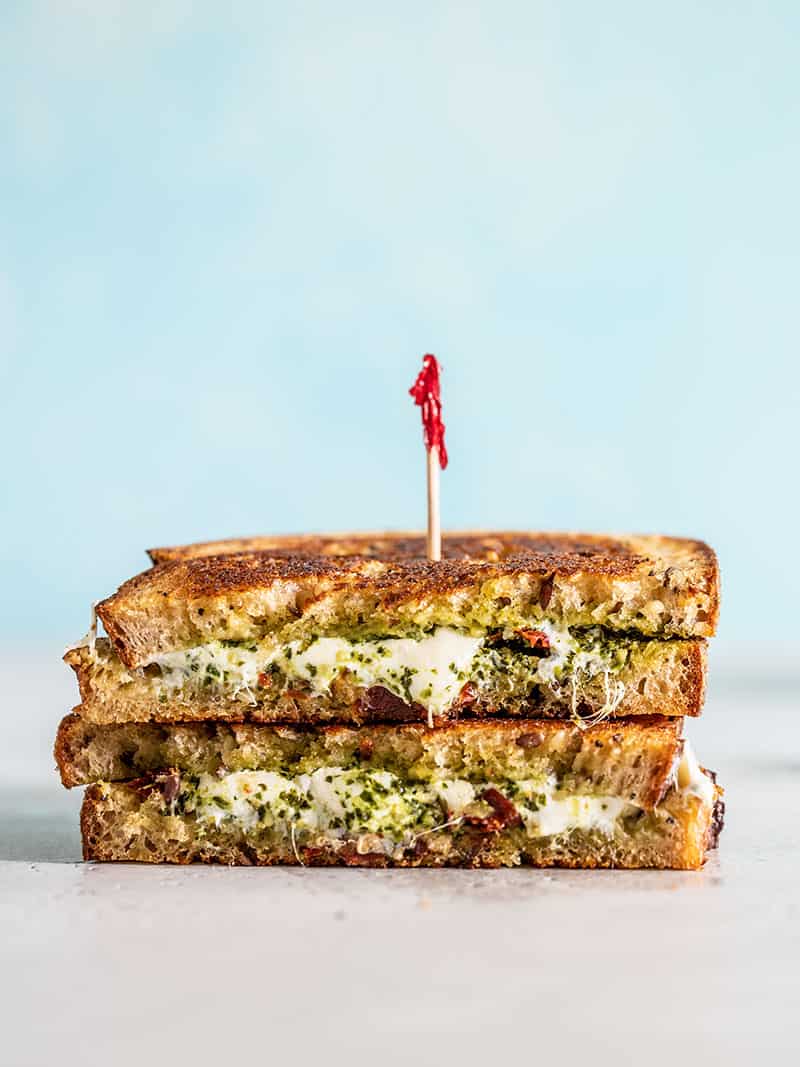 Pesto Grilled Cheese with Sun Dried Tomatoes
I went all Splurgy McSpurgison on this Pesto Grilled Cheese Sandwich, but you know what" It was so worth it. And still a fraction of what it would cost to buy a fancy schmancy sandwich like this at a deli. So here it is. When you need a little...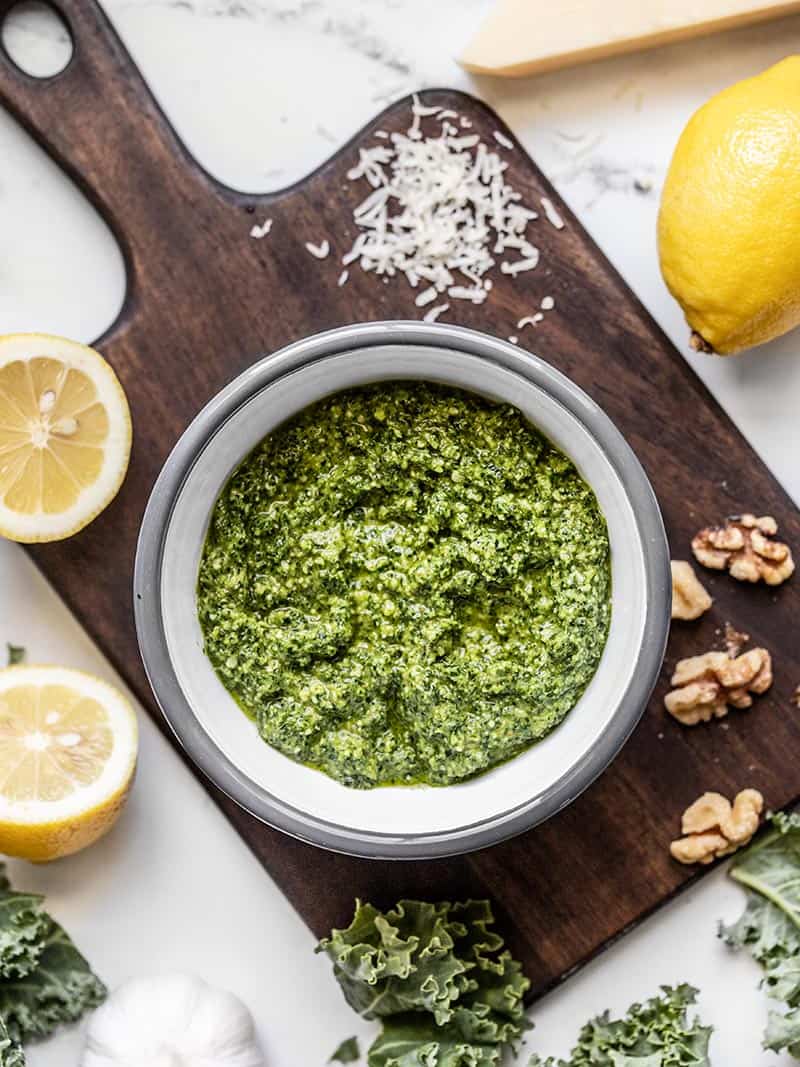 Homemade Kale Pesto
I've made kale pesto before (Kale Pesto Pasta), but I felt like the pesto needed a post itself. I often find myself with leftover fresh kale (why does it come in such HUGE qantities"), scrambling for ways to use it up before it gets...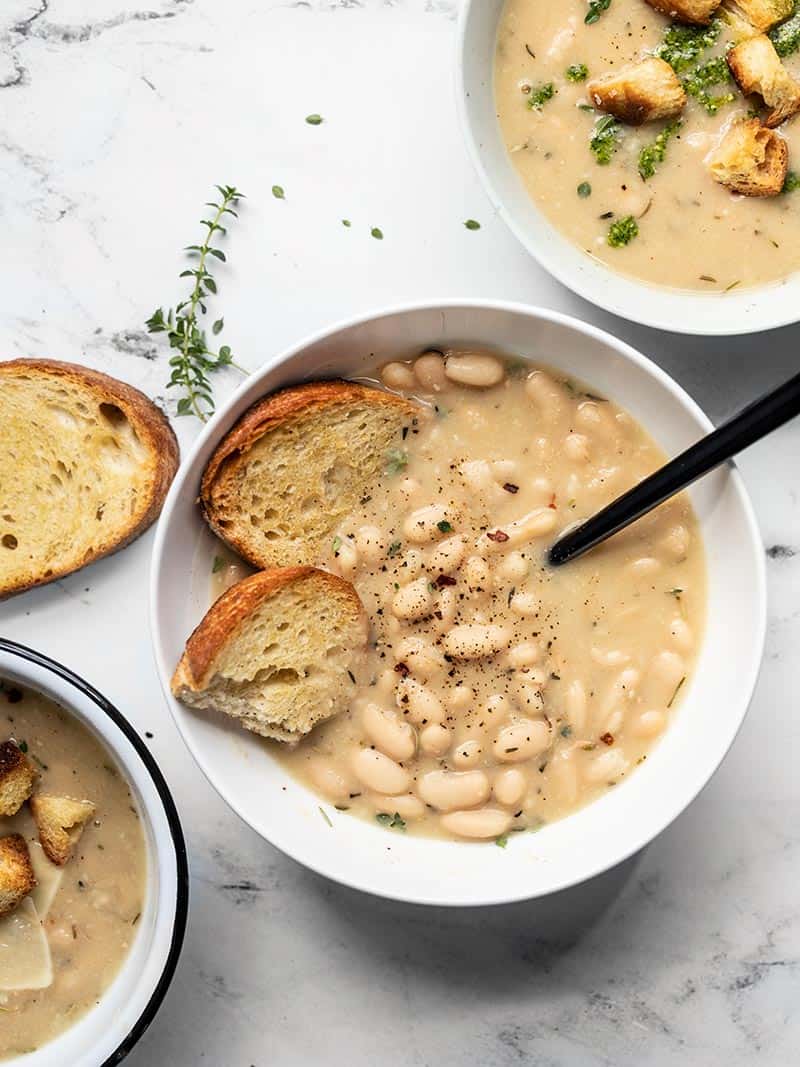 Easy Rosemary Garlic White Bean Soup
This past week I was talking to a reporter from MarketWatch and as I told the story of Budget Bytes I joked about being a broke college graduate and not wanting to eat canned beans times a day. Well, I'm kind of eating my words now because...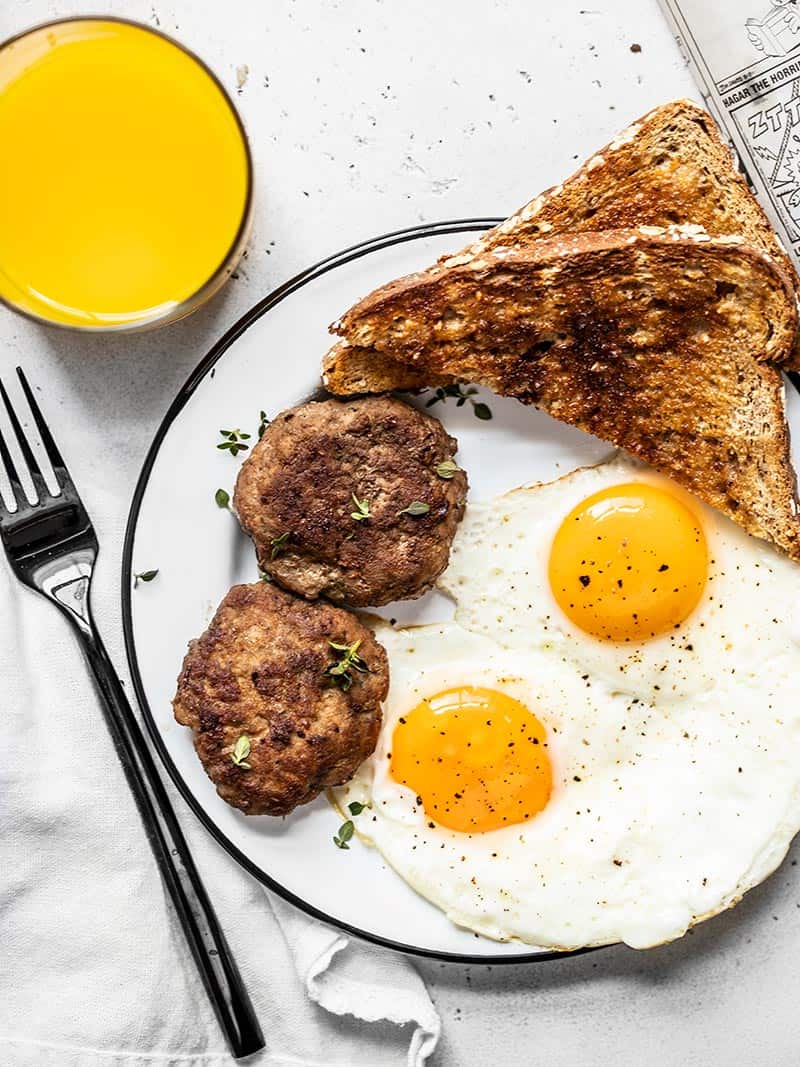 Maple Sage Breakfast Sausage
Making breakfast an event on Sunday is one of my favorite things. I'd much rather make something from scratch at home (in my PJ's) than go wait in line for 45 minutes at a brunch spot, only to be rushed through the meal. I've been...
Blueberry Lemon Curd Shortcakes
Do you need a Sunday baking project" Sure you do. Who doesn't need something to bake while they're chillin' on a Sunday afternoon" Well, these Blueberry Lemon Curd Shortcakes so easy that I don't know if you can...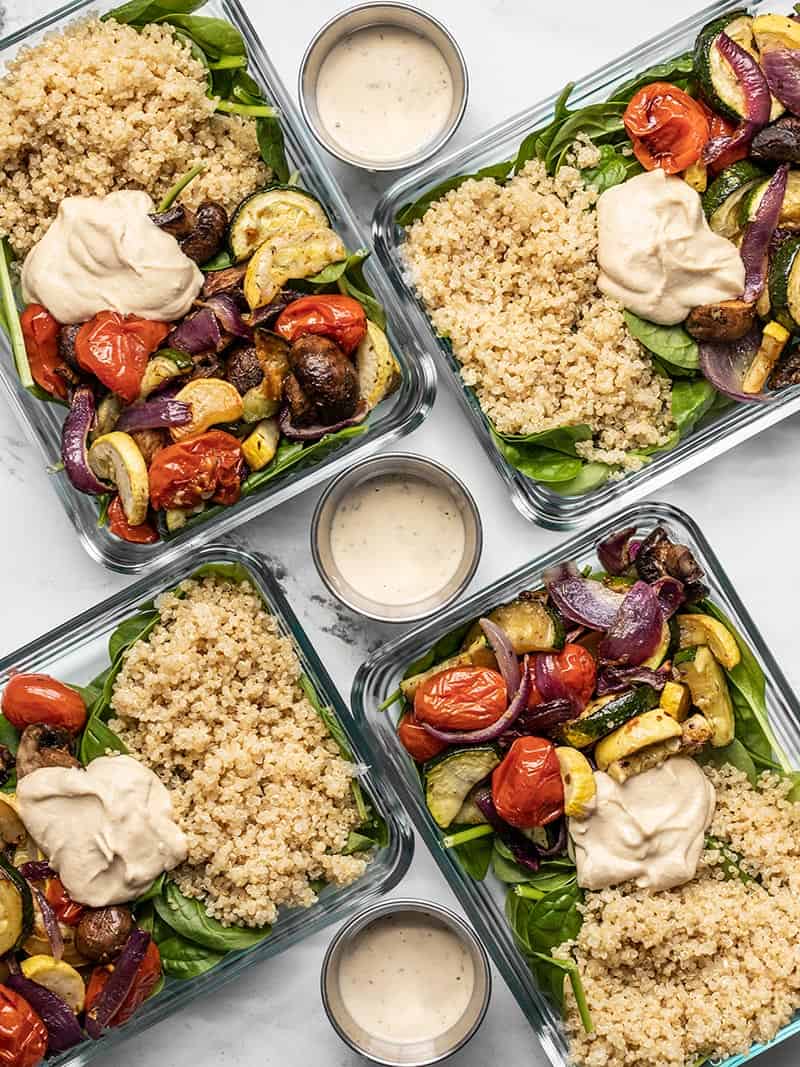 Roasted Vegetable Salad Meal Prep
Making sure I get vegetables into my diet takes daily effort. But one thing I know for sure is that if I have them prepped, I am 1000x more likely to eat them. So this week I made these Roasted Vegetable Salad Meal Prep boxes to hopefully remove one...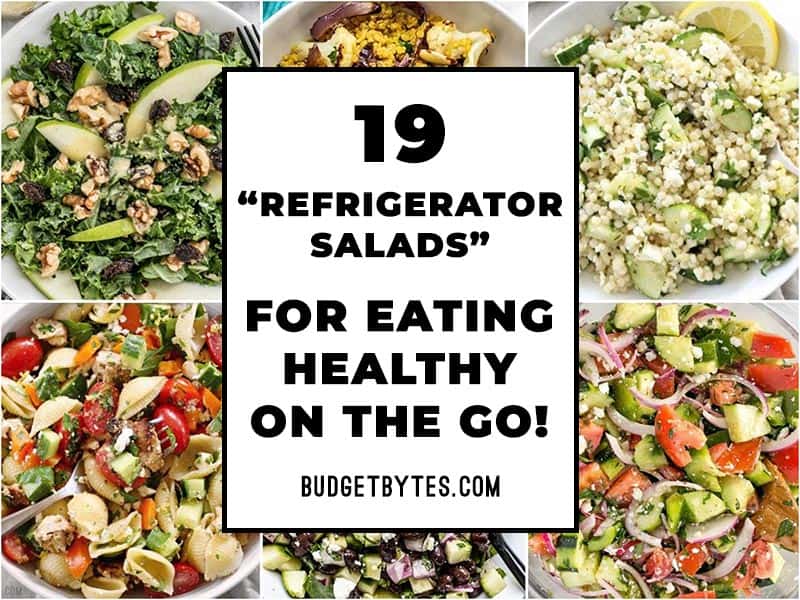 19 Refrigerator Salads for Eating Healthy On The GO!
I talk about "refrigerator salads" a lot because they're my favorite way to make sure I'm eating healthy even when I'm like, SUPER busy. I know I've turned a lot of you into refrigerator salad fans too, so I...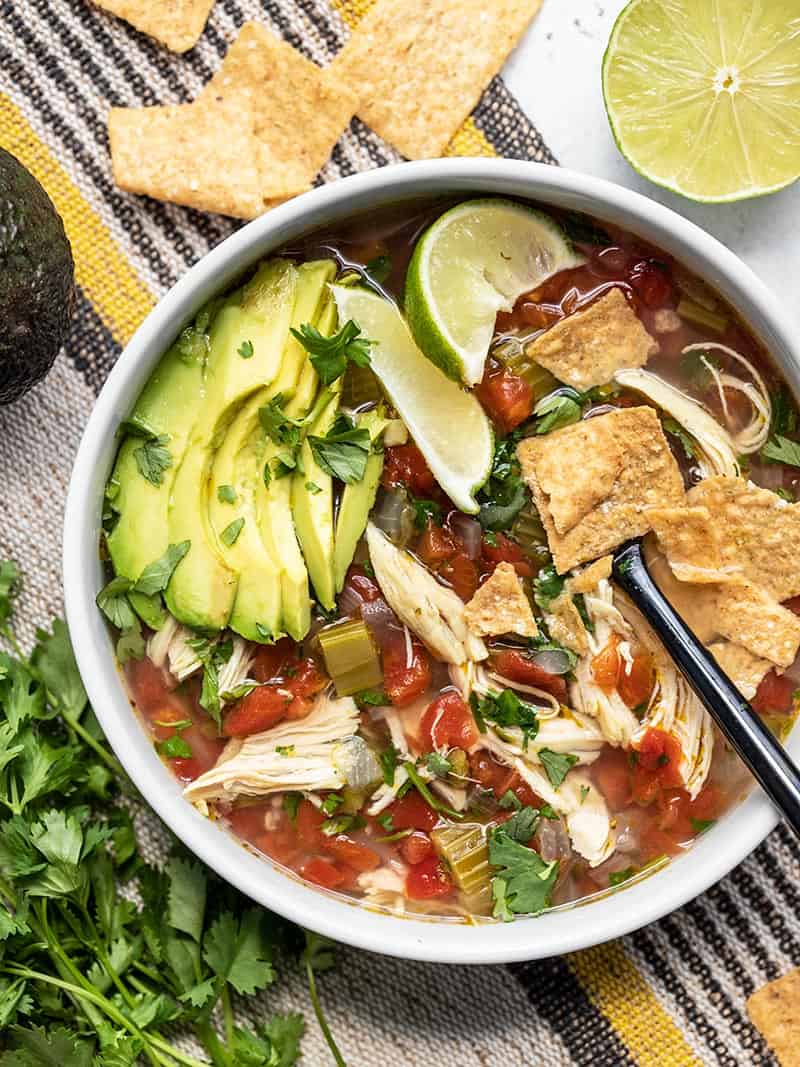 Chicken and Lime Soup
I'm a soup-all-year-long type of person. Soup is tasty. Soup is filling. Soup freezes well. And this Chicken and Lime Soup is where it's at. The clear broth is light enough for summer, and has a deliciously spicy, sour, and salty broth...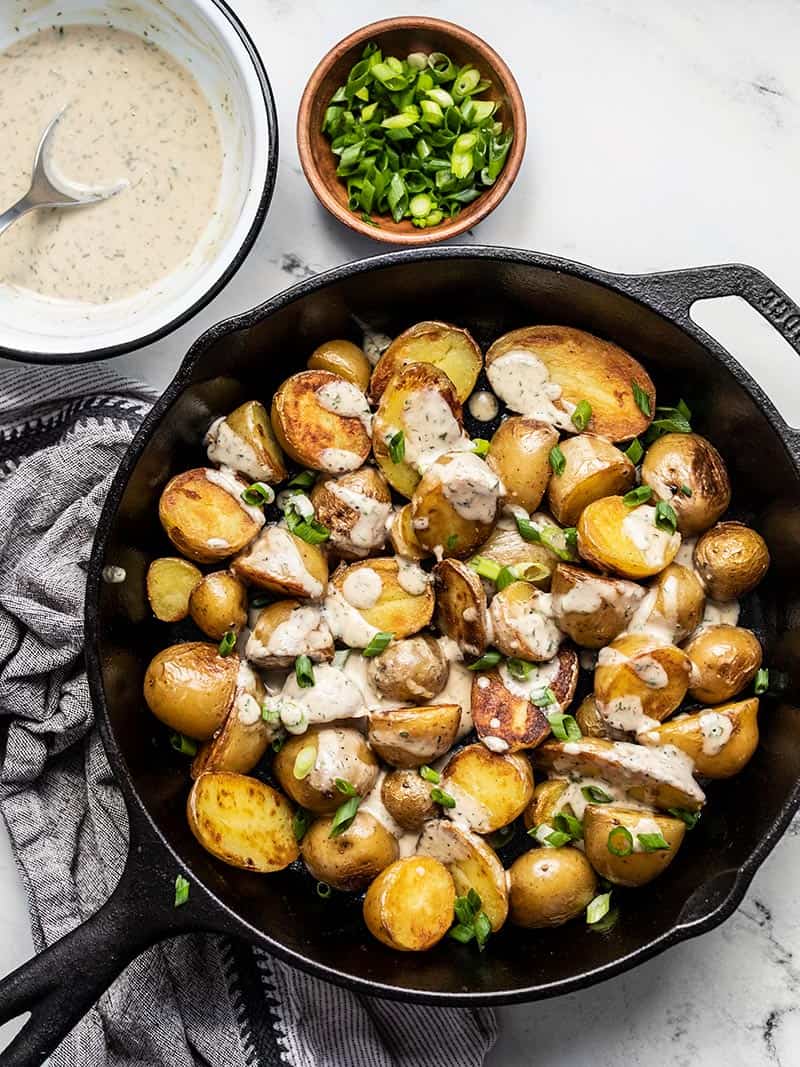 Crispy Potatoes with Lemon Dill Tahini Dressing
Ever since I made that Lemon Dill Tahini Dressing a couple weeks ago I've been using everything and anything as a vehicle to get it in my mouth. ? One of my favorite vehicles, by far, are potatoes. So this week I made these Crispy Potatoes...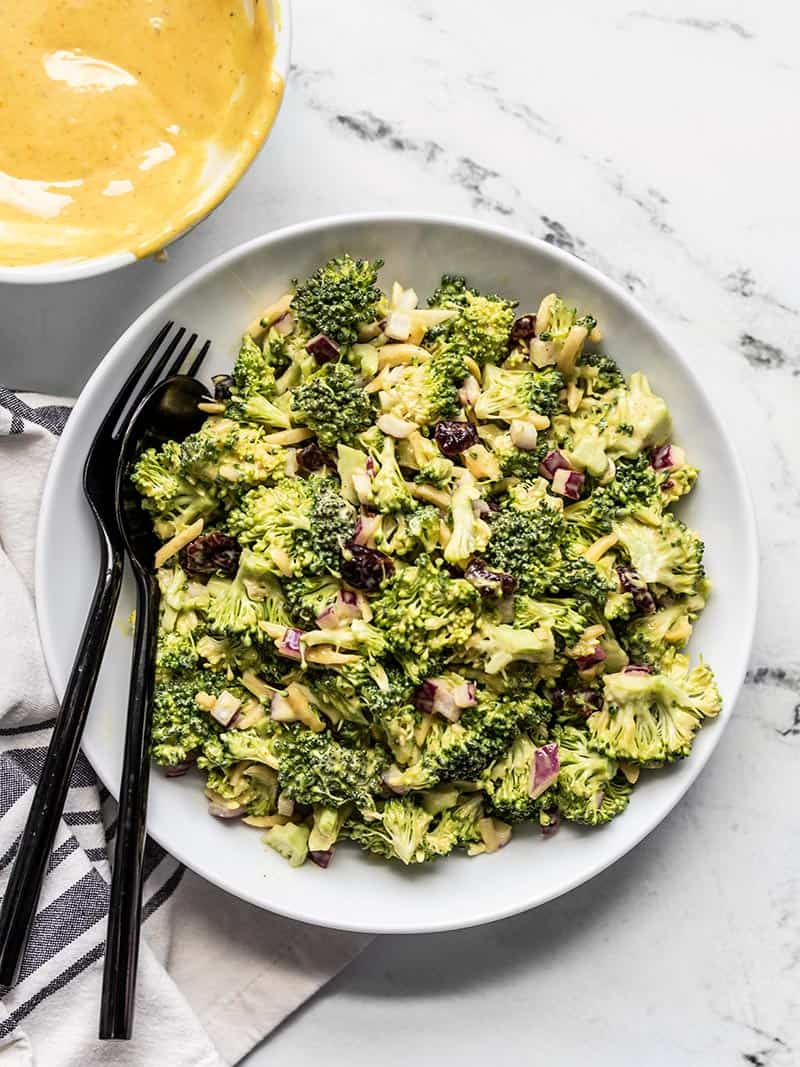 Honey Mustard Broccoli Salad
A few months ago I made a batch of Honey Mustard Sauce and I literally could not stop dipping broccoli florets into it, so I knew right away that I just needed to make a whole Honey Mustard Broccoli Salad. This salad is incredibly simple, but...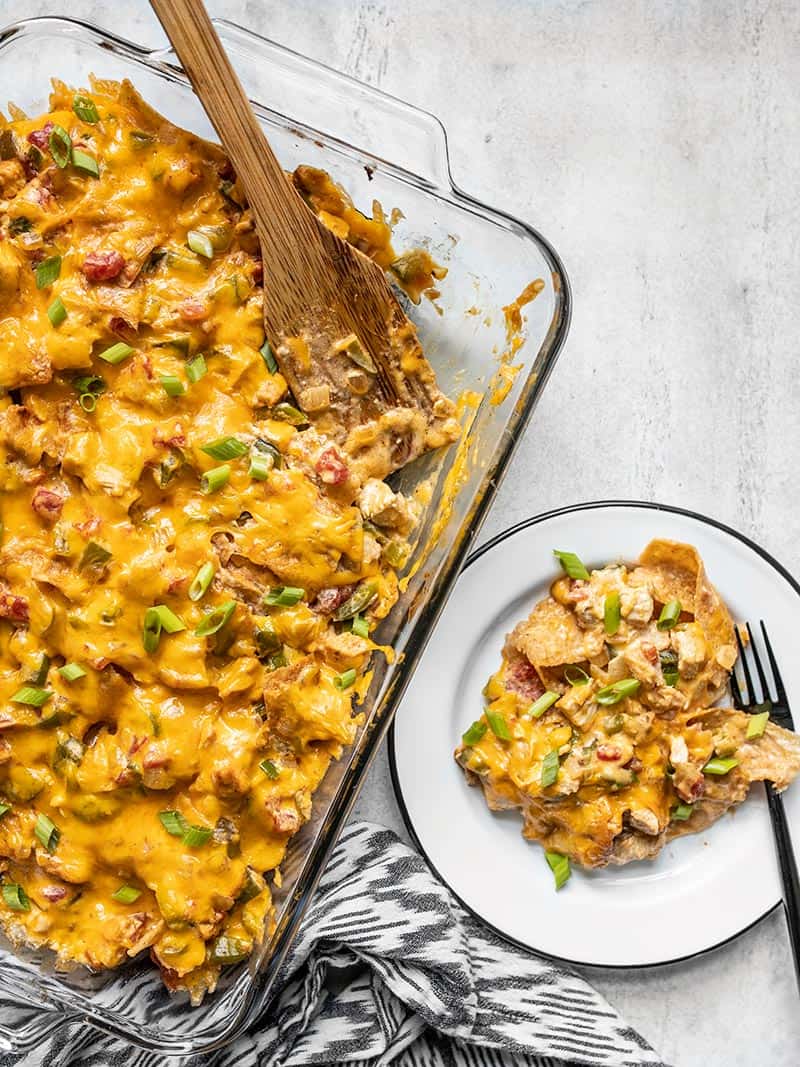 King Ranch Chicken Casserole
What am I doing over here cooking a casserole on one of the hottest days of the summer" Crazy, perhaps, but the stomach wants what the stomach wants, and mine wants King Ranch Chicken Casserole! This creamy cheesy chicken and tortilla casserole...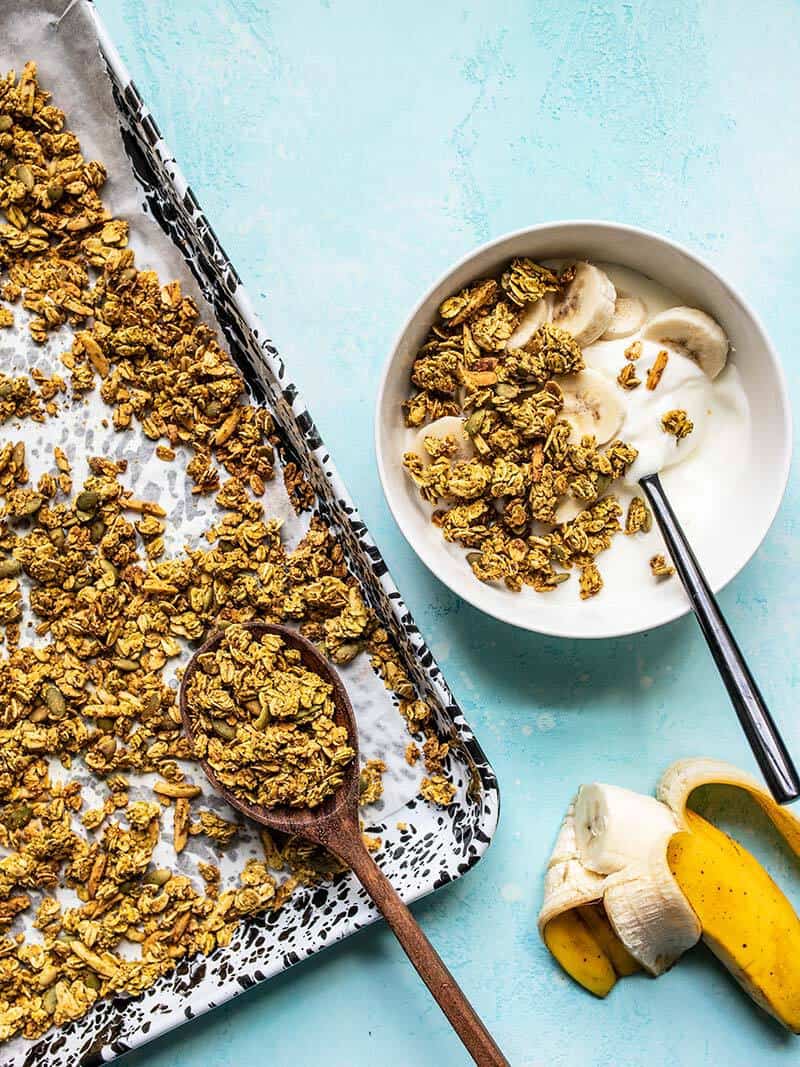 Super Crunchy Oil Free Granola
With as many beans as I eat, it's about time I started using putting the aquafaba to good use. I've been playing around with aquafaba for the past couple of months and I think this Super Crunchy Oil Free Granola is my favorite use so...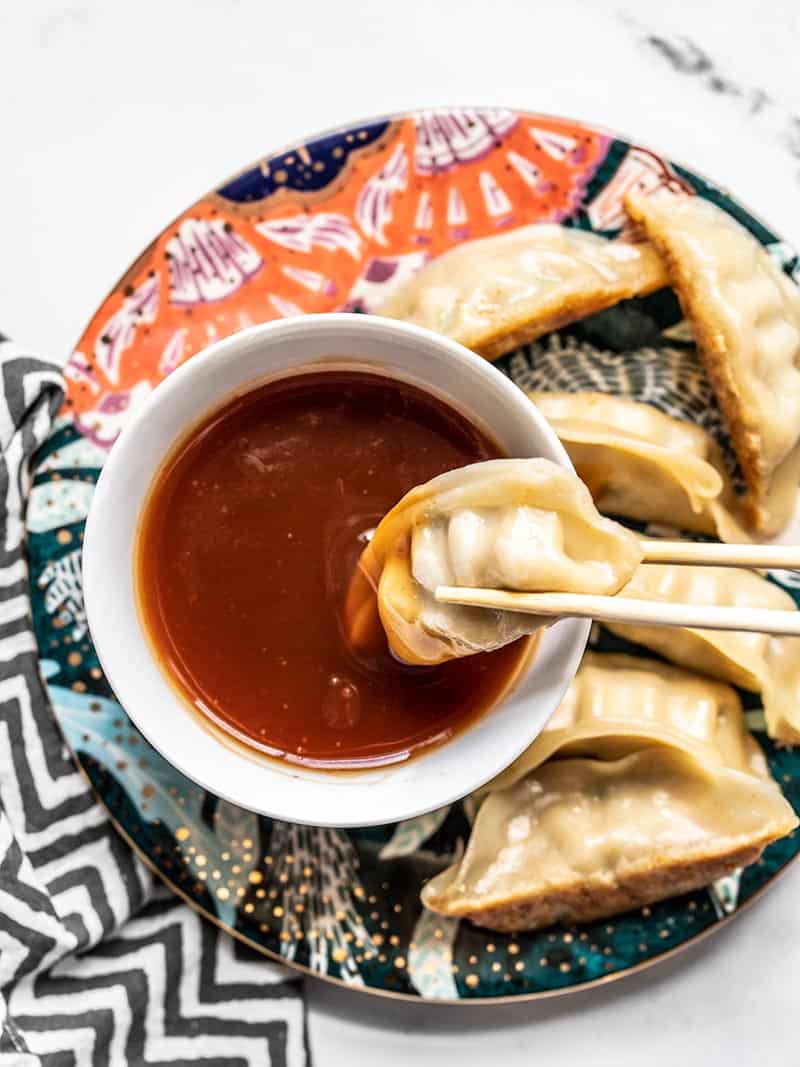 Simple Sweet and Sour Sauce
One of my biggest pet peeves is having a million half-used condiments in my fridge. So if I can quickly whip up a homemade sauce with pantry staples, I'm going to do that before buying another bottle! This Simple Sweet and Sour Sauce is the...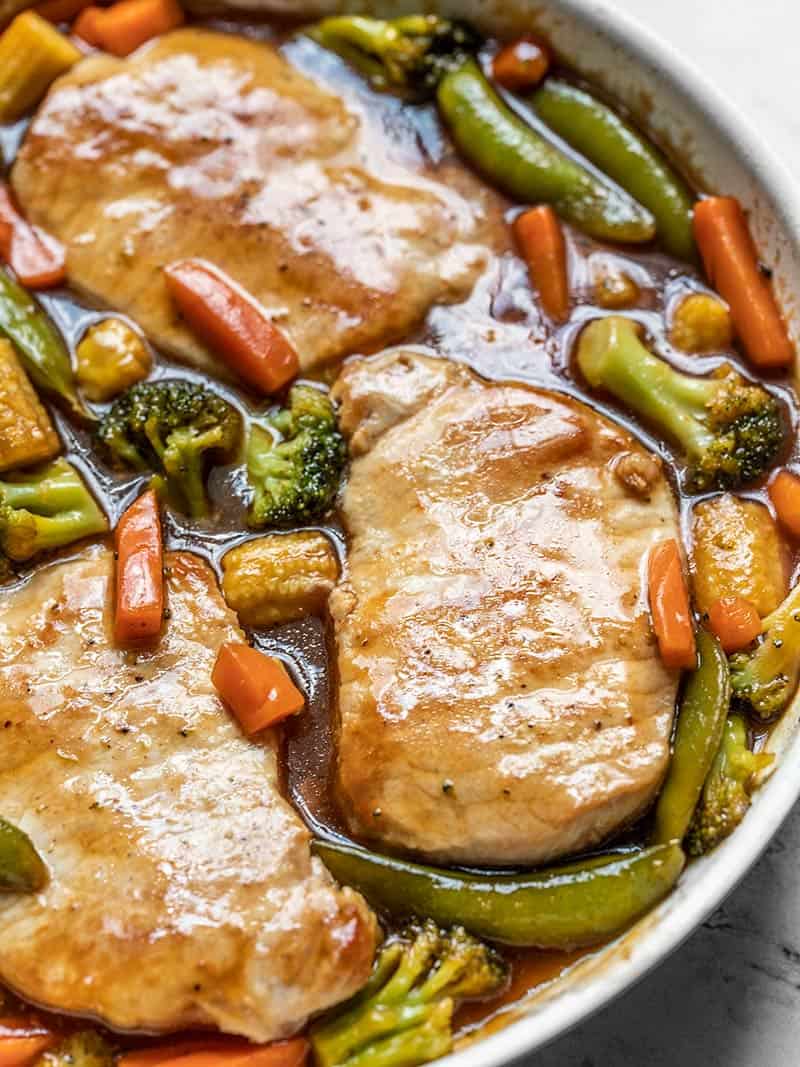 Sweet and Sour Pork Chops with Vegetables
Easy dinners are my jam! I love these Sweet and Sour Pork Chops because they're a super fast alternative to take out, they require NO chopping, you need only a few pantry staples to make the sauce, and it meal preps well. What else could I...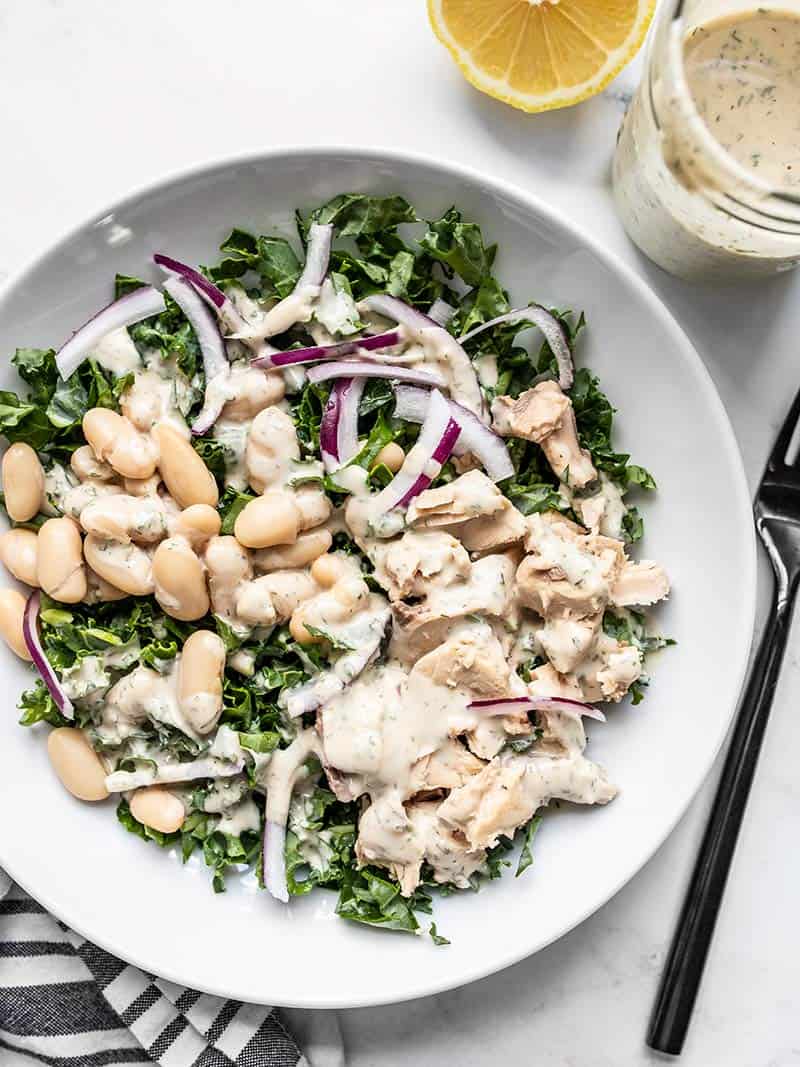 Lemon Dill Salmon and Kale Salad
I made the most amazing Lemon Dill Tahini Dressing this week and I have a looooong list of foods that I can't wait to pour it over, but my first choice was this light but filling no-cook summer salad. This Lemon Dill Salmon and Kale Salad...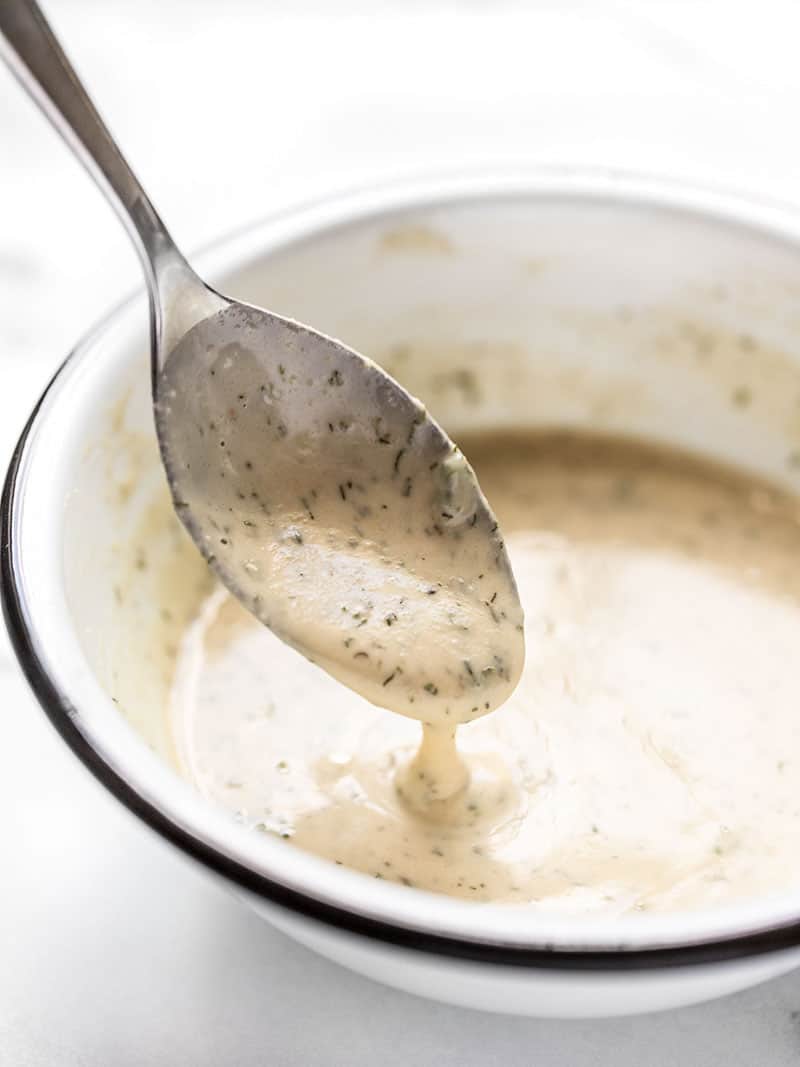 Lemon Dill Tahini Dressing
You guys. This Lemon Dill Tahini Dressing is not fooling around! This tangy, dilly dressing is a variation of my plain Lemon Tahini Dressing from my Roasted Cauliflower Salad, which I already loved with all my heart and soul. Well, I added a few...
No Churn Balsamic Peach Ice Cream
Once upon a time I considered buying an ice cream machine. I'm really glad I didn't because this simple no-churn ice cream method is almost effortless and creates ice cream that is every bit as velvety smooth and fluffy as churned ice...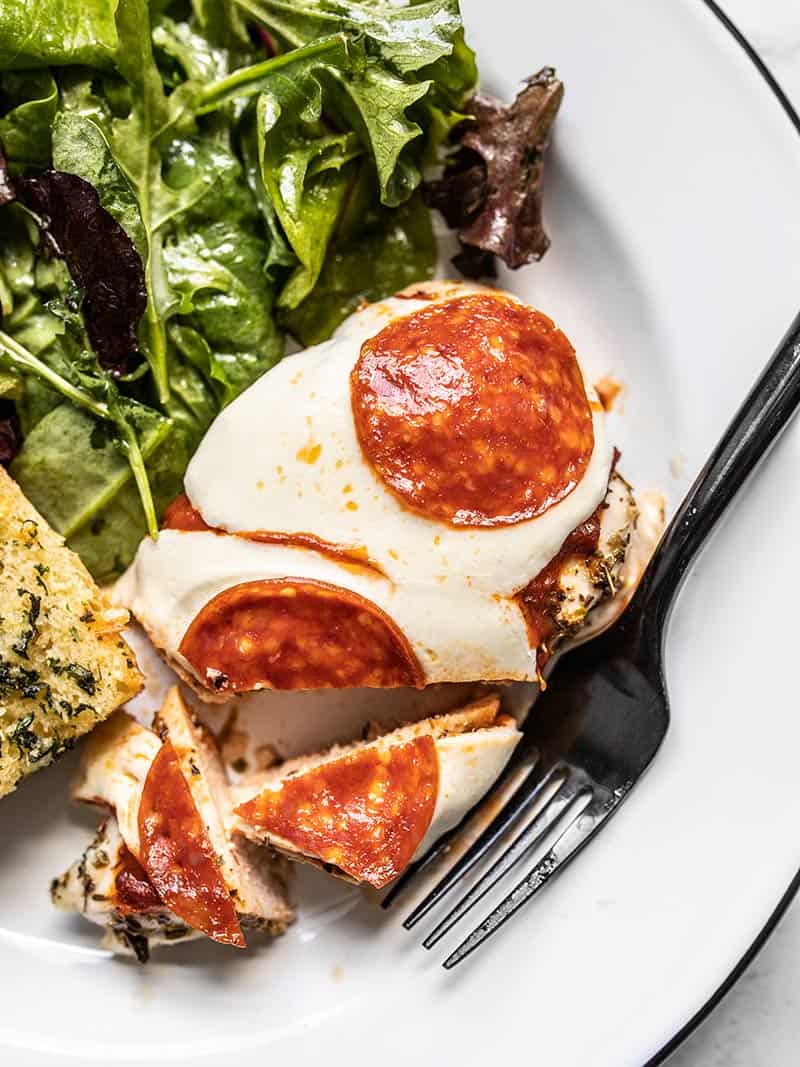 Baked Pizza Chicken
One of the coolest things about having been blogging for over ten years is seeing how my cooking style and skills have changed through this experience. One of my first recipes to go viral was my Pepperoni Stuffed Chicken. It was a tasty recipe for...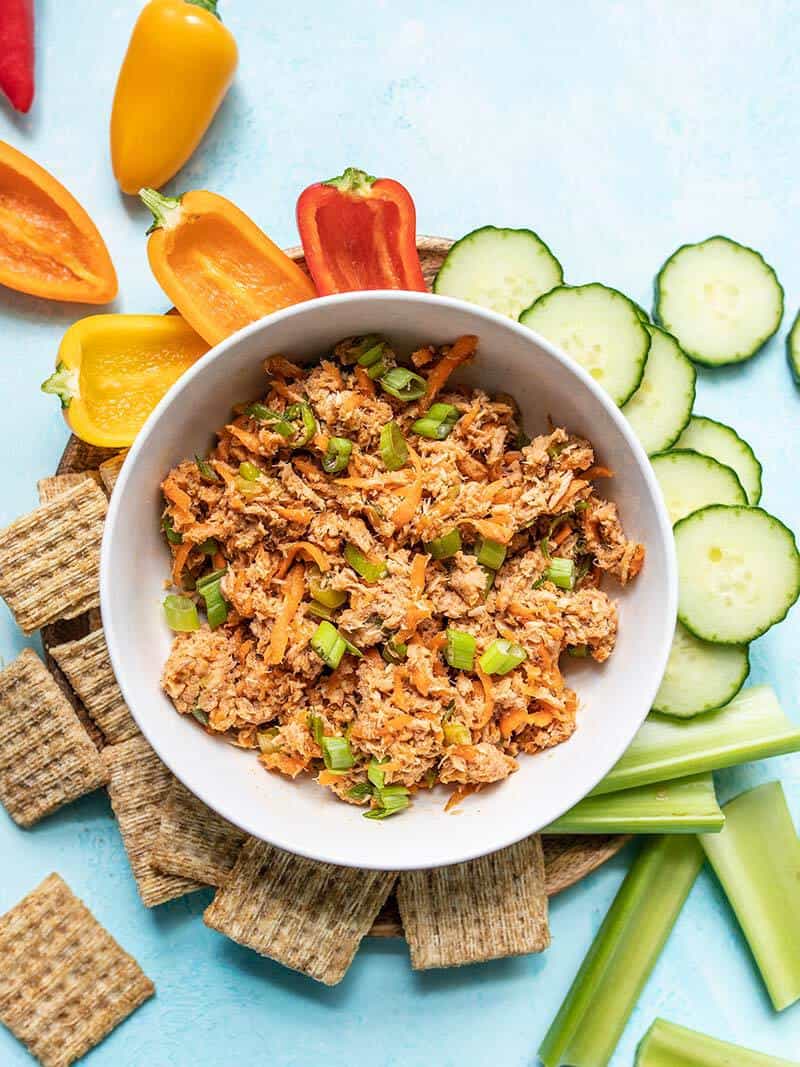 Sweet and Spicy Tuna Salad
Have you ever seen those packets of flavored tuna in the grocery store" They were on sale once and I got curious, so I bought a few. The idea was interesting, but the execution failed, IMHO. So what did I do" MAKE MY OWN. #storyofmylife I...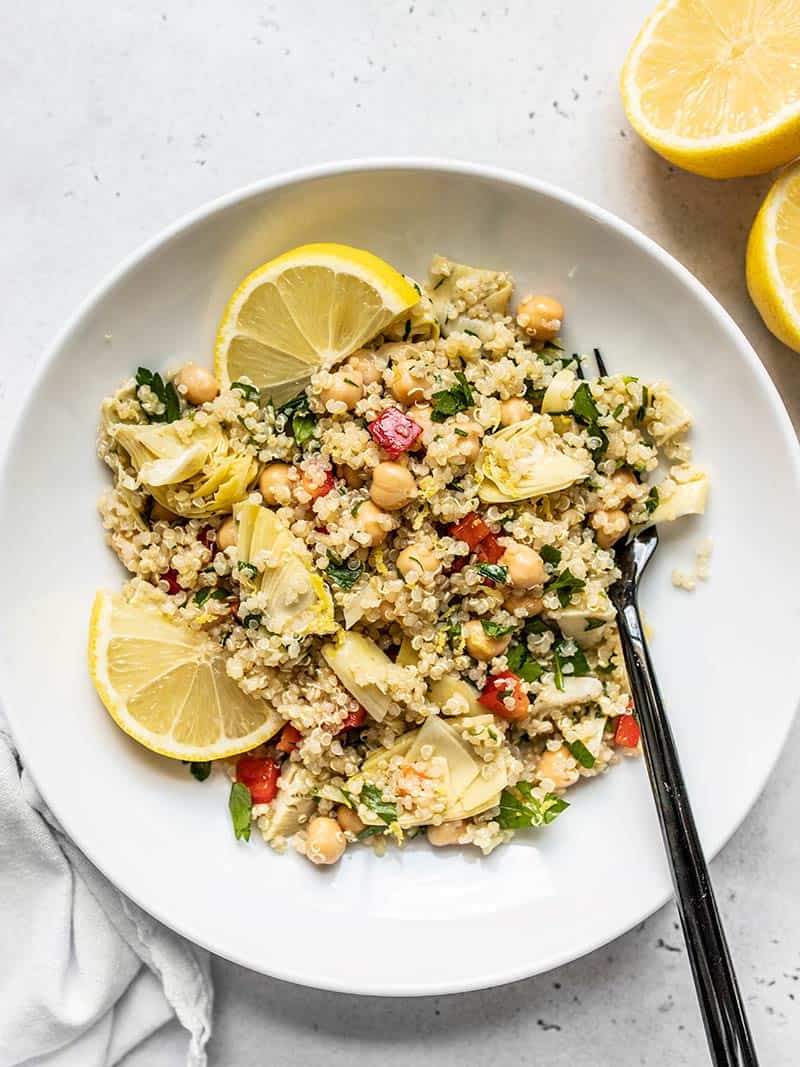 Lemony Artichoke and Quinoa Salad
I'm living off refrigerator salads all summer, what about you" Oh, you don't know what a refrigerator salad is" It's a salad that holds up well to refrigeration (doesn't go limp and soggy like lettuce), and a meal...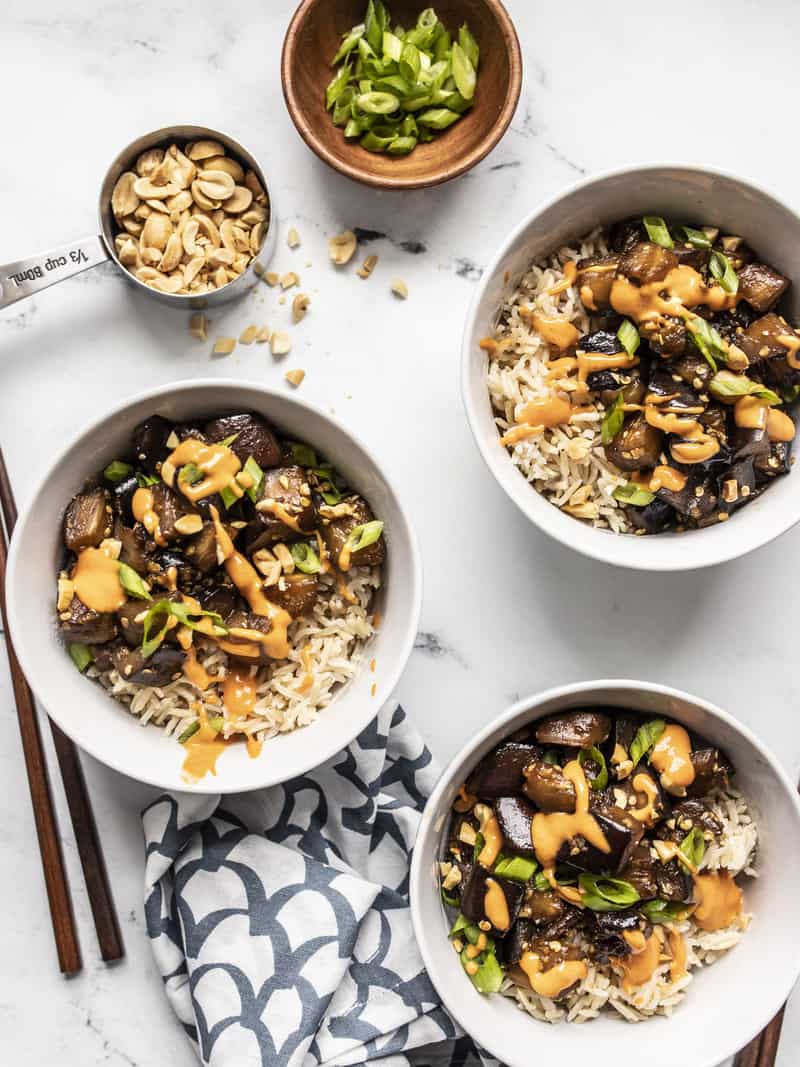 Soy Glazed Eggplant
I love taking advantage of all the fresh produce in summer and all the color and texture it brings to my plate! This week I played around with eggplant, which has a unique almost meaty texture. I gave it a quick soy glaze treatment that I've...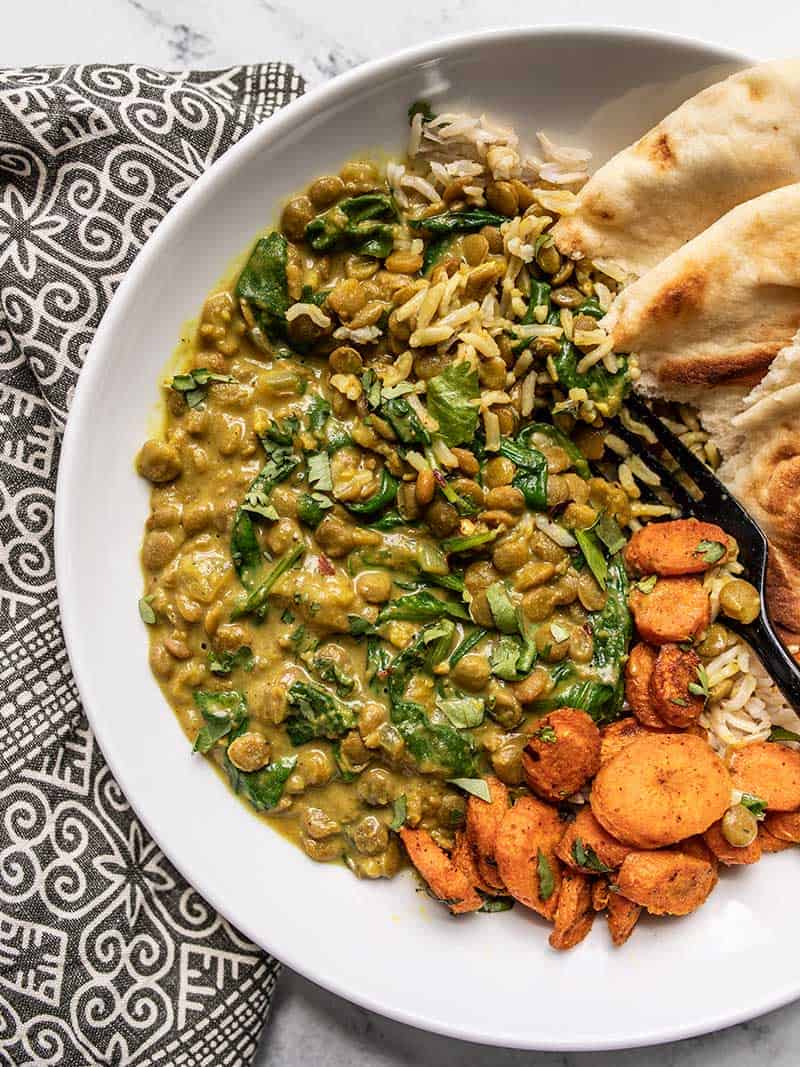 Creamy Coconut Curry Lentils with Spinach
I've been trying to brain storm up some easy plant-based meals lately, and this week's creation was these Creamy Coconut Curried Lentils with Spinach, which are kind of like the creamy cousin of my Curried Chickpeas with Spinach. I...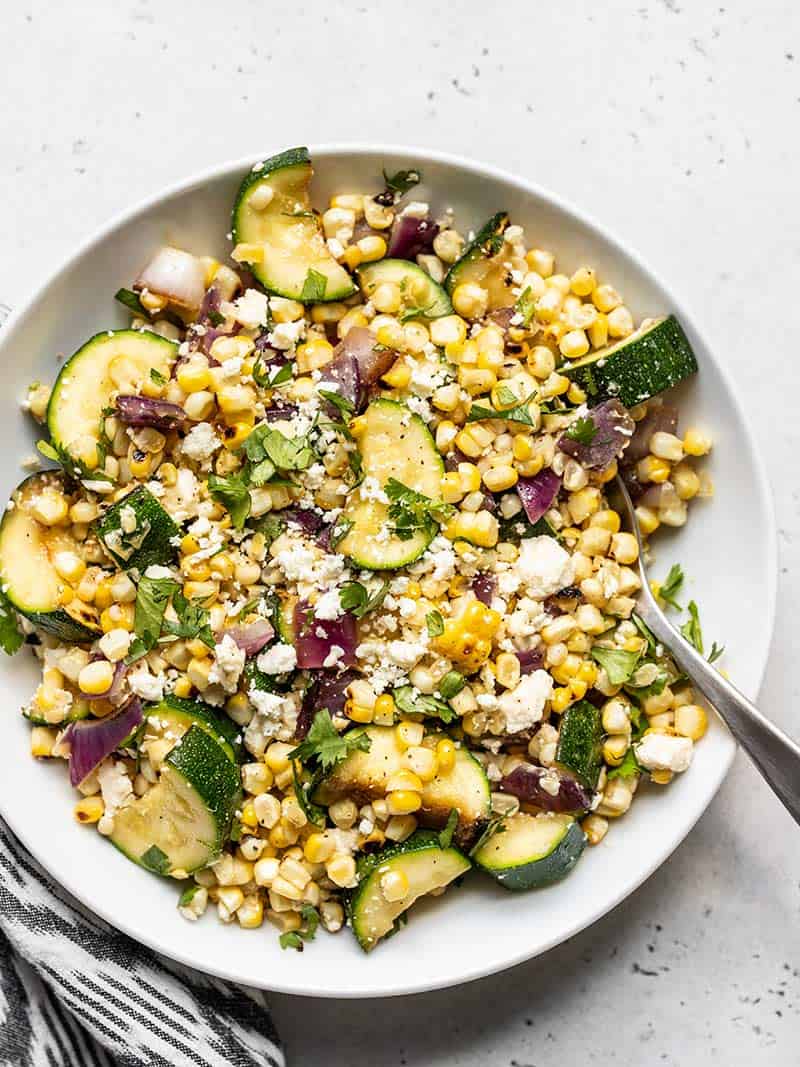 Charred Corn and Zucchini Salad
Fresh corn is one of the highlights of summer. When it's in season it's sweet, juicy, and super affordable, so I love to take advantage! For this salad I paired fresh sweet corn with another summer staple, zucchini, and charred them both...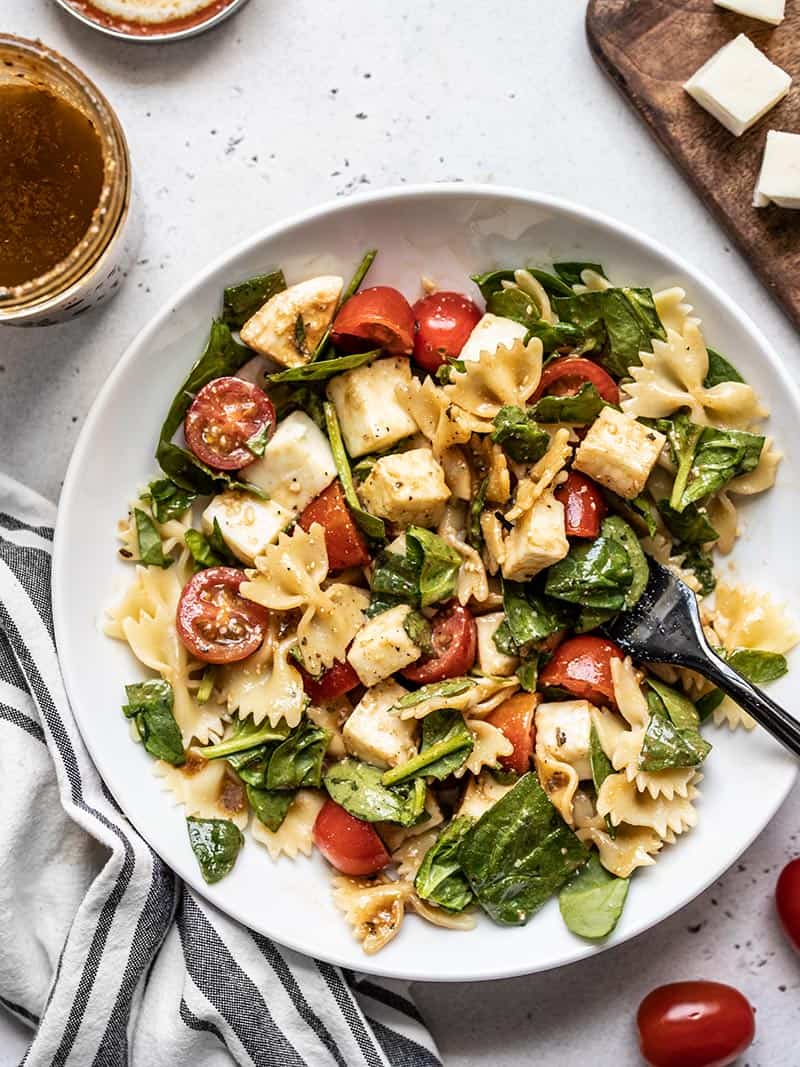 Tomato Mozzarella Pasta Salad
Off the record, I call this one "poor man's Caprese salad" because it's based on Caprese salad, but with all the budget swaps I've made, I don't think I can get away with calling that anymore. ? Regardless of what...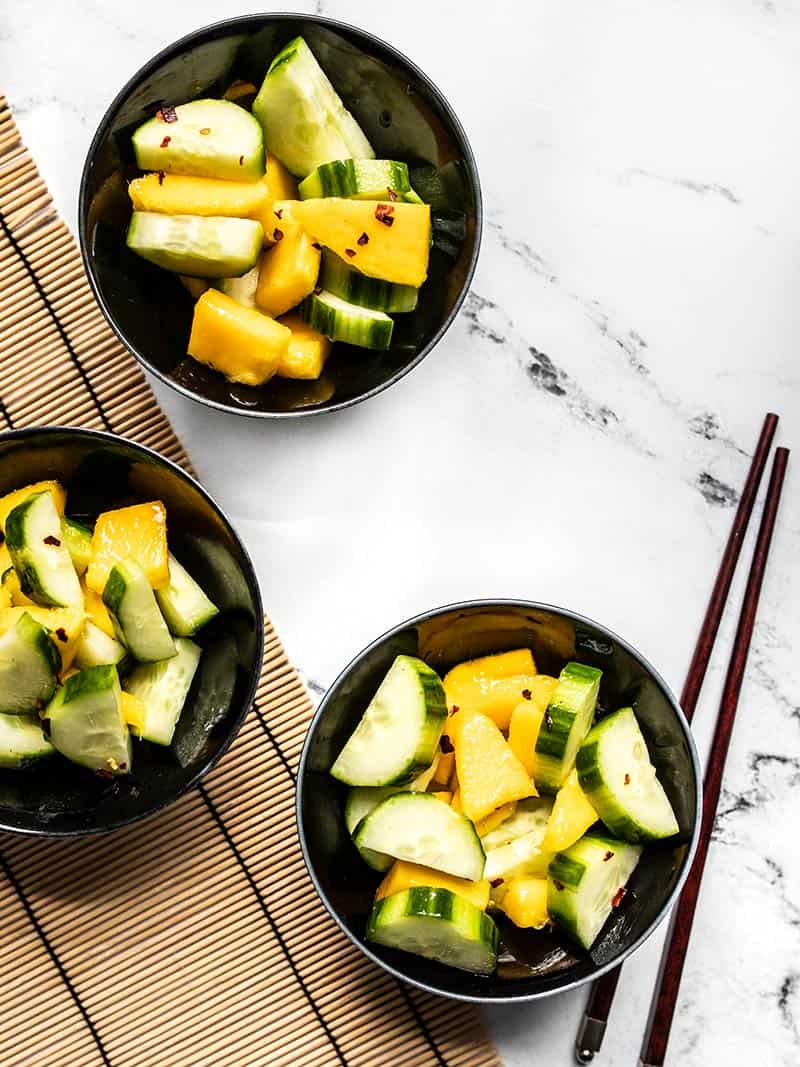 Cucumber Mango Salad
I'm not sure there is anything more summery than this Cucumber Mango Salad. It perfectly marries sweet, sour, and spicy flavors with that whoosh of cucumber freshness, for a light and refreshing summer side dish. The salad holds up moderately...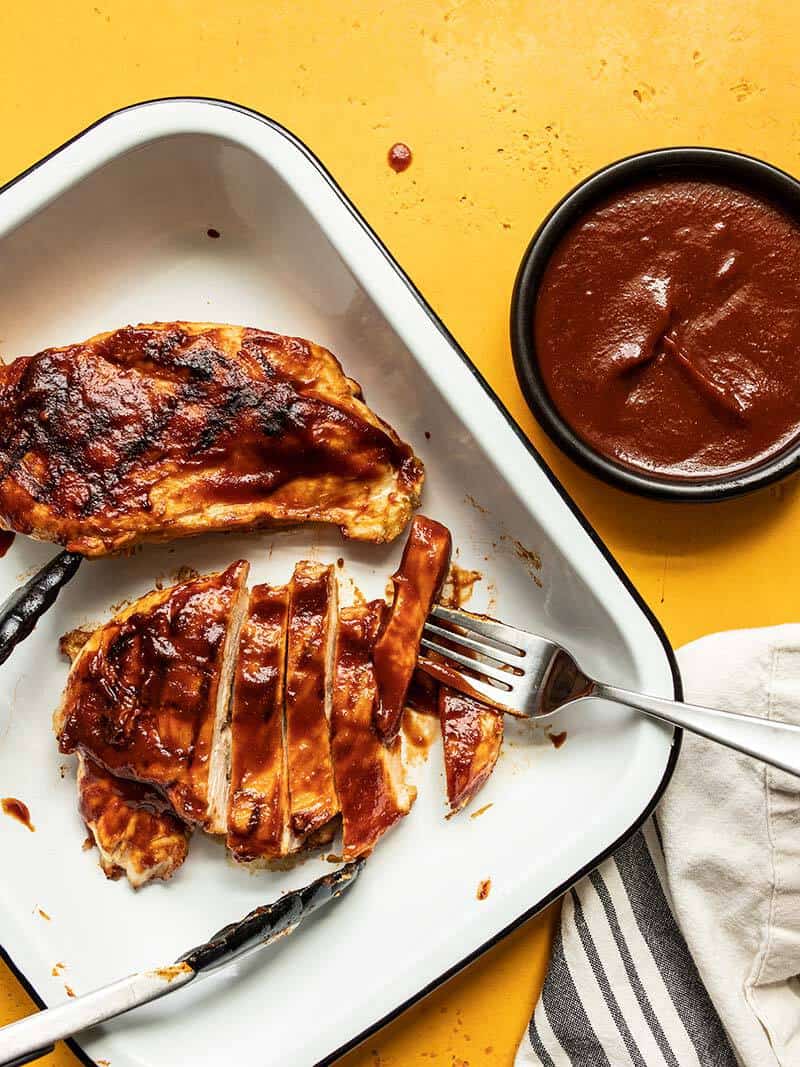 Homemade BBQ Sauce (no ketchup)
It's grilling season, so it's only natural (and about time) that I make my own homemade BBQ Sauce! This sweet, smoky, and tangy BBQ sauce takes only minutes to make and will take your summer grilling to new heights of drooly...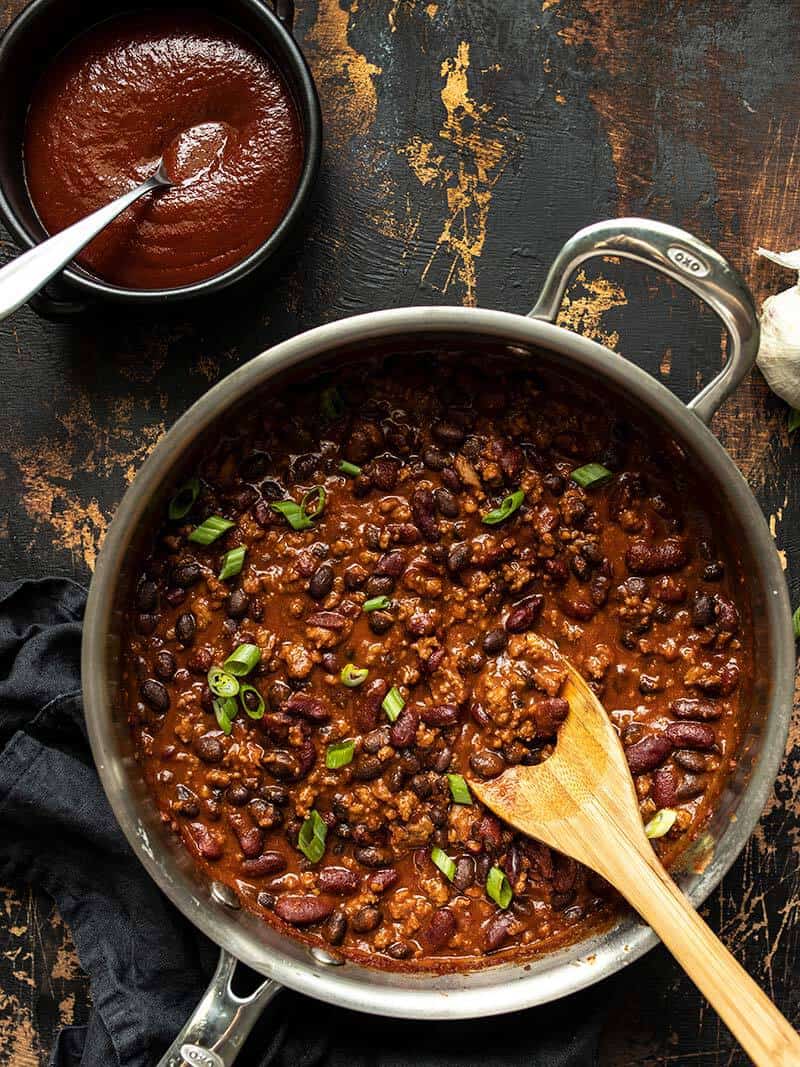 BBQ Beef and Beans
It's been a while since I've made something that was just a straight up simple comfort food, and after a super long week comfort food was definitely in order. These BBQ Beef and Beans are like the love child of baked beans and beef...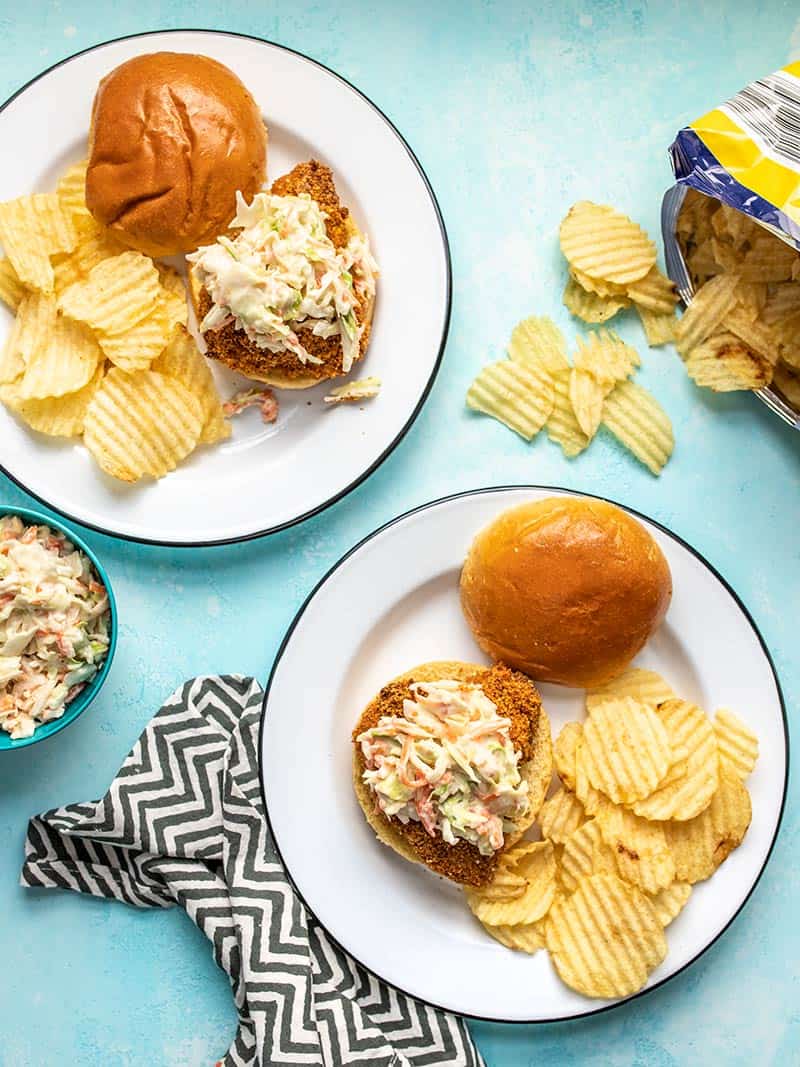 Baked Spicy Chicken Sandwiches and My Stonyfield Organic Experience
I bet you've never had a spicy chicken sandwich with yogurt in it before! Sounds weird, but stick with me. I love using basic pantry staples in fun new ways, so when Stonyfield Organic asked if I wanted to collaborate, I was all in. I created...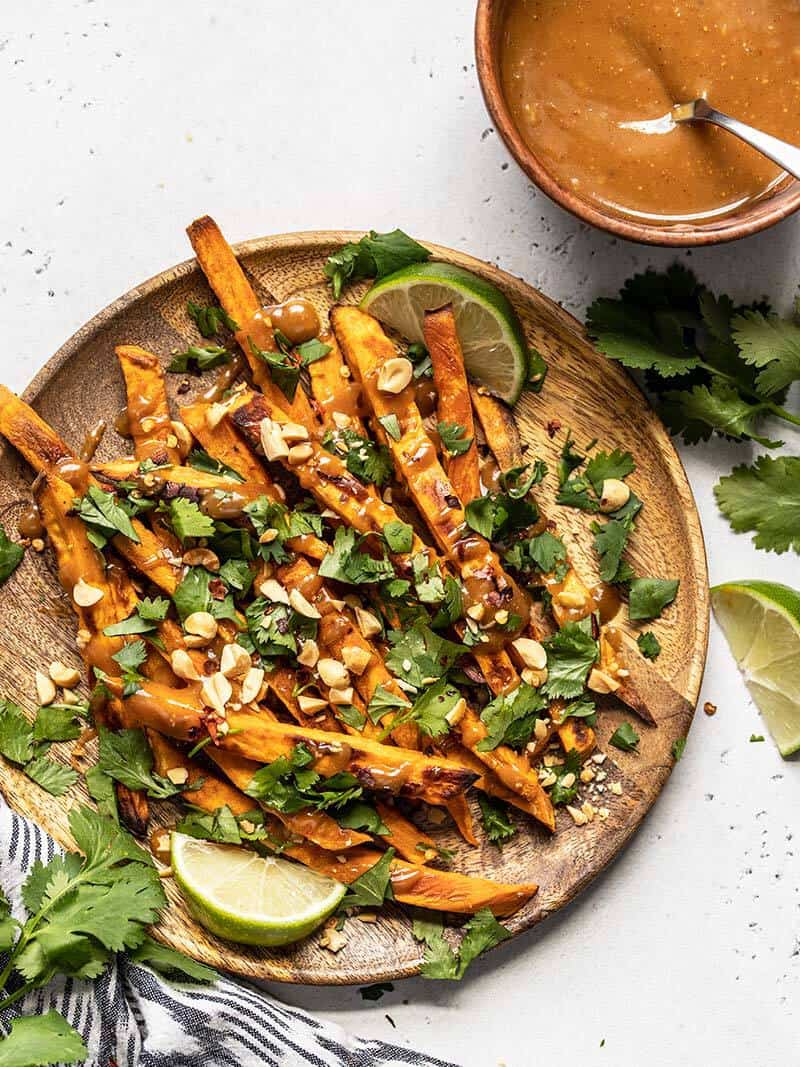 Baked Sweet Potato Fries with Peanut Lime Dressing
This might be one of the best things I've ever eaten. And I only happened upon the combo by chance because I had leftover Peanut Lime Dressing and a random sweet potato in my pantry! It must be divine intervention. And now it is my duty to...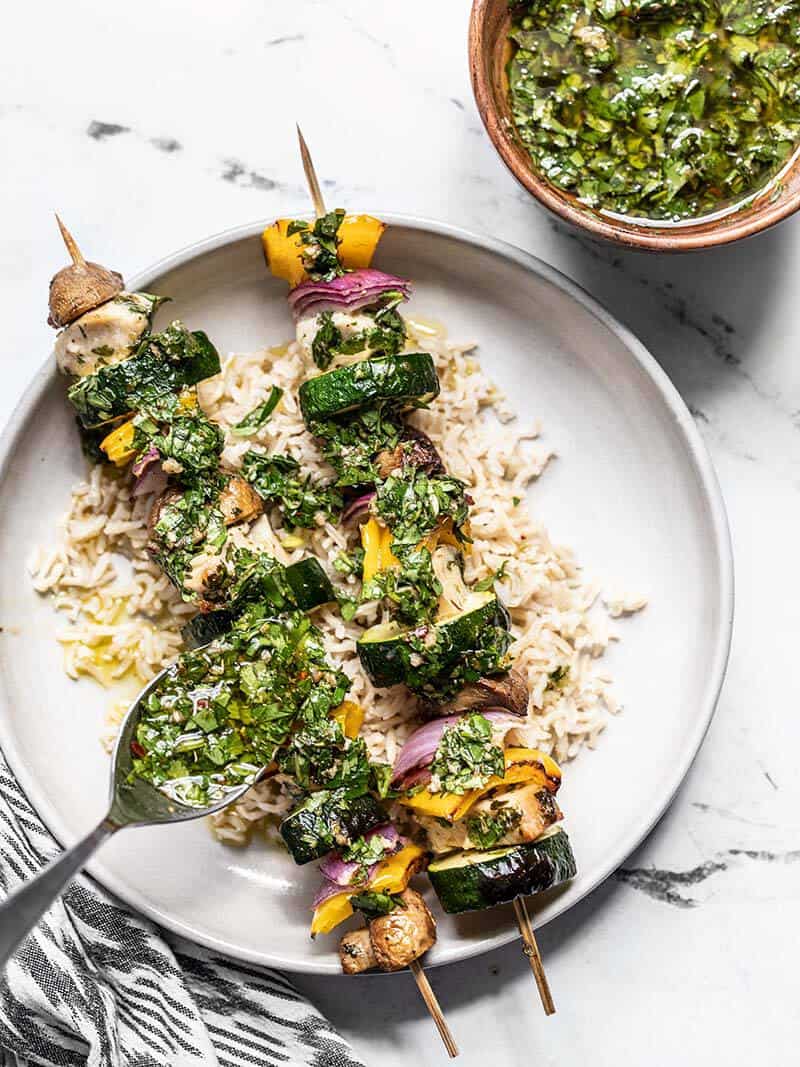 Chimichurri Chicken Kebabs
"Chicken and vegetables" sounds like some sort of boring diet food, but when you skewer them on a stick (food on a stick is always more fun) and drizzle them with the most vibrant and fresh chimichurri sauce, you've suddenly got a...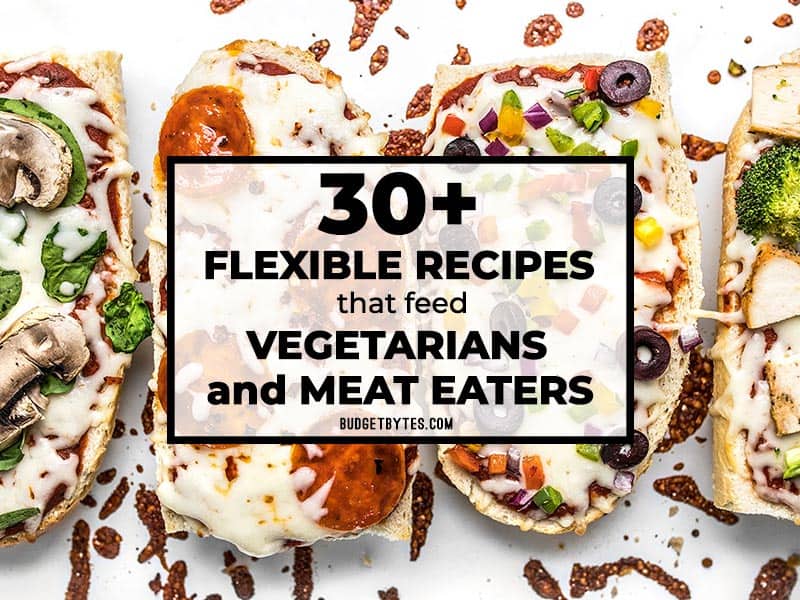 Flexible Recipes that Feed Vegetarians and Meat Eaters
"What's for dinner"" It's hard enough to answer that question when you're by yourself, but when you live in a household with multiple dietary restrictions, it becomes a nightmare. What do you do" Cook a...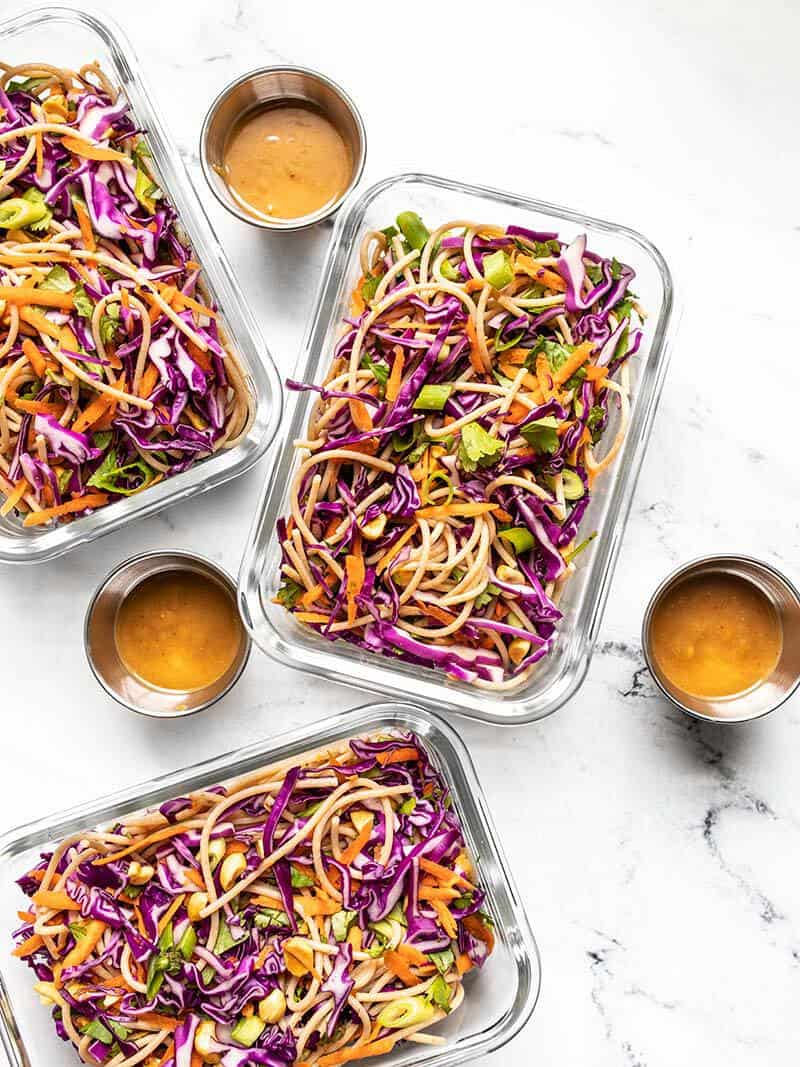 Cold Peanut Noodle Salad
This Cold Peanut Noodle Salad is the perfect meal prep for summer! No need to reheat, it's light but filling, and the flavors are oh so fresh. It's topped off with a homemade tangy, sweet, and creamy Peanut Lime Dressing to make...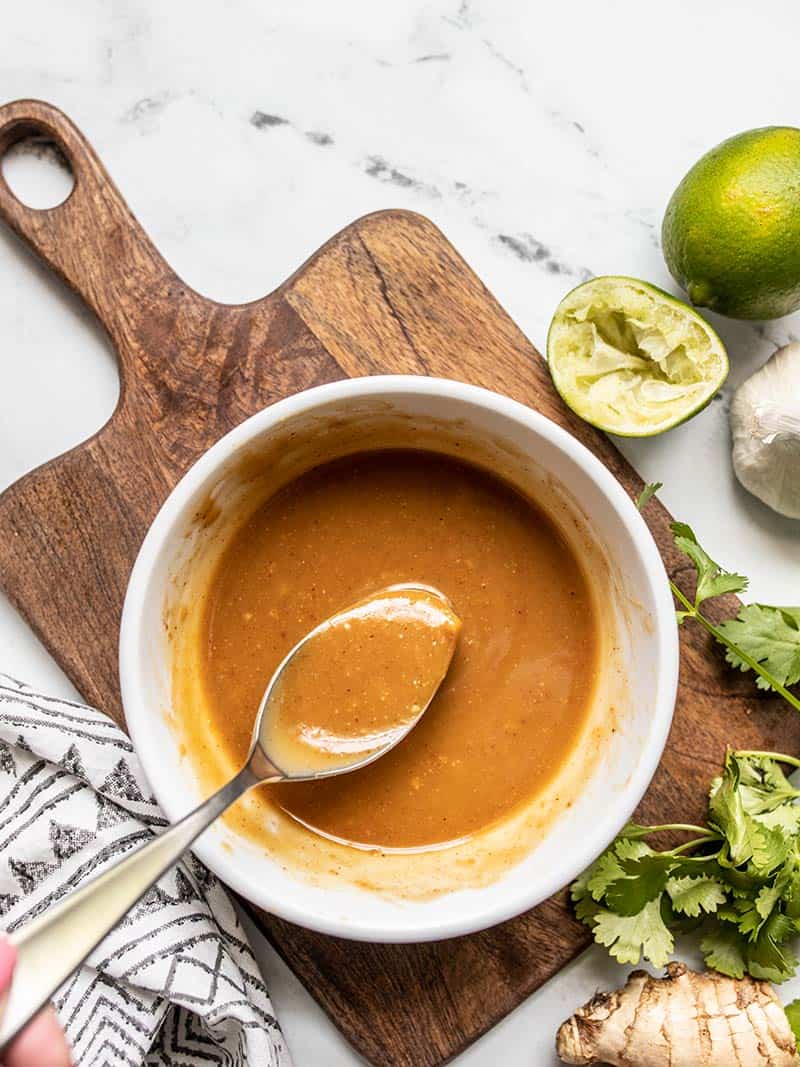 Peanut Lime Dressing
If you want to change up your salad game, the easiest way is to use a new salad dressing. This Peanut Lime Salad dressing is sweet, savory, tangy, and creamy all in one! And vegan, too! It's the perfect dressing for any Asian inspired cabbage...
Lemon Berry Yogurt Breakfast Bowls
I've had a lot of questions about how to use lemon curd since posting the recipe for Luscious Homemade Lemon Curd the other day. There are a million and one ways to use it, but I think my favorite is combining it with yogurt. Something about...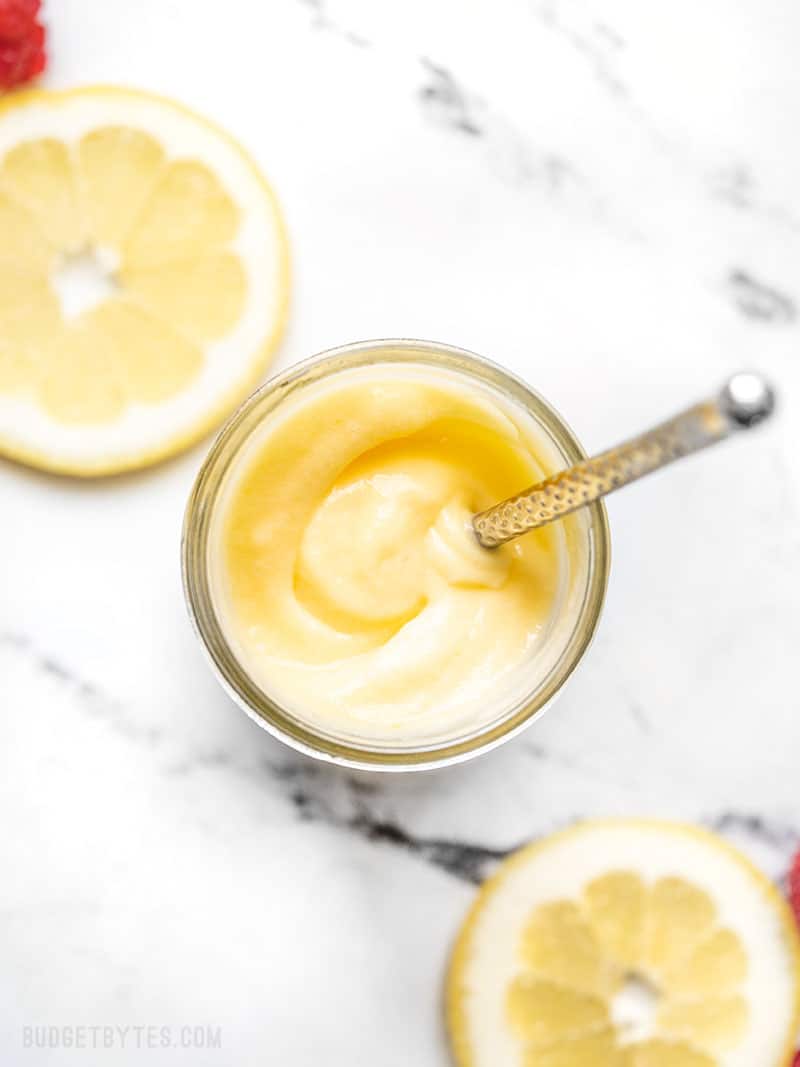 Luscious Homemade Lemon Curd
Luscious might be an understatement. It's kind of mind blowing how four of the most basic ingredients in your kitchen can make something so beyond delicious as this homemade lemon curd, but somehow they do. With just a small sauce pot, a...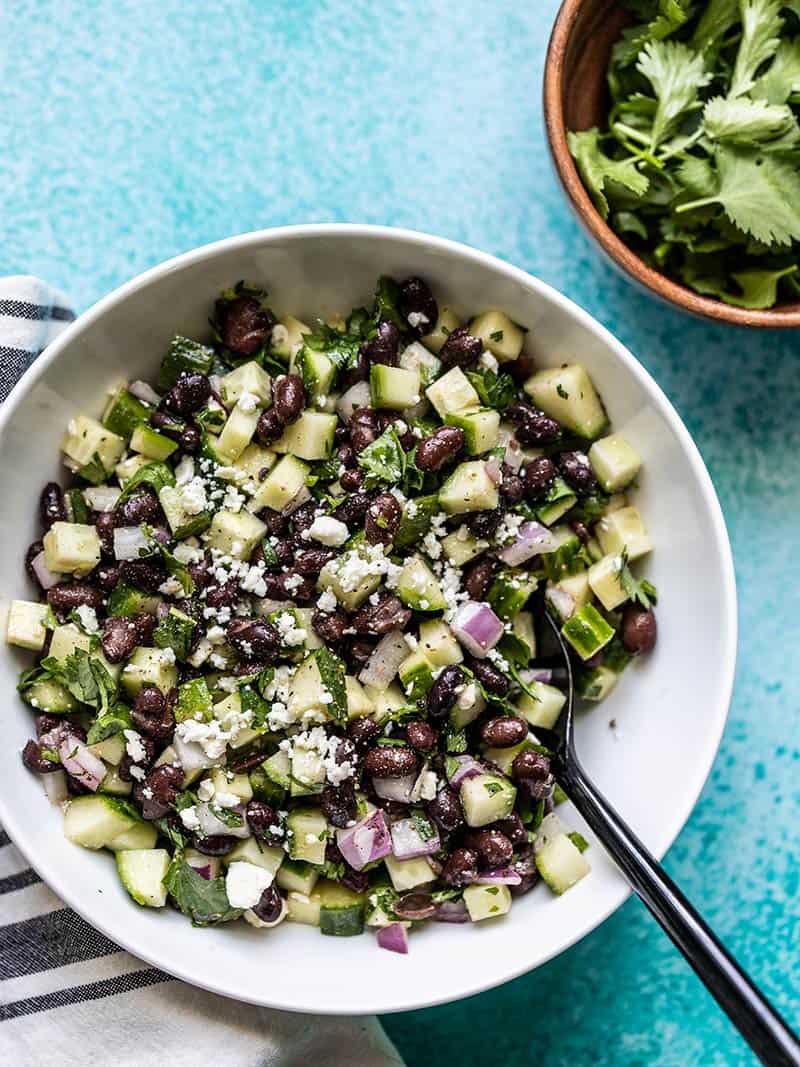 Cucumber and Black Bean Salad
If you need one more fresh summertime salad for this Memorial Day weekend, I've got ya! This light and fresh Cucumber and Black Bean Salad is the perfect side for all your summer grilling, but also works great as a taco topper, base for a bowl...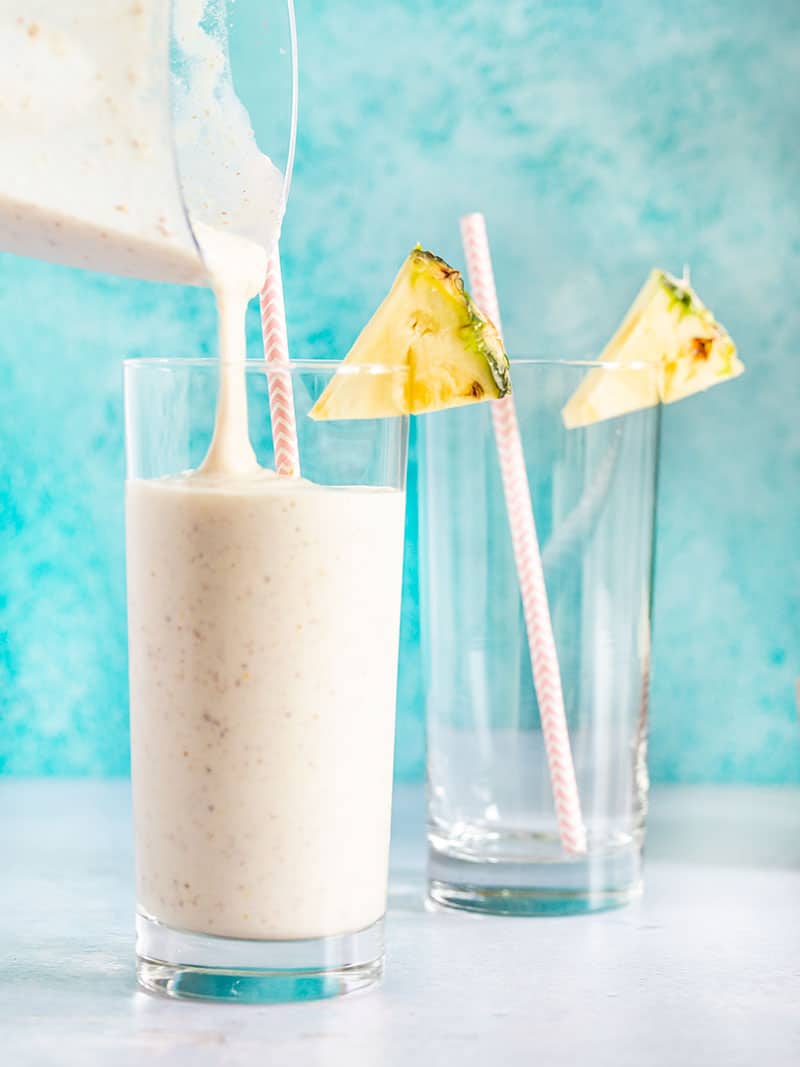 Pineapple Protein Smoothie
Greek yogurt gets all the glory for being a versatile concentrated source of protein that can be used in either sweet or savory dishes, but it comes at a price. We've all been so enamored by Greek yogurt that we're overlooking its humble...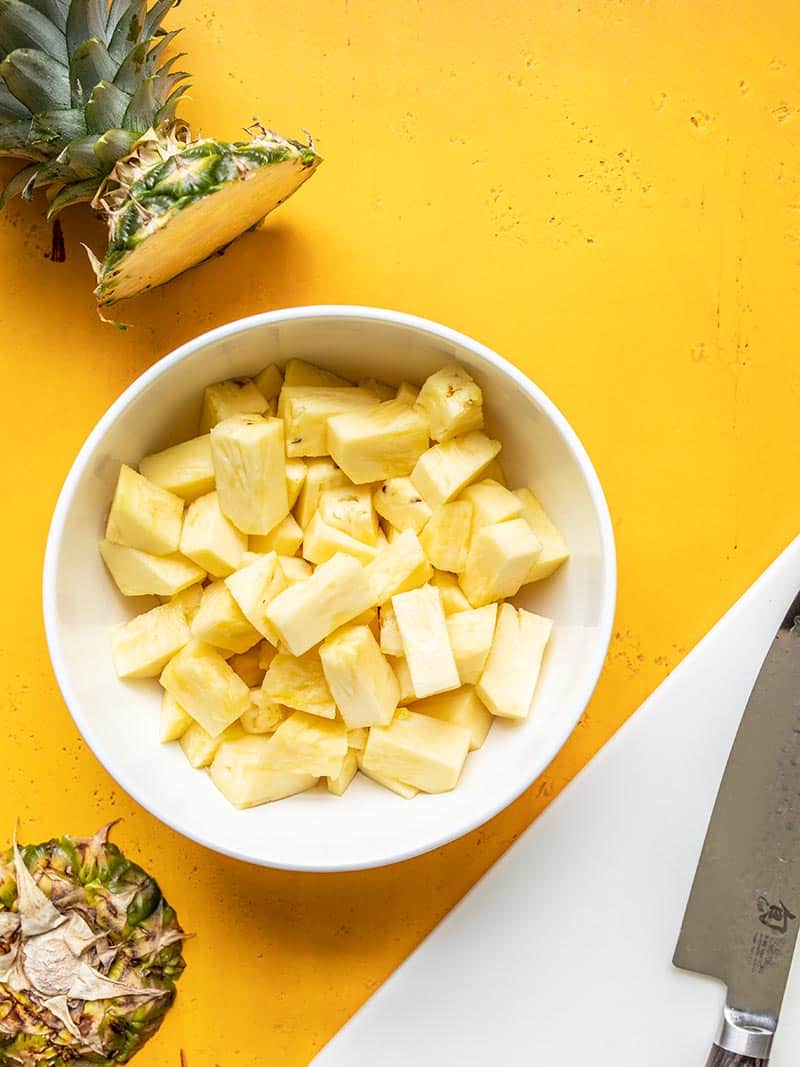 How to Cut and Freeze Pineapple
There's nothing quite like fresh pineapple. It's tangy, sweet, and goes equally as well with savory dishes as it does desserts. And while canned pineapple can work in a pinch for some recipes, fresh pineapple has a far superior flavor...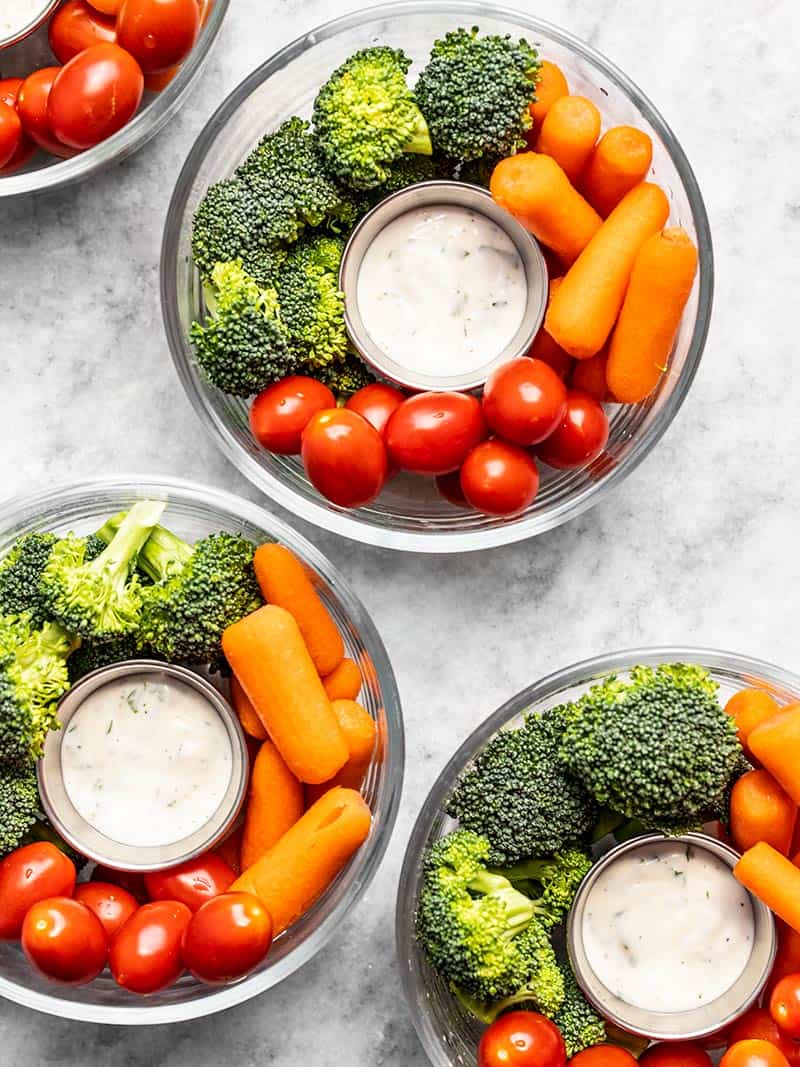 Veggie Snack Packs
You know how some people carry around a gallon jug of water with them all day to remind themselves to drink water and so they can always see how close they are to hitting their one gallon per day goal" Well, I've been doing that with...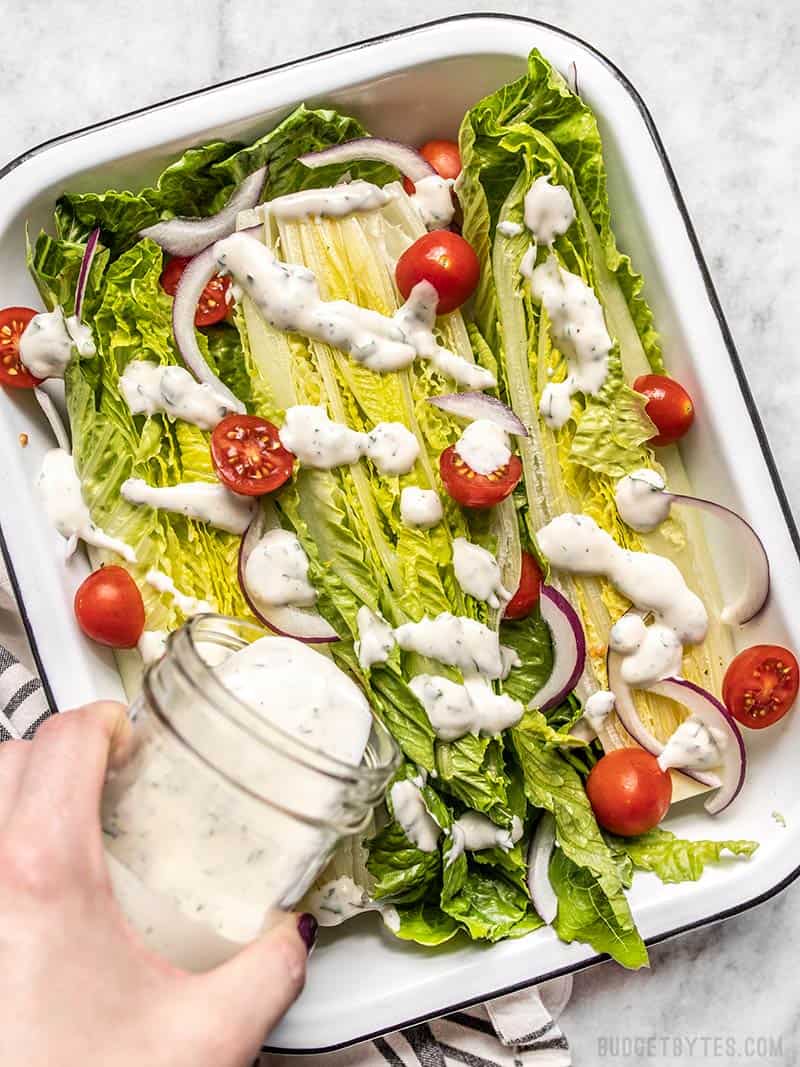 Homemade Ranch Dressing
I've never really been a ranch dressing person. And definitely not one of those "ranch dressing on everything" people. But then, last January while I was doing my Vegetarian Challenge, I got hooked. I was eating vegetable snack...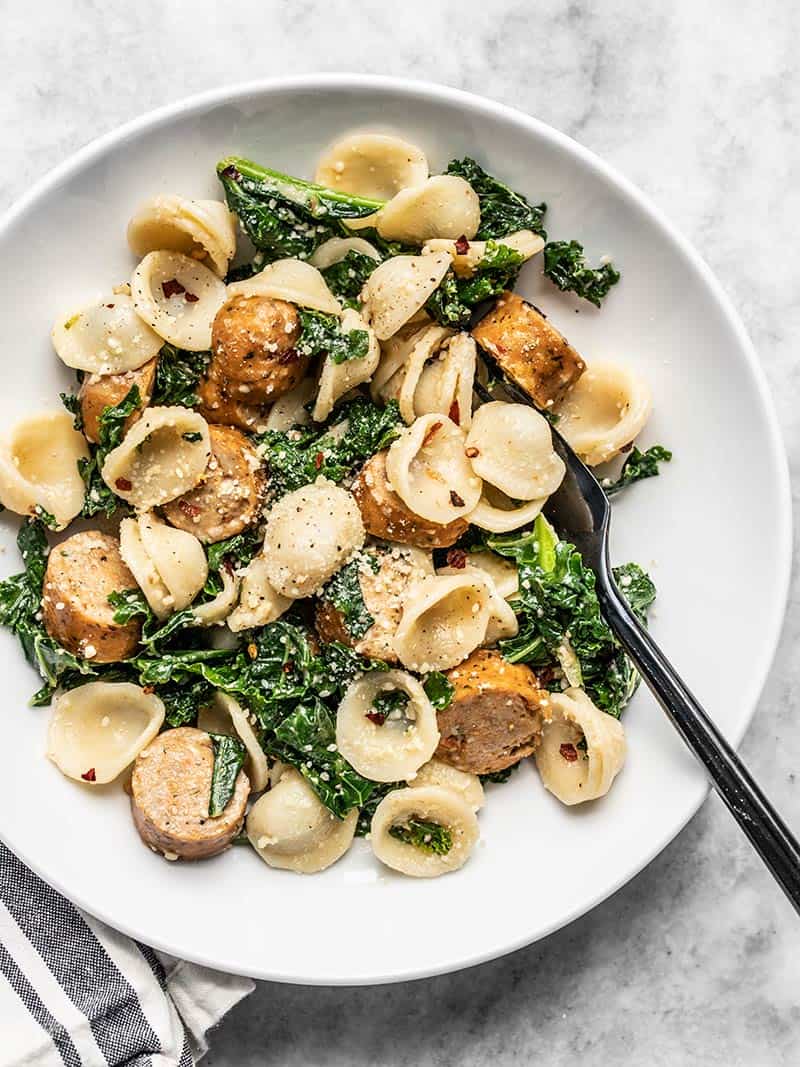 Spicy Orecchiette with Chicken Sausage and Kale
This Spicy Orecchiette with Chicken Sausage and Kale is a variation on one of my favorite fast weeknight dinners, pasta + parmesan + vegetable. If you're a Budget Bytes veteran you probably have this formula memorized, but for all my new...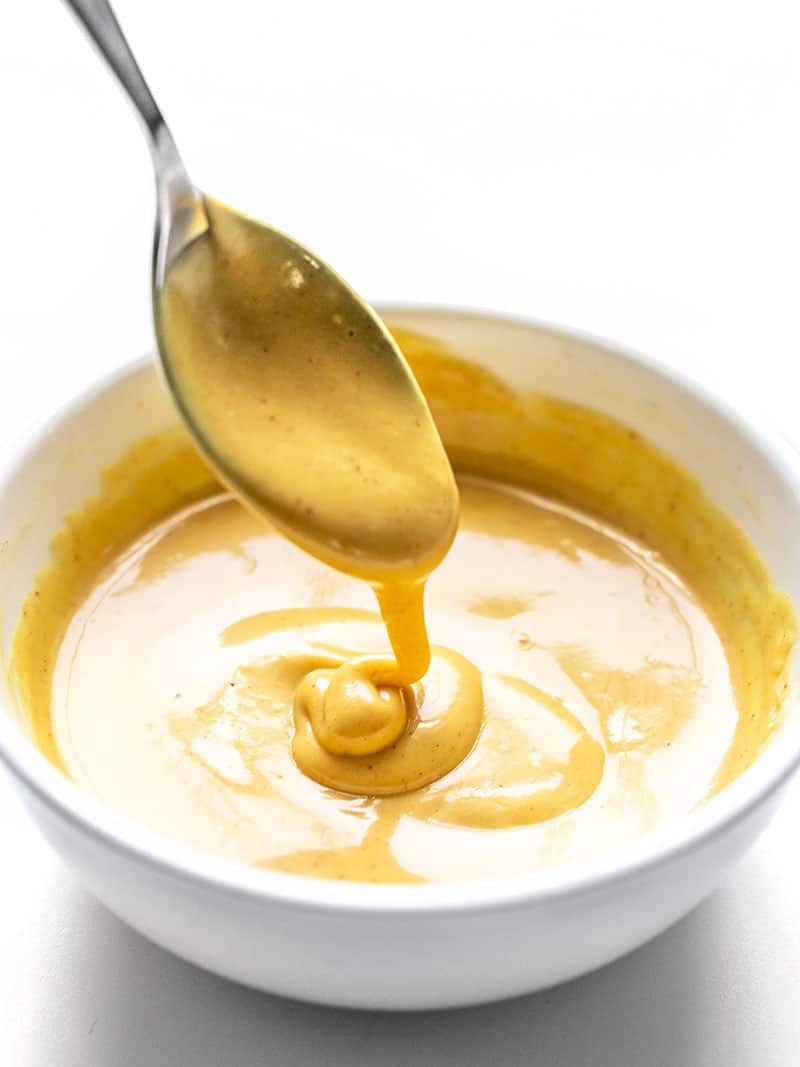 Honey Mustard Sauce
While I was rummaging through my fridge for sauces to dunk my homemade baked chicken nuggets in, I realized the one sauce I really wanted was one that I didn't have?Honey Mustard Sauce. Luckily, honey mustard sauce takes only a few minutes to...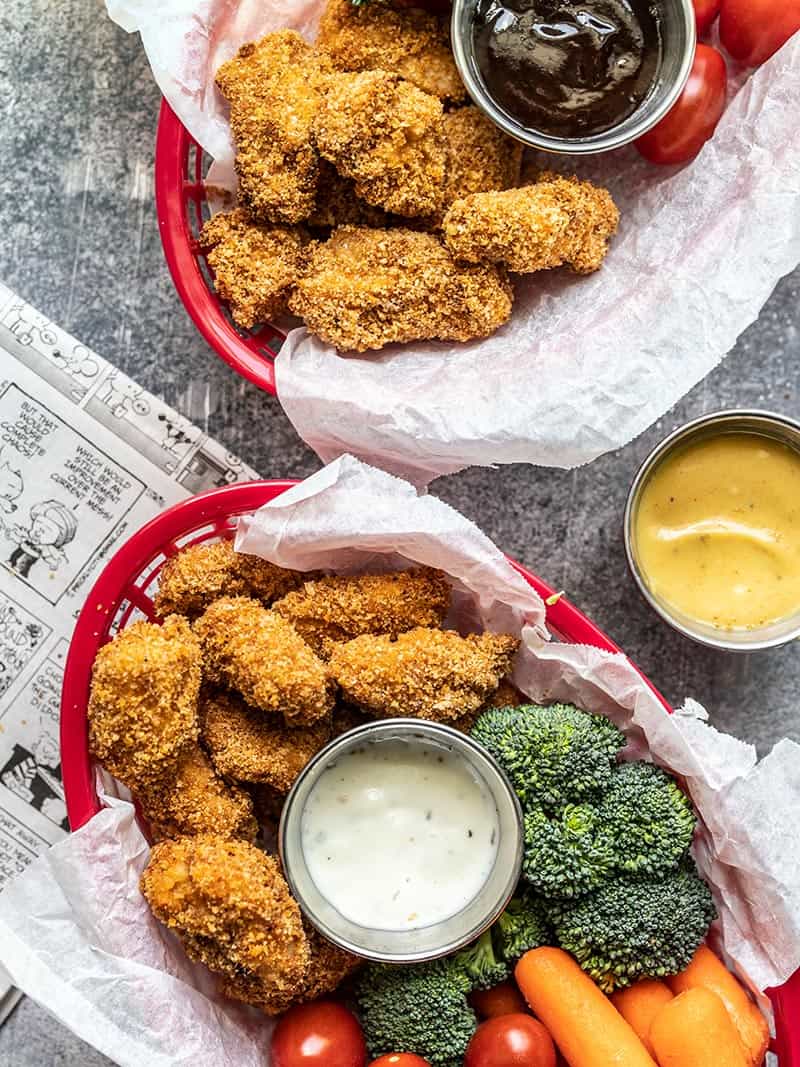 Homemade Baked Chicken Nuggets
I didn't grow up eating fast food, so I've never really been a chicken nugget person, but the other day, out of the blue, I got a massive craving for them. So I thought, "Challenge accepted! I'm going to make some homemade...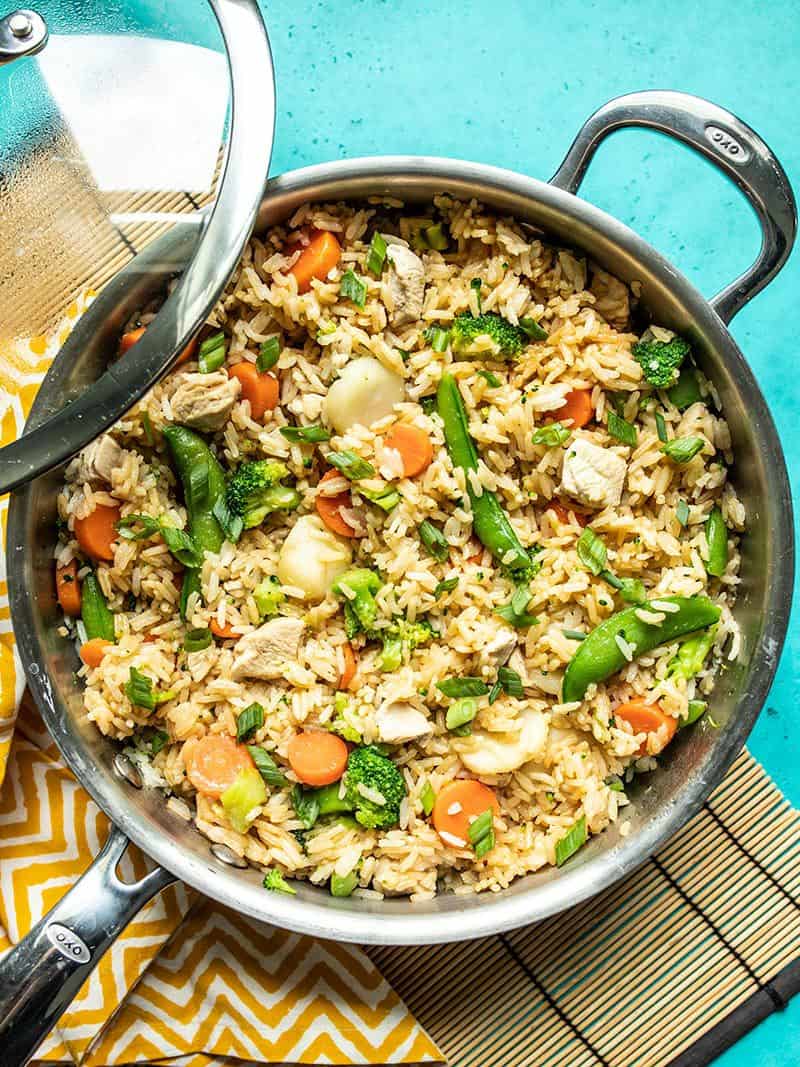 One Pot Teriyaki Chicken and Rice
It's been a while since I've posted a "one pot" recipe, but I'm really excited about this one. This One Pot Teriyaki Chicken and Rice is incredibly easy, requires very little chopping, and is one of those super...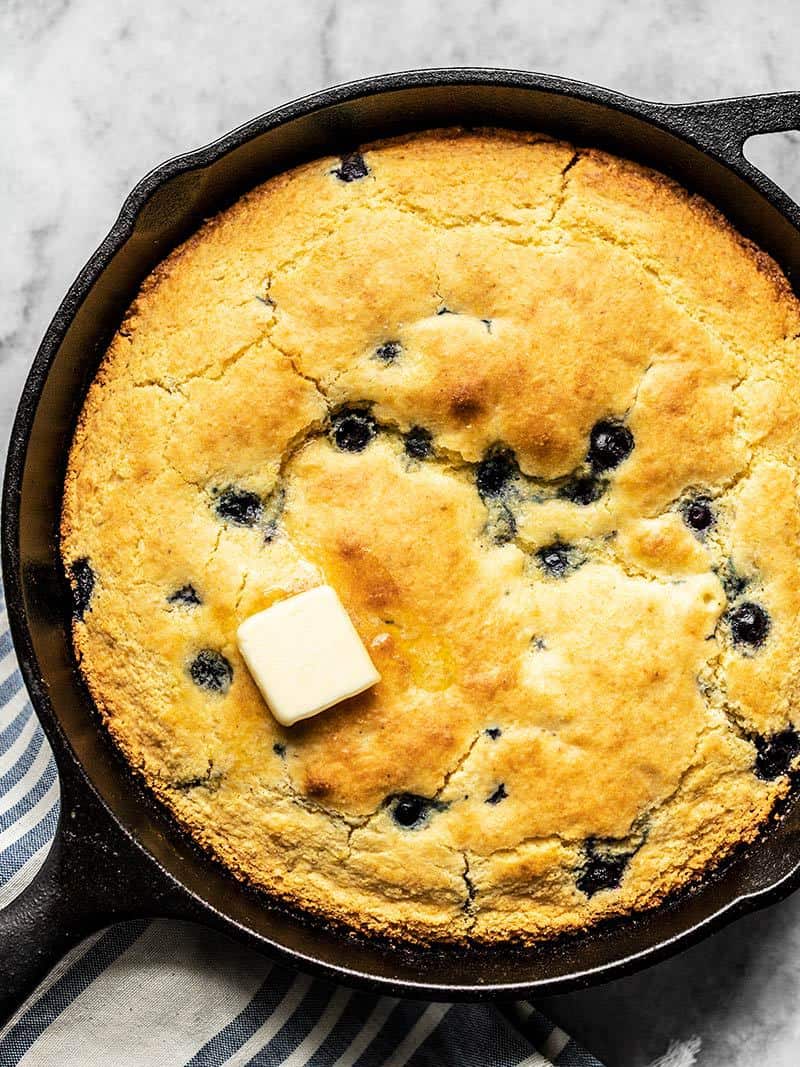 Lemon Blueberry Cornbread Skillet
I don't make dessert often, and when I do, I tend to make things that are not too-too sweet. Things that could easily double as a breakfast, like this Lemon Blueberry Cornbread Skillet. Using my Homemade Cornbread recipe as a template, I added...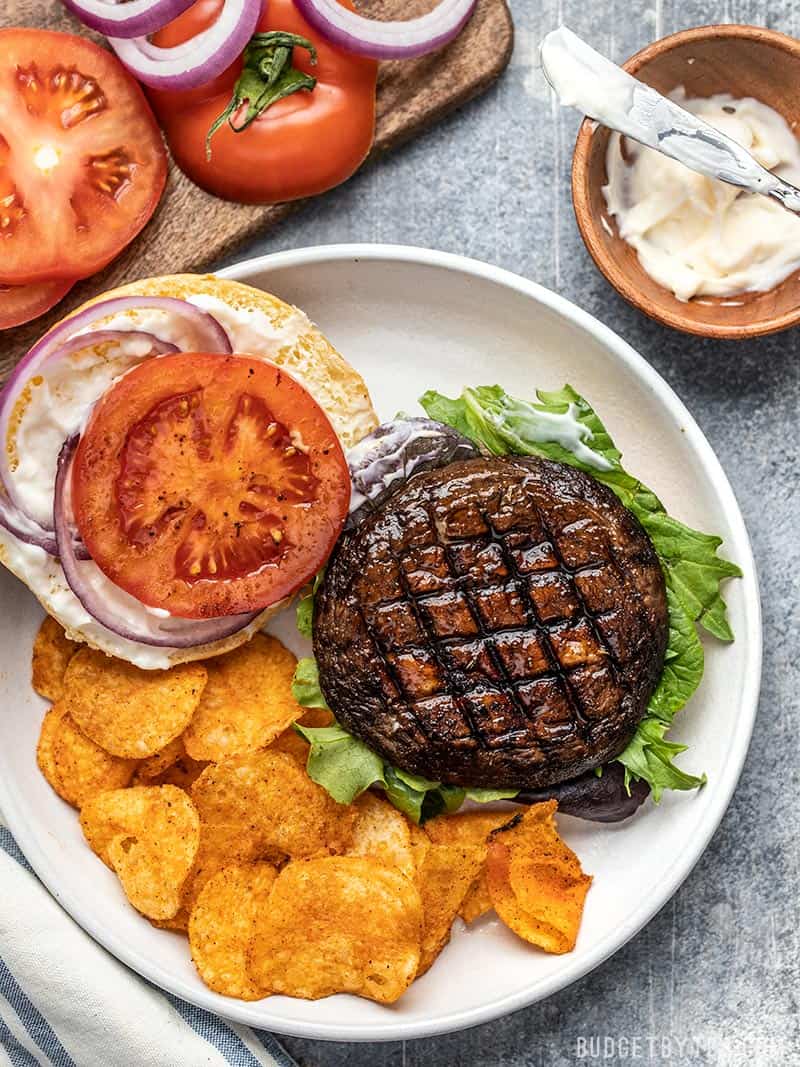 Marinated Portobello Mushroom Burgers
It's almost grilling season!! I kind of want to make weekend grilling a thing at my house this year, so I'm testing some recipes. I already have some fun burger recipes on the site, so I figured it was time to make an option for all of...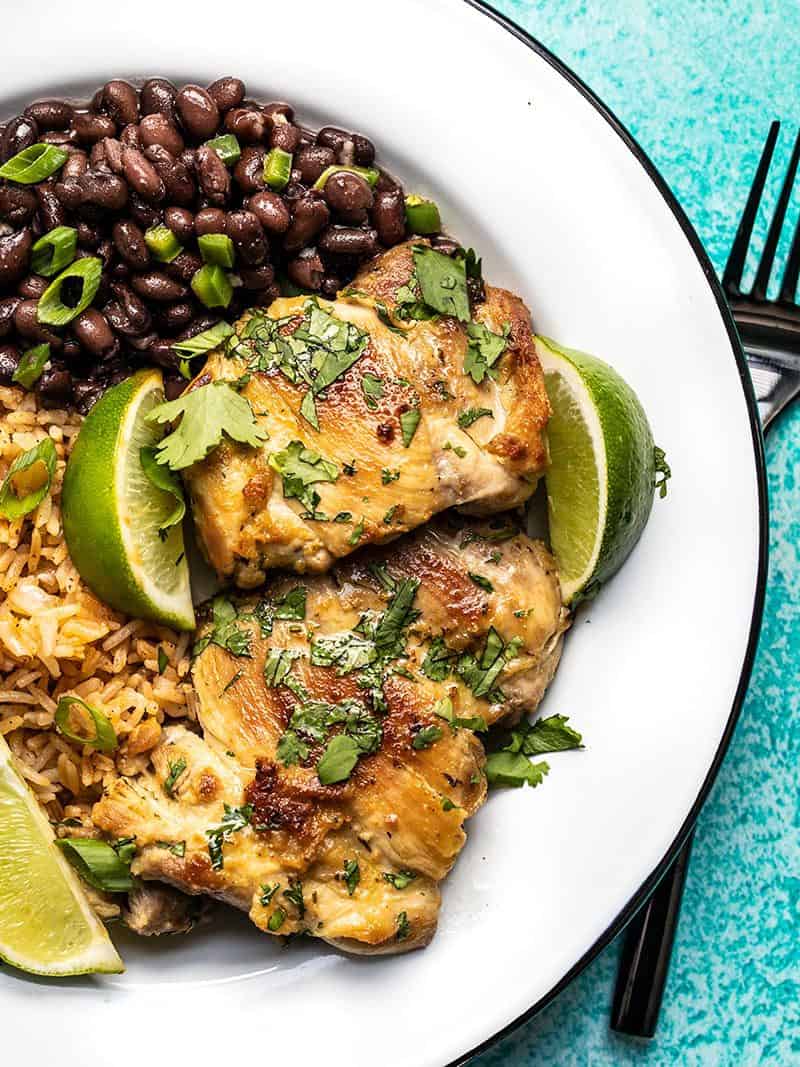 Easy Cilantro Lime Chicken
The sun is shining, Cinco de Mayo is next week, and I'm over here craving bright fresh flavors, like cilantro and lime. Okay fine, so I'm actually craving margaritas, but my body doesn't let me drink lots of margaritas anymore so...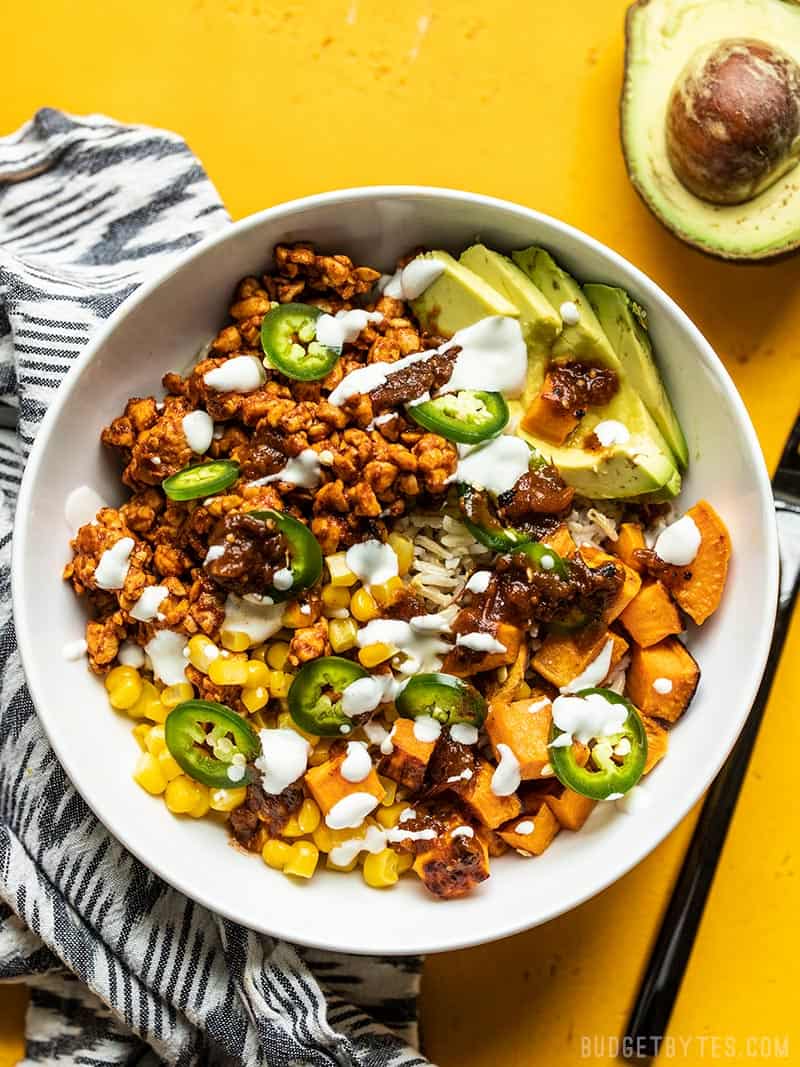 Tempeh Burrito Bowls
New day, new burrito bowl! Seriously though, I don't think I'll ever get tired of burrito bowls, or run out of fun variations on the burrito bowl theme. This week I made my burrito bowls vegetarian style with crumbled tempeh seasoned...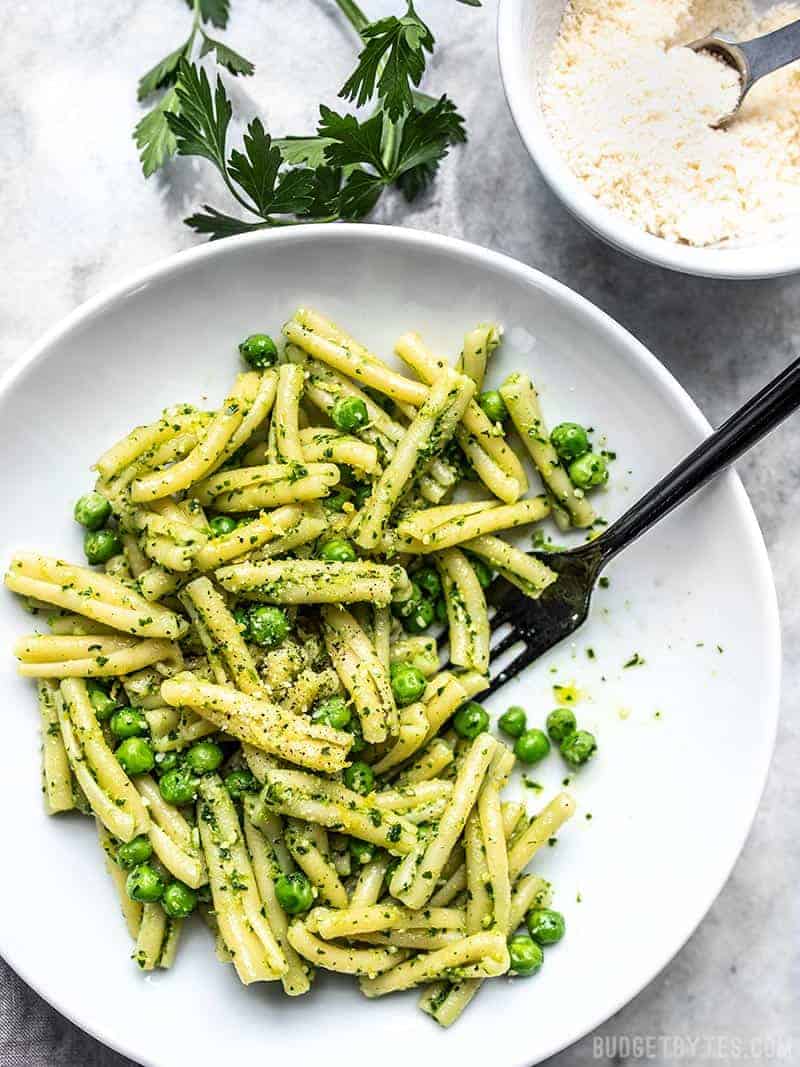 Parsley Pesto Pasta with Peas
SPRING IS HEEERRRRREE! (Read that in Oprah's excited yelling voice). As soon as that sun starts to shine and the days get a little longer I feel every cell in my body wake up and I instantly start craving super fresh flavors. This Parsley...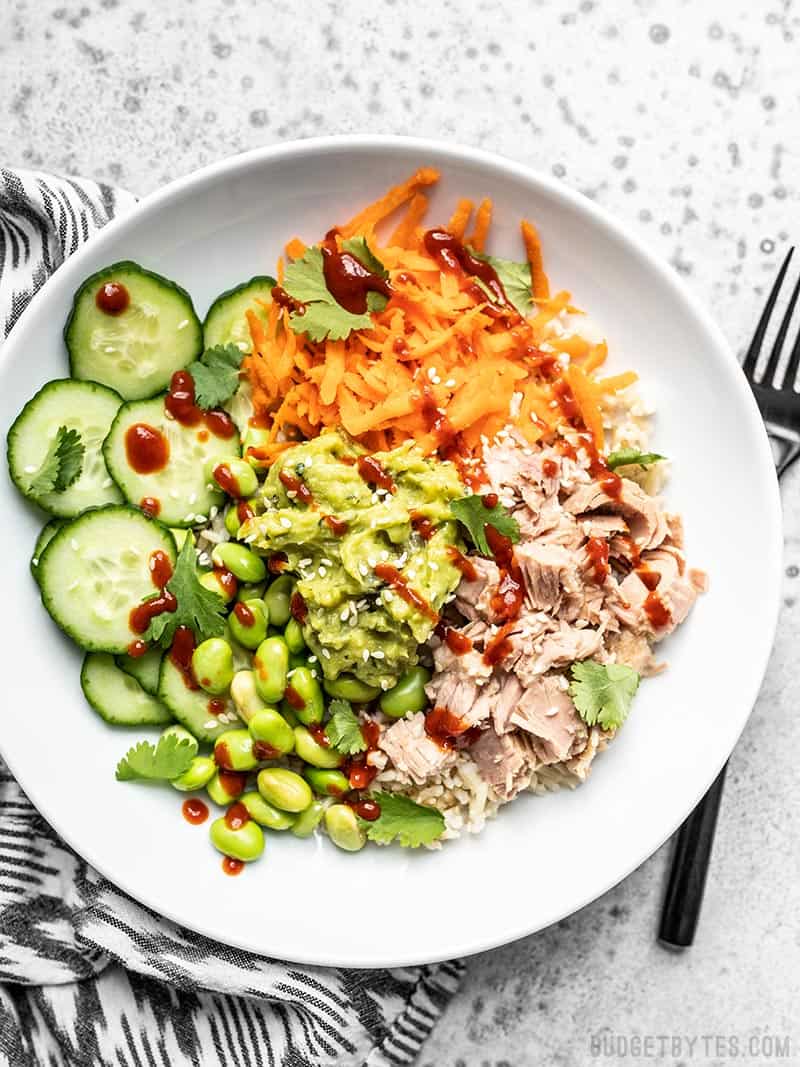 Spicy Tuna Guacamole Bowls
I gave a little TLC to one of my older recipes this week, Spicy Tuna Guacamole Bowls! With many people avoiding meat for lent, I figured this was a good time to revisit this classic. I love "bowl meals" because there is so much...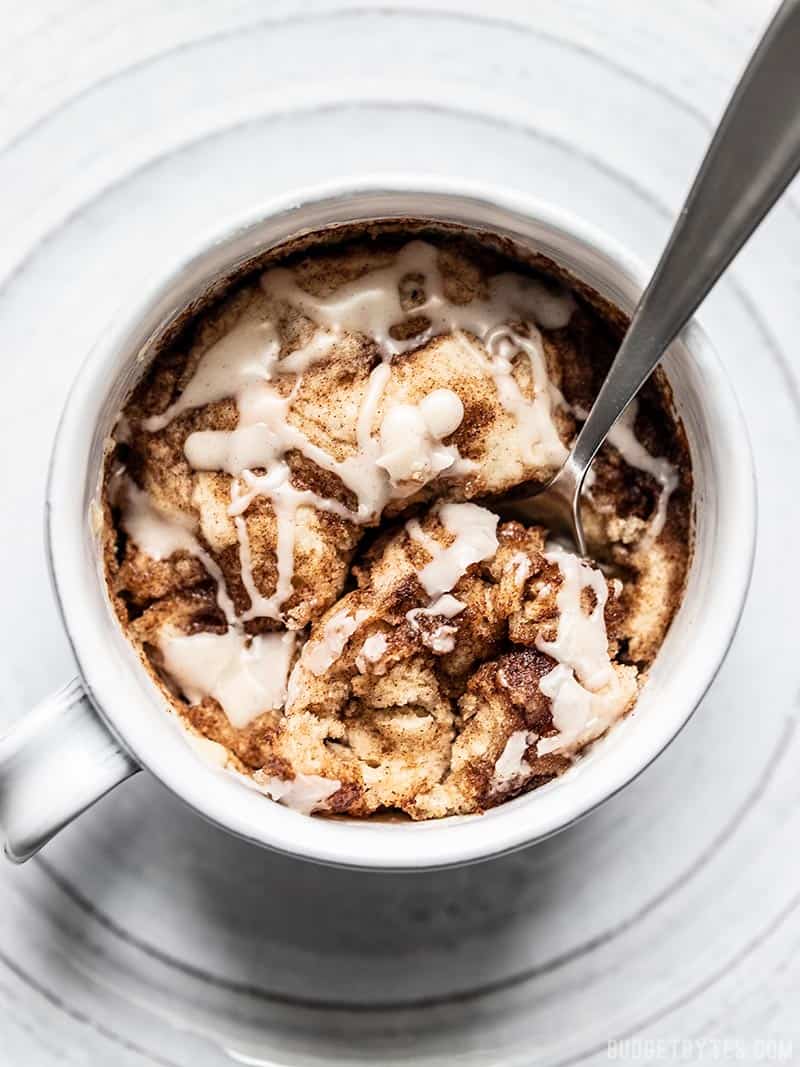 Cinnamon Nut Swirl Mug Cake
Watch out mug cake lovers, this might just become your new go-to! This Cinnamon Nut Swirl Mug Cake is like a short cut cinnamon roll with no kneading, no rising, and no rolling required! It's the perfect quick fix for when you need just a...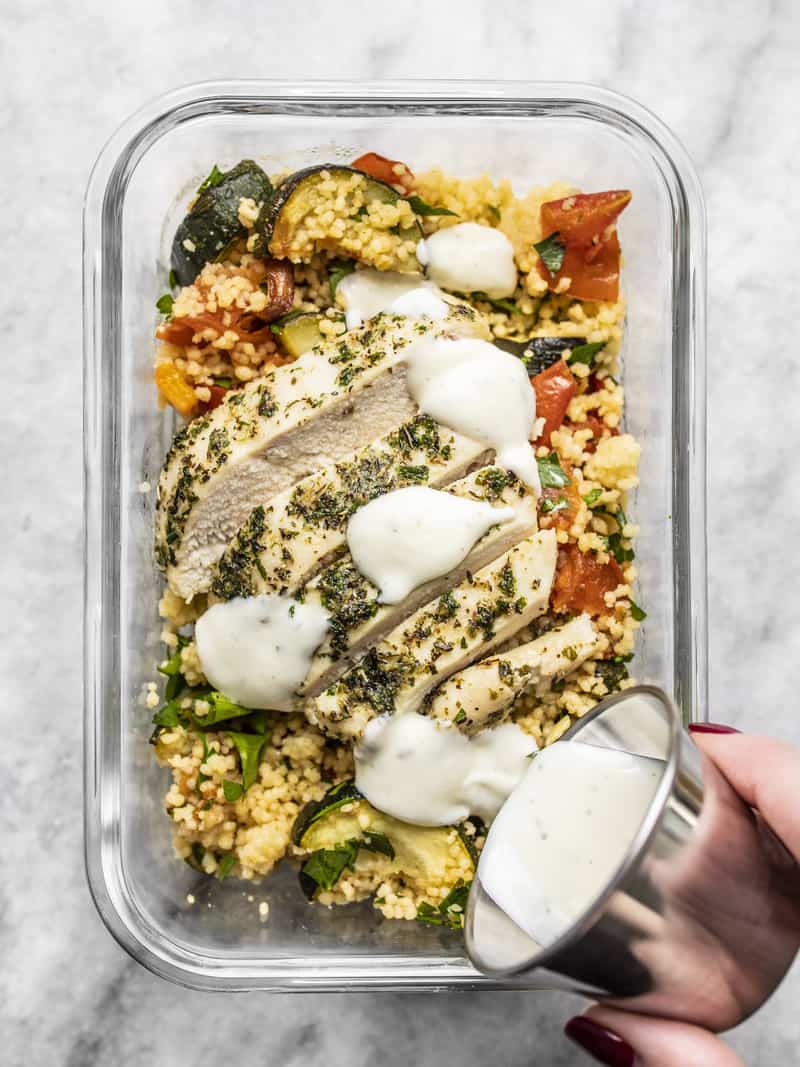 Roasted Vegetable Couscous Meal Prep
Traveling is always fun, but I'm always so ready to get back to a good eating routine as soon as I get back. So, as soon as I got back from my trip to China I set to work preparing some meal preps. Meal preps with a LOT of vegetables! For this...